Our first issue of the year is on sale now!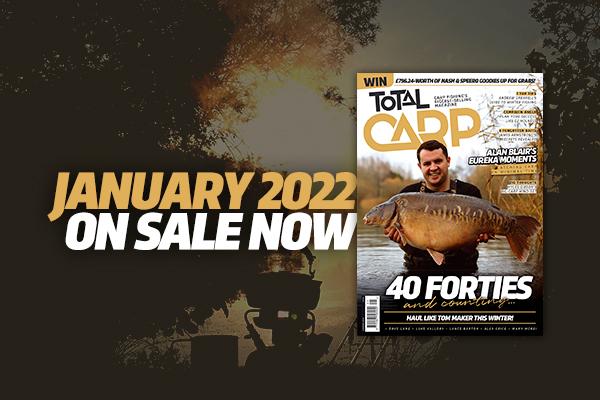 Tom's knack for winter hauling is like no other so we were keen to get the lowdown on how he goes about building a winter hit from day-ticket venues that are available to us all. Follow Tom's advice and you too could be cuddling your own cold-water giant!
No matter your angling approach, the January issue has it all…
As well as the big-hit fishing from Tom, Lauren Stanford shares the details on a red-letter day at Berners Hall, resulting in her first forty. If big hits of fish aren't your thing, and you're more about hunting those elusive ones, there's lots to learn from the likes of Oz Holness with his guide to campaign angling, Myles Gibson talks zigs in his Big-Carp Mind-Set and Dave Lane reveals why the coming month of February may just be your ticket to the big league!
We also have a real treat for all you short-session anglers as Alan Blair reveals his biggest game changers in Eureka Moments!
There's all this and loads more tips, tricks plus all the latest gear to get stuck into!
HOT PICKS…
THE CAMPAIGN ANGLE
Big-carp fishing often require that extra effort to make their capture a reality and this is exactly what drives Oz Holness to do the fishing that he does. In this month's Inside the Mind, Oz delves into what catching these special old carp often requires, where he lays out the intricacies of planning a campaign. Find out how you can do this too on page 36.
FORGOTTEN EDGES
When times are hard come winter, James Armstrong reaches for a few hidden bait gems that continue to produce the goods when all else fails. If your water has been hammered by the boilie approach and you think that something different may just be what it takes, then Jimmy's tips on page 29 could be exactly what you've been looking for.
TROUBLESHOOTER
We take the long drive past Stonehenge to Todber Manor, where Ian Russell joins client Chris Isaacs for a Troubleshooter tutorial. It's all about accuracy in the margins at Willow Bank Lake… the far margin that is! Turn to page 88 to find out how they got on.
EUREKA!
Road Trip connoisseur and short session ace Alan Blair reveals his biggest Eureka Moments on page 78. Expect some seriously out of the box ideas, which may well put you one step closer to getting your next carp on the bank… don't just sit there, it's time to get up off your bedchair and go make it happen!
12 MONTHS OF CARP
February – cold, bleak and a waste of time to be on the bank… or is it? The first two may be true, but according to Dave Lane February can be one of THE best months for putting big carp on the bank as he explains on page 143. Heck, he even caught Mary from Wraysbury in this seemingly magical month!
MAN ON FIRE
With 40 forties and counting, Tom Maker is a man ON FIRE! Not even the British winter can put a stop to his hauling and thankfully he explains how you can do it too, just turn to page 15. It's not going to be easy though, it's all about being activity, persevering and a whole load of effort… do you have what it takes?