One Hour Missions!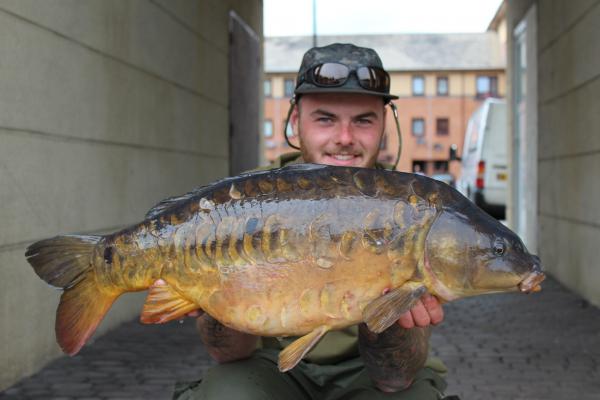 Luke Kennard's latest blog heralds a change in approach to his carp fishing
Recently I've had some amazing news; I'm going to be starting a little family with my partner, and am due to become a father in October. The build-up to the birth of my child in conjunction with working away has meant that fishing opportunities were going to be at a minimum. This has been a bit of a shock to the system as I'm used to getting out on the bank at least two or three times a week, but a welcome change at that.
When preparing for an overnighter or a weekend session I always give myself the luxury of arriving early, allowing myself time to find the carp. That may be finding their location, looking for clear spots in the margin or even just observing their behaviour patterns and routines from the trees above. But with time being of the essence at the moment it's been a revelation to my angling.
I'd consider myself a mobile angler anyway, doing whatever means necessary to be on the fish and stay on the fish and that's been so crucial in these short sessions of mine. An hour here and hour there can be so productive if gone about in the right way. Short sessions demand that you're on the fish so a mobile approach is essential.
To ensure I was able to move on any shows or hunches I opted to strip my kit back right to the bare minimum. My choice of rod was the 6ft Nash Scope Sawn-Off, small enough to poke around in those tricky to access spots but strong enough to tame even the biggest of beasts. I used these in conjunction with a telescopic landing net and the Nash Beanie Mat. The unhooking mat is an item that I've used widely across my angling but it's been brilliant for these short sessions as it acts as a holdall for my rod and landing net, meaning that my hands are always free.
My choice of bait was entirely dependent on the situation that presented itself on the day. The weather was the biggest dictator; it determined whether I was looking for a bite off the top or on the deck. With the recent hot weather I was fortunate enough to do the majority of my short sessions looking to take fish off the top on either bread or slow-sinking maggots. A heart-pounding method to catch with and one that doesn't break the bank!
Over the last month or so I've managed to get out on the bank for the occasional very short session and at the same time I've had some unbelievable results, mainly falling to the slow-sinking maggots. This is a method that I've had great success on and one that I think sets me apart from other anglers.

I believe that a lot of my success came down to my preparation for this style of fishing; I like to soak my zig foam in citrus spray for a couple of weeks prior to use. This allows the foam to absorb the scent, making it extra appealing to the carp. On the day of my session I'd cut and shape the zig foam to act as an imitation maggot and give the hook bait the buoyancy required to formulate the slow-sinking element. On the hook I would use red and white maggots, a combination that proved to be deadly.
The Wharf in Cardiff is my main water, and with the hot weather around I thought it would be worthwhile doing my short sessions here as it may present an opportunity to get among some of the larger stock. Having been away from The Wharf for a couple of months, it came as a bit of a shock on arrival when I saw the vast quantities of weed masking the surface. Fortunately on my first short session I was blessed with blistering hot weather and a lack of wind, perfect conditions to try and steal a bite off the top.
The carp had taken sanctuary close to the weed beds and were fairly easy to locate thanks to the addition of my new Fortis Eyewear polarised glasses. Having tracked down a few fish I decide that this was going to be my chance, I took my rod out and loaded my hook with zig foam and around 10 maggots. By watching the routes the carp were taking I was able to carefully flick my slow-sinking baits in front of these unsuspecting fish and slowly retrieve the bait towards their faces.
It really didn't take long at all as with only my second cast I was into my first carp. This put up a great battle, searching for the weed as its escape route, really putting the Sawn-Off through its paces. After a brief fight and some stills I was back on the move and in hunt of another scaley banger.
Unfortunately for me it appeared the disturbance caused by the last fish had caused the fish to push out of the weed towards the centre of the lake and I'd run out of time to continue lapping in search of others.
This was just one example of how I went about my angling over the last month. I've managed to bag myself some mega-looking carp from The Wharf doing so, but unfortunately I didn't manage to get among any of the larger, recognised fish.
Being away with work also gave me the opportunity to take this method of carp fishing to other waters. Using the maps on my phone while sitting in the van on the way to work would give me time to track waters down that might hold carp, and this proved to be very fruitful. In only a couple of weeks and an hour here or there after work I was able land multiple carp, including my first canal carp!
These short sessions proved to me just how amazing carp fishing really is. One hour is all you need.