ICONS | Two Tone: The Carp like No Other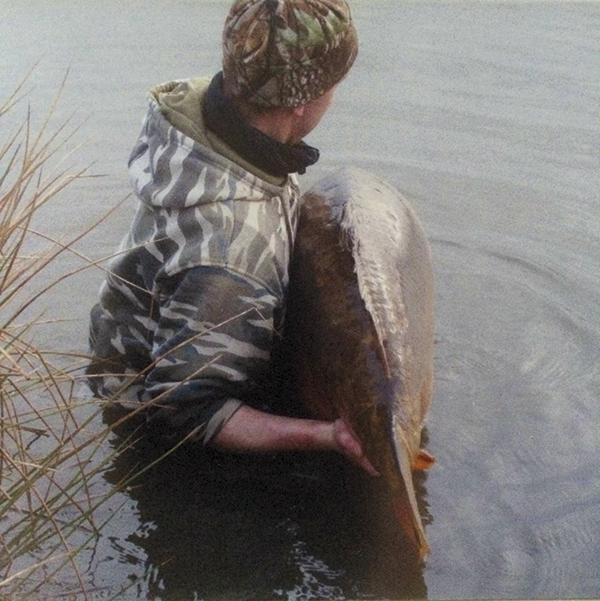 Like many carp lakes that have produced some of the most iconic carp we have ever seen, the main lake at Conningbrook began formation in 1982/83. Brett Aggregates was responsible for the lake's creation as the area was incredibly rich in sand, which was extracted resulting in the lake having an average depth of 12 to 14 feet once filled and approximately 19 acres in size.
At the same time the top lake at Conningbrook was also being dug for the same purpose. Once all of the extraction works had been completed, two lakes were left with a small causeway separating them. These lakes were to eventually be joined together in 2006 when a narrow channel was created, which the resident carp quickly utilised due to their curious nature.
The fish destined to become a multiple British record-breaking carp weighed 12lb in 1982 and was one of a healthy head of carp that had lived in Mill Pool, Faversham, and which were required to be moved as there were intentions to build on the land. Three of the Mid Kent Fisheries lakes were stocked with the fish and one of those was Conningbrook, which received its share although it later transpired that building never took place at Mill Pool because the springs could not be stopped. Left to their own devices for several years without any angling pressure whatsoever, the carp of Conningbrook were not fished for until a persistent and committed Christopher Logsdon was granted permission to open the lakes for angling in 1992.
Chris had a huge influence on the success on all of the MKF venues, notably Conningbrook, which was to be the only syndicate lake at the time. The potential of the venue had been seen very early on, and as the years passed the fish grew to enormous sizes thanks to the rich environment they lived in and excellent fishery management.
A limit of 75 syndicate members were allowed to fish the venue each year for 10 years, which changed once the two lakes were joined together with an increase in members to 125. A strict 48-hour rule was put in place to give all syndicate members a chance to fish for the biggest in the land. Of course, there were anglers all around the country who would have loved the chance to pit their wits against Two Tone, although making an absurd amount of money was not the motivation for Chris, who deserves plenty of respect just for that act alone.
Approximately 10 years passed and the carp in Conningbrook had gone unfished for. With permission to fish on Tuesday June 16th, 1992, Phil Lloyd caught Two Tone for the first time. Weighing 34lb 12oz, it was fair bit bigger than anybody had expected. Only a few weeks previous to this capture, the large mirror had been seen by both Phil Lloyd and Paul Forward in the water during a walkaround and was estimated to weigh between 28 and 29lb.
A weight gain of over 20lb in 10 years was truly astonishing yet little did many anglers know at the time that this particular fish was to almost double in size in the next 15 years. Five years later and Two Tone showed no signs of stopping when Rod Killick caught the great mirror on the morning of Saturday, September 6th 1997 (also Princess Diana's funeral day), exceeding the 50lb barrier for the very first time at 50lb 8oz.
At the time Mary, who lived in Wraysbury 1, was the largest carp in the country and was caught the following year again at its largest weight ever and the final time it would break the British record. Carp of 50lb were very few and far between 20 years ago but strangely enough both Conningbrook's and Wraysbury's largest were both male fish, whereas the two carp accepted as records before Mary's entry were female fish and were both evidently carrying lots of spawn. There were no surprises at all when the Kent mirror made its way into the history books when caught by Terry Glebioska in April 2001, with the use of artificial corn. The weight of the giant mirror on this occasion was 59lb 12oz, only 4oz short of breaking 60lb. So, when the next angler caught the fish again in June many thought it would be broken then.
Mike Redfern recalls his capture of Two Tone on June 2nd, 2001: "I was the next to catch it in the June; everyone thought it was going to be England's first 60, I didn't care, I just wanted it over 50 and it was at 56lb 8oz and that made me only the fourth Brit angler home and away. In those days you see there were only a handful of fifties in England and the lads who fished for the English fifties in the main didn't fish in France.
"At the time of capture it was the biggest one landed on a boilie. The fish was caught on some yellow pop-ups I nicked out of Lee Jackson's rucksack, he was my brother-in-law at the time. Solar went on to release these a couple of years later and called them Jacko Pops."
Gary Bayes, the mastermind behind Nash Bait, was the first angler to catch a UK 60lb carp when Two Tone weighed 61lb 2oz on October 17th, 2001, which was its third capture at a record weight that year. His record was to last less than a year as the fish was still growing rapidly, despite its already enormous size.