ICONS | Shoulders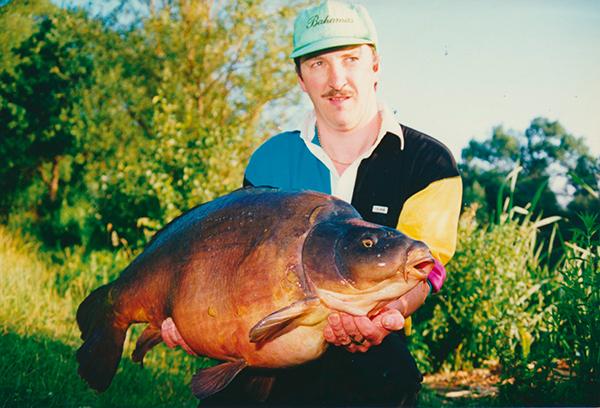 One does wonder where carp fishing would be without our historically important waters that were once home to some of the most sought after fish in Britain. The rise of specimen carp fishing has certainly inspired many to begin their own adventure and chase their dreams. Fisheries have been created, companies have been born and marriages have ended thanks to the love of the pursuit and the uncertainty of carp fishing itself.
If you have never dedicated all of your spare time chasing once particular fish you may never understand the obsession, dedication and sacrifice required to see that one chosen carp in the album. It is often not an easy ride but the culmination of events that build up to a specific capture creates memories that will last for a lifetime. The 1970s, 1980s and 1990s are a select period in carp fishing that saw a sharp rise in the size of carp being caught and a significant increase in numbers too. While this area of angling was largely deemed a waste of time by the wider population in its infancy, we currently see a worldwide interest in fishing for this favoured species of cyprinid.
Lakes of all shapes and sizes were formed following the completion of gravel extraction in the first half of the 20th century surrounding Heathrow Airport, which was opened for commercial travel in 1946. Lakes that are very much an iconic staple within carp fishing such as Wraysbury, Yeoveney and Longfield to name just a few, would have been stocked with bream, carp, perch, pike and pike and tench in the 1950s and 1960s. Gravel companies began leasing lakes to angling clubs and it didn't take long at all for these venues to show their true potential.
The first recorded capture of Shoulders was in 1971.
A stocking of approximately 100 carp was introduced into Yeoveney in the 1960s and it was also believed that a Polish individual may have been involved in stocking additional fish into local waters. It is at Yeoveney where the very first documented capture of the iconic Shoulders can be traced back to the hands of John Carver in 1971. Weighing 17lb, this mirror carp was still very much regarded as a specimen fish. Little did anybody know, John included, that this fish would become highly sought in its later life. The journey Shoulders took over the years, combined with its unique characteristics, make it one of the greatest carp of all time.
Although it is not known how long the great fish inhabited Yeoveney, Shoulders, along with the current residents of the lake were to be removed in 1979 to make way for development of the M25. The remains of the lake can now be found separated by Junction 13. Once the news had reached the ears of many, it was the efforts of the anglers that saw the resident fish being moved into both Longfield and Wraysbury. The process was not an easy one as there were very few involved and those who were had poor equipment to use. Without this operation however, the future of British carp fishing would have been very different indeed and fortunately for us all it was a resounding success.
Kenny Hodder was another who banked the great fish from Yeoveney.
Another notable carp that lived in Yeoveney was a fish called the Parrot, which followed the same journey as Shoulders into the next millennium. The Parrot was originally transferred from a local water known as Moor Lane and into Yeoveney, where Colin Claydon was the first known capture of this fish in the early 1960s.
Being such robust creatures, many of the fish that were moved survived and continued to flourish in their new homes. Only the following year after being introduced into Longfield, one of the former Yeoveney fish became Longfield's first 40lb carp. Colin Swaden was the captor and it was believed to also be the first carp in Britain landed on the newly invented hair rig. Longfield already had an established stock of carp before the Yeoveney inductees had arrived but the additions were certainly welcome as at times Longfield could be an extremely testing venue. Sometimes for months at a time bobbins would sit motionless and even accomplished anglers such as Ritchie McDonald found the going tough initially. Although in 1981 Ritchie had a bumper year and caught several large Longfield fish breaking 30lb, including the lake's biggest and on this occasion the scales raced to 38lb 14oz. Among his season's worth of catches was Shoulders weighing 26lb, which was 9lb up from its 1971 Yeoveney capture. In the mid 1980s several Longfield carp were lost to a fish kill, including the lake record mirror.