The History Behind Farlows Lake One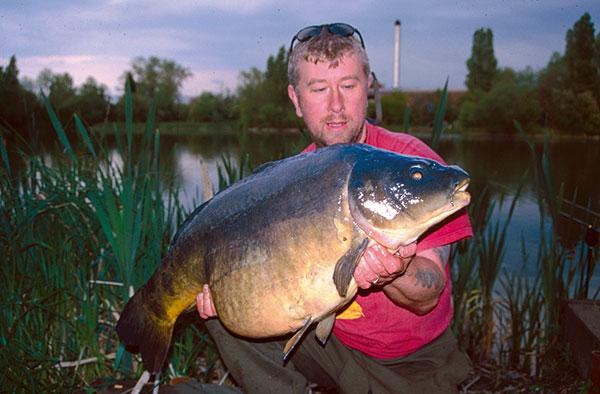 For many years there were several bodies of water that surround Heathrow Airport, which were once managed by the notorious Boyer Leisure. These included Bedfont, Colnbrook West, Farlows, Harefield, and Rodney Meadow as well as popular stretches of flowing water such as the River Kennet. These are all very well-known waters in the area, providing excellent fishing with some truly prized fish.
The demise of Boyer Leisure was disappointing for many, although it was largely felt that there were always improvements to be made. Sadly, since changing hands, the likes of Harefield and the surrounding waters in the Colne Valley have been negatively impacted in recent years. The construction of the high speed railway also known as HS2 has seen the closure, destruction of habitat, removal of fish and backfilling of some truly historic waters.
Although its fate has been decided for the time being, Harefield is a very interesting water as the former fishery manager, John Stent, had made the decision in the early 1990s to try and compete with the iconic Savay, which is just a stone's throw away. He did so by draining and netting Rodney Meadow as well as Willow Pool to create his very own super lake, with a modicum of success.
Of course the most famous out of the aforementioned Boyer controlled lakes is without a doubt Farlows, which is now under new ownership. This extremely popular day-ticket destination has seen anglers flock from far and wide over the decades to taste the delights that reside within its depths. Home now to an impressive stock of fish, Farlows is regularly host to a multitude of fishing competitions such as their very own Farlows Carp Cup, UK Carp Championships and the esteemed British Carp Angling Championships. Not only are there plenty of carp now resident in both Lakes 1 and 2, there is also a superb number of very big fish too.
One of the old guard, falling to the hands of Daniel Daneshi
Like many of the lakes in the surrounding area, the creation of Farlows was the result of gravel extraction that took place in the 1930s and saw the eventual building of the M25, which runs parallel to the west bank of Lake 1. After the removal of the rich gravel deposits, the site that had been left was getting on for 50 acres in size. For the most part Farlows is now a predominant carp water with plenty of other species on offer with the presence of bream, perch, pike, roach and tench. Among its various accolades, Farlows made its first entry into the history books back in 1953 when a new British Record perch was landed, at an enormous 5lb 14oz.
It is believed that Donald Leney may well have stocked some of his own Galician carp into the famed water many years ago, but with stocking records being scarce it is just a mere possibility, albeit likely as Donald was very proactive during his time. There were however most definitely stockings throughout the decades of Dink, Italian and Sutton strains of carp, providing an extensive mix of fish that would keep anglers returning to the banks of Farlows for many years to come.
In the 1970s there were reports of 30lb carp being landed from this iconic venue, which is most significant as there were but a limited number of such specimen sized fish in the country. In its infancy Farlows was a lightly stocked water, especially for its size, and was certainly not comparable to the stocking density it proudly claims today. It wasn't until the early 1980s when the Iver fishery reported the capture of a 37lb 4oz mirror, when only a week later it was caught once again. This new Farlows record and notably historic capture is arguably the fish that was responsible for putting this now day-ticket premier water on to the map. These two captures were to make it into the British Top 10 of largest reported carp in one year. Only the following year this big plated mirror made another appearance, breaking the Farlows record once more, caught by another fishery bailiff, this time weighing 38lb 12oz. This carp was largely unknown at the time, most certainly on its first capture, but the question that remained was, where did it come from?
This has led to debate to which very few know the answer, however some believe the answer laid in the ongoing construction of the M25, which began in 1975 for the eventual 117-mile motorway. Such a large road was always going to cause disturbance in unwanted areas and one those was at Yeoveney, a famous carp fishing water that is arguably most famous for his first record breaking brace banked in 1978 by Pete Springate. It is well documented that the anglers fishing Yeoveney felt a rescue operation was needed to rescue its resident carp.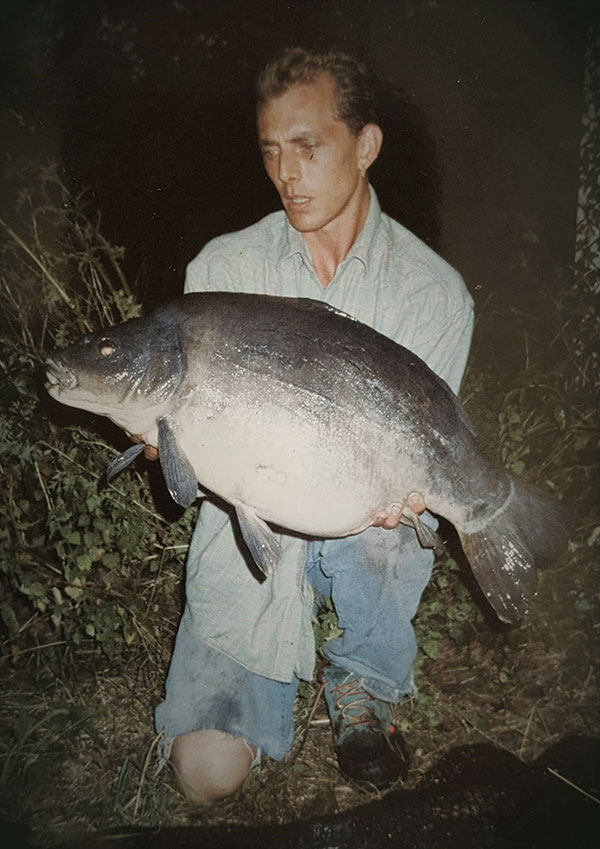 The Pet was Danny Smith's first thirty pound fish, along with many others too!
It was largely successful and famously saw fish move into Longfield and Wraysbury 1. There are whispers that some of these carp were quietly transferred into Farlows, which is where the record fish is suggested to have originated from. Others believe the record fish was from an original stocking although the similarities do appear to be that of the Yeoveney ilk. Before long, perhaps as news revealed where this particular carp lived, it went missing.
There was one fish that was formerly a resident of Rodney Meadow, which was to become synonymous with Farlows. It was a sparsely scaled mirror that was lovingly known as The Pet. Rodney Meadow is another water that is very well known in the local area, containing a number of different 30lb fish in the eighties. When Rodney was drained to populate the Harefield stock, an angler by the name of Dougal decided to stock The Pet into Farlows instead. Originally this carp would have come from Willow Pool, although fish were subsequently moved as Boyer Leisure was to lose its fishing rights and saw its first move into Rodney Meadow.
The Pet was a memorable carp for many as for several anglers it would become the 30lb fish to grace their landing nets. Many of the anglers who fished Farlows on a regular basis would have landed The Pet, the unlucky few did not, and for a period it was very much a sought after target fish as it was the only consistent thirty in the lake. The Pet died in the mid-1990s but was respectfully buried on the banks of Farlows along the renowned Factory Bank.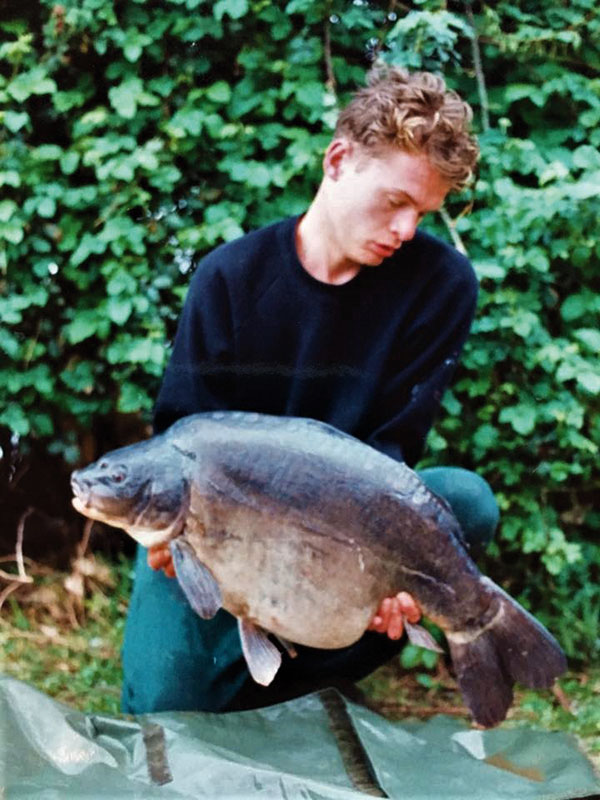 John Shoes regards The Pet as one fish he will never forget catching!
It was around this time when the likes of Broadlands and Farlows would begin to stay open as an any-method trout fishery, which was controversial to say the least. The traditional closed season was for many years considered to a necessary closure as not only could maintenance be carried out during this time but pressured carp would have a well deserved rest. For that reason Farlows became hugely popular for anglers who needed their fishing fix, while others were totally opposed to the idea.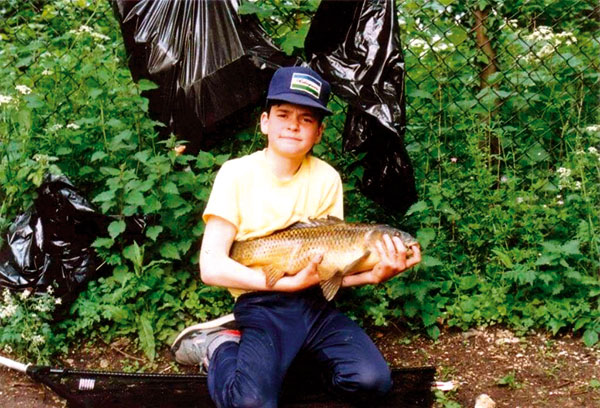 Barry Jones caught his first carp, double and twenty from Farlows in the 80's.
In more recent years fisheries now operate on a floating closed season, which means that once fish have spawned, then fisheries will allocate a breathing period for the carp to recover from their yearly ritual without any interference. Although the venue was popular, from then on it seemed that Farlows grew from strength to strength, seeing the banks bursting with anglers almost every weekend in search of quality Colne Valley carp. With more increased angling pressure, will come the introduction of more bait, and as a result the average size of fish will increase significantly. After the death of the older residents, new fish began to compete for the crown of the largest in the lake. One fish that did so and held the title for many years was a mirror known as The Pretty One.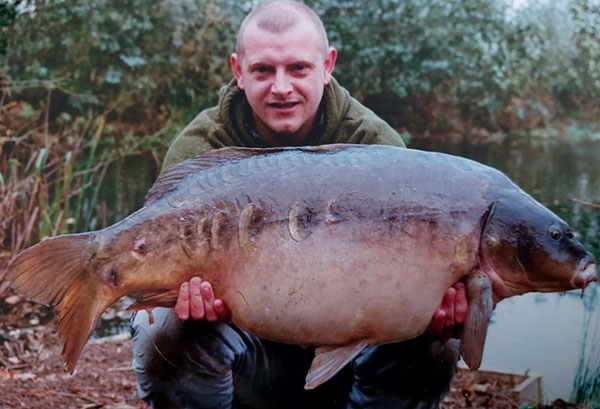 Jason Webb was to land The Pretty One three times!
This was a carp that was well known in carp fishing circles and its captures would be featured in the weeklies on a regular basis. In later years this specimen would regularly weigh over 40lb, where in 2015 Adam Cheal was to set a new complex record with The Pretty One at a huge 44lb 4oz. Only the year previous, in June 2014, the first 40lb common ever landed at Farlows was caught by Richard Butler at a weight of 40lb 12oz. This fish had since surpassed the 45lb mark on a number of occasions when in 2019 Ian Turner set a new complex record of 45lb 8oz by netting the Big Common. In July 2021 the great scale-laden carp passed away.
Richard Butler made Farlows history with the capture of their first 40lb common.
It is clear that Farlows has seen a vast number of changes over the years, but there is no denying the significant history that the venue carries and the bright future still ahead of it, with many more lifelong memories yet to be made.