FREE! Sticky Baits & Total Carp A2 Year Planner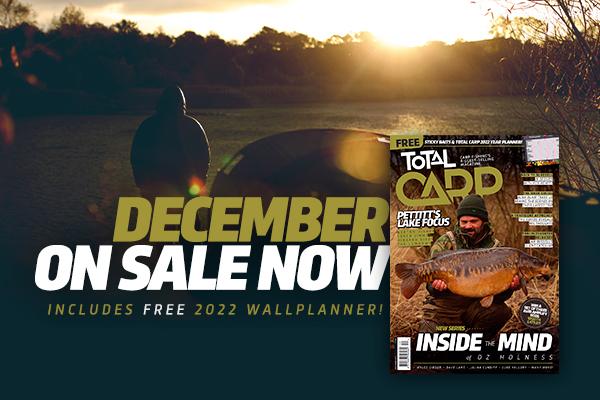 While December marks the true start of winter, for many of us our winter fishing is already well under way. Preparations have been made for the cold weather to arrive and many will turn their attention to new waters in anticipation of some cold water action. The fishing may be a bit more difficult at this time of year, but by making the right decisions it can still be a very enjoyable time to be out on bank!
The December issue of Total Carp brings a whole host of great tactical content from the likes of Oz Holness, Dave Lane, Myles Gibson and even our own editor to name just a few, tailored to help you keep those bites coming even though temperatures continue to drop off. There's also some great live action on the banks of Orchid Lake with Luke Vallory and we join Kev Hewitt during a tricky but eventful session on Bluebell. Plus Troubleshooter Reloaded sees Ian Russell meet up with a past client to find how his angling has fared since their first meet.
If you find yourself looking for a new venue to try in these colder months, then the new Norton Disney complex may just be the ticket! In this issue, we meet up at the Lincolnshire venue with the venue's very own Korda Coach to give us the low down with a focus on the premier water on site – Pettitt's, the perfect place to head for a special winter capture.
There's all this and loads more inside the December issue of Total Carp – we even collaborated with Sticky to bring you a free year planner to make sure 2022 is one to remember!
WHAT'S HOT
THE LAST ELSTOW AUTUMN
With the venue's future looking bleak, Dan Wildbore reflects on his favourite time of year on his favourite venue – Elstow Pit 1. Good things rarely last forever and so it's all the more important to smell the roses along the way!
THE NASH SOCIAL ROAD TRIP
Alan Blair joins the Nash team as they embark on the latest Nash Social, providing us with a behind the scenes look at the mammoth task of putting the film together. Alongside the main man himself, we also get input from Oli, Dan and Henry, as well as some of the filming team whose task it was to document it all on camera.
INSIDE OZ'S MIND!
Big-carp legend Oz Holness starts his brand new series where each month he'll delve deep on a topical subject; this month it's his thoughts on autumn and how we can approach carp fishing as the water temperatures progressively drop towards winter! It can be a tricky time of year, but a little extra thought can go a long way!