Fishing: Reeling In A New Audience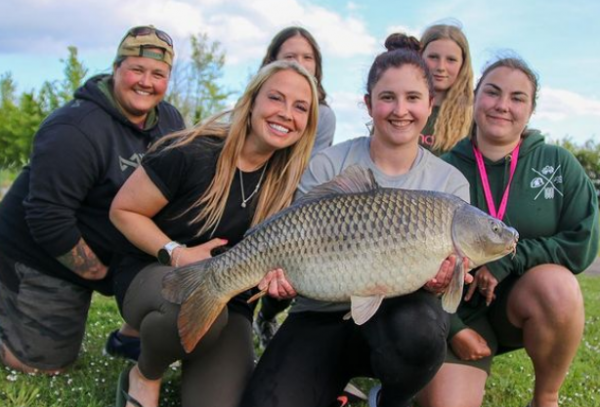 Fishing may be something associated with the older generation, spending hours sitting by the side of a river or lake with not a lot going on. However, after recent years there has been a huge shift in the generation of fishing enthusiasts seeing this broaden from the stereotypical fisher.
New research has found that Google searches for fishing-related keywords saw a 26% increase January – April 2022 compared to the same period in 2021, with keywords such as 'fishery near me' seeing a huge 14,800 average searches a month in the UK. Niche hobbies such as this are becoming increasingly popular on social media platforms such as Instagram and TikTok with the latter's video content regularly seeing hundreds of thousands of views, showing that fishing is clearly establishing itself as a hobby for many in recent years.
With the rise in platforms such as TikTok, gen Zs are returning to nostalgic hobbies and ways of life, with 72% of participants of a recent poll being inspired to take up a new hobby after watching videos on social media networks, with a focus on doing things that make you happy and improve your mental health, with the hashtag #CarpFishingUK seeing over 166.1 million views on TikTok alone.
This combined with the Environment Agency's target of getting 1 million people into fishing, their focus is on fishing for positive mental health, which could potentially be an indicator of why it has grown in popularity in recent years as we strive to get outside more and look for new ways to improve our mental health.
Why should you start fishing?
Content creator and fishing influencer, @BevClifford, who has almost 18,000 followers on her Instagram, started fishing in her mid-twenties as a way to relax: "I fish for many reasons but mainly as I love the peace and tranquillity of being outdoors and in nature; being by the water while waiting for a fish to bite is so relaxing."
The benefits and draws of fishing are related to the peacefulness of being in nature. Bev mentions why she continues to take to the rivers to pursue the activity: "there is a great social element to angling, I've met so many wonderful people and made great memories. It's been proven that being outside, in nature, and near water has massive benefits for mental health and wellbeing. It's a friendly, welcoming and enjoyable sport for people of all ages, ability and gender."
Fishing is stereotypically considered a male-dominated sport, usually thought of for the older generation, but in recent years it's seen an increase in uptake with women and those across all ages as people seek to try new pursuits spurred by two years indoors. Bev comments: "It can be incredibly male dominated, but we're seeing a great shift in the number of women getting into fishing in the last five or so years. A lot more people took their kids fishing throughout the pandemic as well and hopefully they will continue the hobby and become anglers for life." Bev also runs Ladies Carp Academy which encourages women to hone their carp angling skills, form new friends and become more confident.
As TikTok and Instagram become platforms for sharing new hobbies and skills, we're seeing a large range of activities make a comeback where people are looking to try new things: Bev, who regularly shares fishing content on her Instagram profile said that she shares content on social media as a way of looking back at progress and also in the hope that she can encourage more women to try out fishing.
Many people get into fishing usually through the tight-knit community passed down through generations, like Bev, who started fishing as a hobby but made it her full-time job: "I've worked in the angling industry since I left school. My father published angling magazines and I went to work there while I studied. I ran the business along with my brother until two years ago when we closed it down. I still work in the angling industry now and I don't ever see myself leaving!"
For anyone looking to get started in fishing, Bev shares her advice: "Check out the Get Fishing website or find your local tackle shop and pop in there for some advice. Social media platforms like YouTube and TikTok can be a great idea to get a taste for the sport as there's some great content available from companies like Korda, Sticky Baits, and Fox."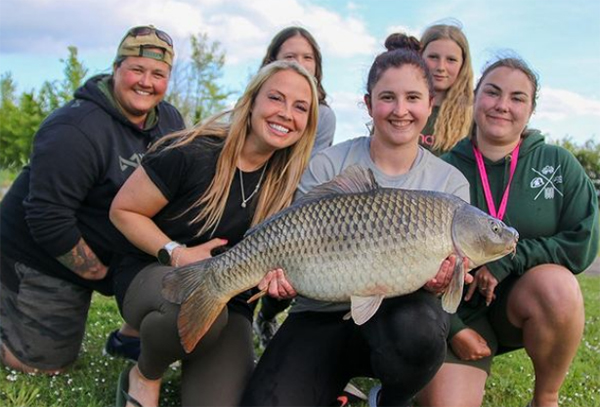 Beginner's guide to fishing
If you feel inspired by these fishing TikTokers, fishing expert and Fisheries, Grounds & Leisure Manager from Clawford Lakes, Ben Smeeth, provides his tips on how to start with fishing as a beginner.
What types of fishing are there?
Fishing in the UK is most commonly broken down into two types; coarse fishing and game fishing.
Coarse fishing is where fish are returned to the water after capture. This is the case for species such as carp, roach and rudd. The focus is on sustainability and preserving the fish's health, so fish are often treated for sores or hook holds before they are returned to the habitat.
Coarse fishing is also a relatively inexpensive hobby to get into, with equipment and supplies like tackle being great value for money.
Game fishing is where fish can be caught and taken for the plate, where they are often eaten after they are caught. This applies to species such as trout. While this isn't offered on site at any of the Lakeshore Leisure resorts, there are local game fishing fisheries in Devon and Somerset.
What are the essential kit items you need to start fishing?
It's important not to jump in at the deep end and buying fishing kit that you may not need or know how to use, as it can become expensive.
Try looking for open coaching sessions at fisheries to get some pointers before investing in your own kit. Many fisheries have their own fishing tackle hire available where you can hire a basic set up to give fishing your first try and catch a few fish, before investing in your own.
Alternatively going to a fishery with a friend who is a seasoned fisher can also be a brilliant place to start, as they can advise you on what steps you need to take before you buy your first rod. The community is very supportive, so many regular fishers are happy to give you some tips in action.
Are there any rules you need to stick to?
Fishery's rules vary depending on the site you visit, so it's important to check what these are before you go fishing, as they should be adhered to at all times for your, and the fishes' safety.
It's generally advised to use unhooking mats when fish are caught and to use carp care liquids where anglers can treat sores or hook holds before throwing them back into the water. This is to maintain the fish's health and ensure good sport for future anglers.
What is the fishing community like?
There has always been a wide variety in ages of anglers trying fishing, from children as young as three years old, to people in their 70s and 80s. There has also certainly been an increase in women trying out the sport, where previously it was very male dominated, which is great to see the sport progressing and being enjoyed by all.
Fishing really can be for anyone, it's a fantastic way to relax in the surroundings of water and countryside and make some lasting memories either on your own, with your family, or friends.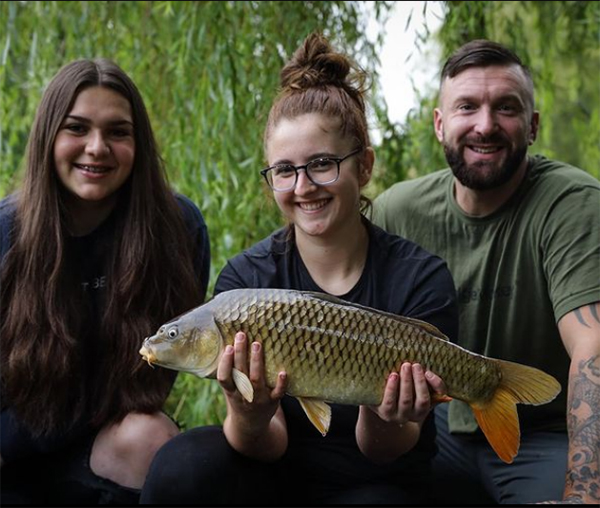 Tips for beginners:
1. Get a rod fishing license
An essential first step for anyone serious about giving fishing a try is to purchase your fishing license from gov.uk/fishing-licences. All anglers must be in possession of a license to fish any freshwater in the UK. The sales of rod fishing licences are used to fund the work needed to continue to protect England and Wales's fisheries, so is an important step.
You can get one or eight-day licenses if you want to just give fishing a try, as well as yearly licenses.
2. Visit local tackle shops or fisheries
The next step would be to go to a local tackle shop or local fishing lakes and speak to anglers and explain that you want to give fishing a try. Anglers are usually willing to help each other out and tackle shops are also a great way of getting some good advice, and meeting people within the community.
3. Keep things simple
It's important to start small and simply get used to catching a few fish so you can get comfortable with how to handle fish and understand how to use the fishing tackle.
This will help you get to grips with techniques and general rules of thumb like feeding little and often with baits like maggots and sweetcorn to attract fish to where you're fishing. It's important not to feed too much in one go as the fish will simply get full up and not feed on your hook bait.
Once you are more comfortable you can advance the fishing methods you use and species of fish you target.
Sound good to you? Why not take a trip to Clawford lakes to not only enjoy some fishing, but also stay in some luxury accommodation.