February Issue Out Now!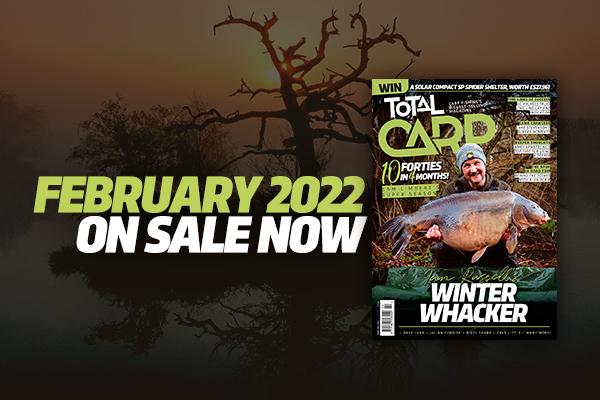 Every so often the stars well and truly align, as they did for Ian Russell! Just two weeks into the New Year, Ian achieved his target, banking the biggest carp in Wraysbury 1! Rather than his usual Troubleshooter feature, this month we take a brief break to hear the story of his January giant!
We've got more inspiration to see you through these coldest months too, with success stories from the likes of Harry Hogan with his winter campaign, plus Sam Limbert's mind-bending story of 10 forties in just four months' fishing!
For most, at this time of year it's just about getting one bite at a time and sometimes even some of the hardiest big-carp anglers will turn to fishing runs waters to get a bend in the rod. Taking the odd session to flex the carbon is not time wasted – it can keep motivation high and help you continue to fish effectively for when those first fish finally appear, as Nigel Sharp reveals! On a similar note, Dave Little reveals how a little extra prep can get your new season off on the right foot, Laney is one step ahead as he continues his 12 months of carp fishing and there's more great seasonal advice from Alan Blair as he looks behind the scenes of the Nash UK Road Trip filmed in baltic conditions early last spring.
We've loads more great tactics and tips too, from top carpers such as James Armstrong, Luke Stevenson, Oz Holness and many more! Add in the latest gear reviews and a chance to win a full Solar shelter system and you've got everything you need to see you through the month, no matter what the winter throws at you!
EDITOR'S PICKS…
NASH UK ROAD TRIP
It's not just Alan Blair this month as the whole Nash team embark on their annual Road Trip! Filmed early last Spring, it's all the more applicable to these next few months. A fine balancing act between the harsh conditions of Winter and first signs of Spring ahead. We take a behind-the-scenes look at everything that went on!
WINTER WHACKER!
Not your usual Troubleshooter from Ian Russell this month! In last month's magazine, we asked a few our anglers to outline their resolutions and aspirations for the year ahead. Ian's was to catch a UK fifty pounder and by mid-January, he had done it.
INSIDE THE MIND
While it's a trivial subject to some, Oz Holness believes we should pay a lot more attention to our line, line-lay and bite indication. The big fish connoisseur takes an in-depth look at the subject, revealing that it really can be a fine line between success and failure!
SUPER SESSION
10 forties in a year, that's certainly an achievement to write home about. Well, Sam Limbert did that in a matter of months in what was a spectacular feat of angling on his Peterborough syndicate, Deepings!
12 MONTHS OF CARP FISHING
Dave Lane outlines everything you can come to expect from carp fishing in March. With extremely fluctuating conditions, it's easy to get carried away and end up caught out. Remember – always bring warm clothes, no matter how 'nice' it looks!
EUREKA MOMENTS
Famed for his big hair and even bigger carp, this month we have Luke Stevenson revealing his five simple but defining Eureka Moments. With stand-out captures from numerous tricky waters, big and small, you'd be silly not to take on some of Luke's wisdom.