ESSENTIALS | Winter Warmers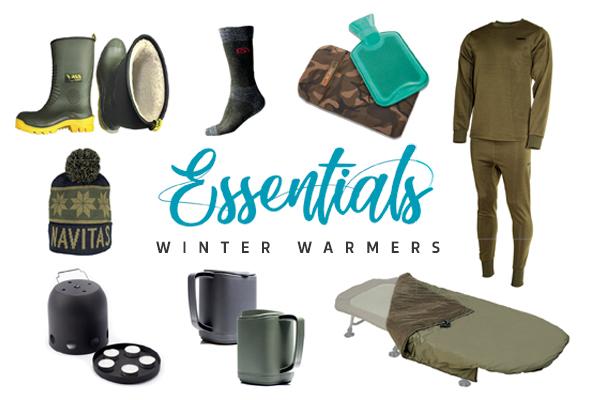 As the weather gets colder, staying out on the bank shouldn't be an endurance test. Here are eight essentials to keep you warm and toasty when the mercury plummets, as recommended by the team at Total Fishing Tacle.
SOCKS: TRAKKER MERINO THERMAL SOCKS
If you've got freezing feet you can't function properly, so wrap your tootsies in some proper warm socks. These Merino thermal socks do the job nicely and provide plenty of heat without being too bulky inside your boots.
HOT WATER BOTTLE: FOX CAMOLITE HOT WATER BOTTLE
If you're feeling chilly in your bivvy while waiting for a bite, a source of heat you can hold close is always effective at warming you up. This Camolite Hot Water Bottle from Fox provides a simple solution – fill it with hot water, pop it in the camou fleece cover and away you go. The fleece is neoprene lined to make the heat last longer.
HAT: NAVITAS SNOWFLAKE BOBBLE HAT
This really is an essential, as keeping your head warm is an important part of keeping the rest of you functioning properly. A nice warm bobble hat like this 100 per cent acrylic Navitas Snowflake version is just the job – also works up mountains and on the street.
UNDER LAYERS: NASH ZT POLAR SECOND SKINS
The best protection from the cold is by wearing many thin layers rather than just a couple of thick, bulky ones. Start with an undergarment next to your skin like these Nash ZT Polar Second Skins Top and Bottoms, offering thinner material yet higher warmth retention, a non-pile finish and with a rounded neck for improved thermal performance. The top can also be worn as a mid layer.
BOOTS: VASS FLEECE-LINED WATERPROOF R BOOTS
This is no time for trainers or ordinary wellies, get yourself some proper winter boots to keep your feet warm and dry. The tough yet comfortable three-quarter height Vass Fleece Lined Waterproof R Boots are up to the task, with a fixed fur winter liner. Although not specifically thermal boots these will cope with UK winters and are less bulky and cumbersome. A deep heel kick makes them easy to get off when you want to retire for the night.
HEATER: NASH BANK LIFE BIVVY HEATER
If you're in it for the long haul you'll need a way to keep the bivvy warm when temperatures drop. Here's a stylish, simple and eco-friendly solution from Nash, the Bank Life Bivvy Heater. By using nothing other than five tea lights inside the central chamber it can raise the temperature inside your bivvy by up to 10ºC. The heating time lasts for around five to six hours, without the risks and dangers of gas or fuel burning products.
MUG: RIDGEMONKEY THERMO MUG
You've just made a lovely brew on the bank when you get a take, and by the time the carp is landed, weighed and photographed it's gone cold. Not with a mug like this Thermo Mug from RidgeMonkey, though. The insulated design keeps hot drinks hot for up to an hour – plenty of time to play that whacker! The robust double-walled polypropylene construction also means it won't break if you knock it over it in all the excitement.
BEDCHAIR COVER: TRAKKER BIG SNOOZE PLUS BED COVER
Just because you're on the bank doesn't mean you have to compromise on comfort and warmth, so if your sleeping bag's not quite up to winter weather, add an extra season to it with a bedchair cover. This Big Snooze version from Trakker is in a breathable yet water-resistant upper fabric for maximum protection, with a soft fleece-lined inner for maximum warmth. It stays in place thanks to two elasticated straps, so you won't wake up in the middle of the night feeling frozen.