ESSENTIALS | Stocking Fillers!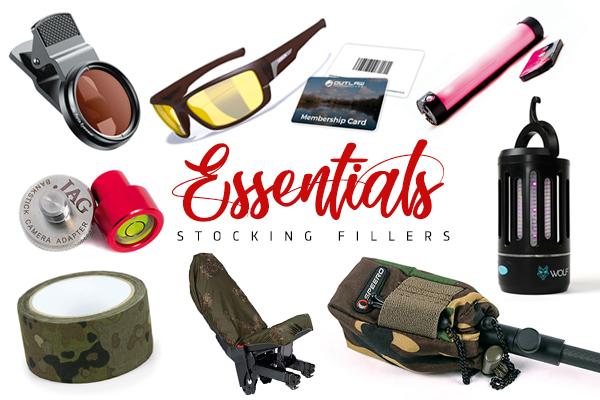 Some suggestions from Outlaw Pro as to what you should get to give or hope to receive this Christmas.
OUTLAW PRO MEMBERSHIP CARP
RRP: £10:00
With an Outlaw Pro membership card you not only get 10 per cent off all Outlaw Pro items, but you also receive a 5 per cent discount on most other products from the leading brands, saving loads over the course of a year! The card can be used in the flagship Billericay store as well as online so you can take advantage even if you live in Liverpool!
With the membership card, you also receive free next-working-day delivery on any order over the value of £20 that is placed before 2pm, Monday to Thursday. Why not treat the angler in your life, with a gift that just keeps on giving!
FORTIS POLARISED PHONE FILTER
RRP: £14.99
See deeper and become the next Scott Lloyd! Get up close and film your target fish before you go and catch it with these handy polarised filters from Fortis, which simply clip on to your smart phone. The rotating filter allows you to orientate the polarisation so that you can cut out the glare, whether your phone is being held in a portrait or landscape orientation. The filter uses the same signature polarised lens colour as the renowned sunnies!
THINKING ANGLERS CAMFLECK CLOTH TAPE
RRP: £7.99
Get creative and make your kit ULTRA CARPY! This 100 per cent cotton, self-adhesive tape is ideal for camouflaging rod butts, storm poles, water containers, brew kits, tackle boxes and pretty much anything else solid enough to wrap in tape! The tape is highly resistant to wear and is pliable for stretching around corners and hard to reach areas. Does it help you catch more carp? No. Does it allow you to personalise your kit? ABSOLUTELY, and for that reason, we love it! The tape comes supplied on a 10m x 50mm spool and TA recommends heating with a hairdryer for ultimate long lasting adhesion!
JAG BANK STICK CAMERA ADAPTOR
RRP: £11.99
Precision machined by JAG in the UK, this handy adaptor can turn any industry standard bankstick, storm pole or Xcavator into a makeshift monopod, ready for self-take photography on the bank. The tiny device can be stowed away with your camera kit without adding any additional bulk, while allowing you to get that perfect shot when you land a beauty! It comes with a bubble level that screws on to the adapter, ensuring your camera is perfectly level!
SPEERO ALARM POUCH
RRP: £5.50
A simple but reliable solution to protecting your alarms, these new pouches from Speero have generous padding to help avoid any possible damage to the alarm head, while the drawstring cord lock around the base prevents the pouch from slipping off. Measuring in at 50mm in length, 50mm in width and 110mm in height these durable pouches will see the vast majority of compact alarms fitting comfortably inside. Installed on the outside are elasticated indicator loops helping to stop chains or cords from tangling and potentially falling off during transportation – a most welcome feature!
WOLF MOZZI ZAPPA & BIVVY LIGHT
RRP: £19.99
This battery operated, hanging Mosquito killer lamp cleverly utilises a blue/purple light with a precise wavelength to attract mosquitoes and other flying insects to the device, which then emits a powerful 800v electric shock killing them quickly and efficiently thanks to the high voltage grid, which is safely encased inside. The zapper also features a torch function outputting 100 lumens of light to carry out a multitude of tasks in the dark and can simply be switched to either light and zapper, light or just zapper, depending on your situation and how many flying critters are causing murders in your swim.
LEECH H4X NIGHT SUNGLASSES
RRP: £59.99
Polarised sunglasses are an essential piece of kit for finding carp, as well as enabling you to look out over the water without squinting and straining due to the light reflected from the water's surface. The Leech H4X Night fishing glasses feature yellow photochromatic lenses that adapt to the existing light, making them super-effective and versatile, even in low light conditions.
The lenses feature a hydrophobic coating, scratch resistant coating and protect from harmful UV rays.
NASH SCOPE CAR SEAT COVERS
RRP: £44.99
Get your motor kitted out for your own Road Trip like Alan Blair with these handy Nash Scope Car Seat Covers. Featuring the unique Scope camouflage with a raised silicone Scope Compass head rest logo, these both look the part and also protect your seats from dirt and scuff marks. The covers are finished in a matte finish 5,000mm HH peachskin construction, which is comfortable to the touch and waterproof. They are a universal, elasticated instant fit and are sold in pairs.
OUTLAW PRO BIVVY LIGHT 2 COLOUR USB CHARGE REMOTE
RRP: £29.95
Light up your life on the bank with this long lasting, energy saving, remote controlled bivvy light! With a battery life of 250 hours, you can ensure you always have light and the five different lighting modes (white or red light) ensures a comfortable ambiance in your angling boudoir. The bivvy light can be hung via the magnetic strip or attachment hook and can be operated manually or via the remote. The 2000mAh rechargeable battery takes just four hours to charge.