ESSENTIALS | Night Fishing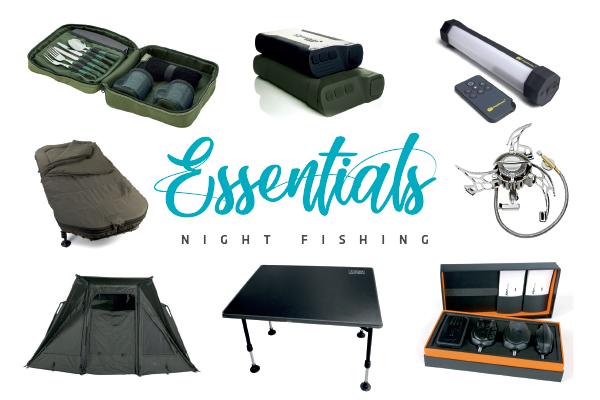 Carp are anti-social creatures, often feeding at night when we should be tucked up in bed. Here are nine essential items recommended by Total Fishing Tackle to make your bankside stay in the bivvy more bearable.
SHELTER: NASH TITAN T1
Unless you're ultra-hard (or mad) you'll need somewhere to rest your head and protect you from the elements while waiting for a bite.
The Titan T1 bivvy is versatile enough to use as a base for short or long sessions, with increased headroom for comfort combined with the legendary armoured Titan skin and flexible door and storm panel design.
The new frame design achieves a flat back to tuck bedchairs away and improve usable space, while the front ribs extend to form a peak, maximising coverage for storm protection, keeping you warm, dry and comfortable.
HEAD TORCH: RIDGEMONKEY VRH150 RECHARGEABLE HEADTORCH
It gets dark at night, so you need to be able to see what you're doing without dazzling anyone near you or spooking every carp for miles.
Featuring a hard-wearing rubberised outer, and IP64 water resistance, this rechargeable headtorch means no more batteries, simply connect to any USB charger to top up the internal lithium polymer cell.
The 18-position, 90-degree tilt function enbles it to be used either way up, simply stick it on your head and adjust accordingly. With a twin colour output and variable brightness levels from 50 to 200 lumens, the green light is brighter to the naked eye than a conventional red beam, meaning visual clarity is improved at lower light levels.
BEDCHAIR & SLEEPING BAG/SLEEP SYSTEM: AVID BENCHMARK SLEEP SYSTEM
You're going to have to sleep at some point, so why not do so in comfort?
The Benchmark Memory Foam System features a twin-layer, four-season sleeping bag, so in the warmer months you can sleep under the top, thinner, layer, and in winter you can snuggle under the bottom layer, which offers more warmth and protection from the elements.
With a complete Lumbar Region Support System underneath the Memory Foam mattress for maximum comfort, and three strategically placed legs offer six supporting positions, giving even weight distribution and a great night's sleep.
BIVVY LIGHT: RIDGEMONKEY BIVVY LITE ELITE IR
While you're waiting for Mr Carp to come calling, you don't necessarily want to be swathed in darkness. This bivvy light features three colours – white, red and green – with a smooth brightness control and wireless remote.
It has a built-in rechargeable lithium-ion battery with micro USB charging ports and a quad LED power indicator, all housed in a dust and water-resistant casing. Light 'em up!
POWER BANK: RIDGEMONKEY VAULT C-SMART POWERPACK
All those electricals will use some juice, so you need to be able to charge them up while you're on the bank.
The Vault C-Smart allows simultaneous use of all four output ports and is one of the first portable power sources to feature USB-C with Power Delivery technology that allows safe fast charging of smartphones, tablets, laptops and accessories. With up to 45W of charging power on tap, the RidgeMonkey Vault C-Smart can charge your device up to NINE times faster than a standard 5W USB charger. What's more, the Vault C-Smart recharges in just a few hours, perfect for those short-notice sessions.
STOVE & COOKWARE: TRAKKER ARMOLIFE CG-3 STOVE
The smell of bacon and eggs frying first thing in the morning with a big steaming mug of tea to go with it (especially after landing that special carp in the night)… is there anything finer?
Looking like something out of Star Wars this ultra-strong, easy to use and very quick to assemble Trakker stove has an oversized pre-heat tube for ultra-efficient gas combustion, Piezo-electronic ignition system, wide frame and low centre of gravity for increased stability. With a power output of 3,500W it'll cope with all the meals you'll want and boil a kettle in no time. Comes complete with nylon carry bag.
FOOD BAG (COOL BAG): TRAKKER NXG DELUXE FOOD SET
You've cooked it or boiled it, now you need to eat it or drink it! This one-stop solution for bankside gastronomic requirements comes supplied with a tea towel, two square plates, two spoons, two forks, two knifes, two full-sized green pots and two 300ml plastic mugs, so you can easily accommodate a guest. A heavy-duty olive green carry case houses the utensils with a comfortable EVA carry handle.
BIVVY TABLE: FOX ROYALE SESSION XL TABLE
A bivvy table is useful for all sorts of things on a night session, from rig tying to fine dining to carrying the cans (soft drinks, obviously) on a social, and the bigger the better.
Designed primarily to meet the demand from anglers on the Continent who wanted a much larger table for use on long sessions, this Royale Session Table XL will appeal to any anglers who take to the banks at night for days at a time.
BITE ALARM WITH RECEIVER: FOX RX+ 3 ROD SET
Let's not forget why we're here at night… the fishing! With all this eating, sleeping and drinking going on you'll need a bite alarm with a receiver that you can locate in the bivvy to wake you in the night-time when it's bite time.
This set from Fox has two operational modes – day and night. In night mode both LEDs will subtly glow in your chosen colour, with a high quality cone speaker and indexed ergonomic control for volume (you don't want to wake the neighbours) and tone, with eight different tone settings.
The receiver has an ultra-long range with vibration alert function, bivvy light function, anti-theft alarm, volume control and high quality cone speaker.