ESSENTIALS | Cold Weather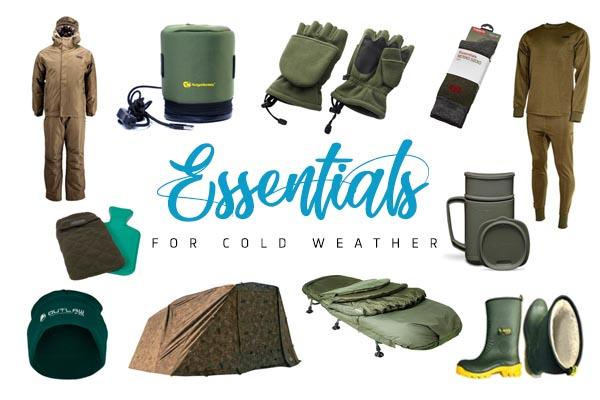 Make fishing in the cold more enjoyable and less of an ordeal with these essentials.
WINTER SUIT: NASH ZT ARCTIC SUIT
RRP: £119.99
The outer layers are then designed to protect you from the elements, keeping everything inside warm and most importantly, DRY! As such, a decent winter suit consisting of waterproof, insulated jacket and trousers is an absolute must. Nash's Zero Tolerance range is renowned for high performance winter wear and this combo is no different. The inclusion of a bib & brace also provides additional overlapping protection for your lower back to keep cold draughts out!
HAT: OUTLAW PRO BEANIE GREEN
RRP: £8.95
Keep that noggin wrapped up – it's a well known tale that a significant amount of heat escapes from your head! Whether or not it's almost 50 per cent is debatable, but either way a knitted beanie is a reliable way to keep the chills away. This Outlaw pro jobby is constructed from soft acrylic and is nice and stretchy for a snug fit.
BASE LAYER: NASH ZT POLAR SECOND SKINS
RRP: £34.99
Warm clothing starts at the core - get these foundations wrong and the whole lot could come tumbling down. Cotton is a no-go here, when it comes to base layers it's about Merino wool or synthetics designed to provide warmth while also wicking sweat. The ZT Polar Second skins have a non-pile finish and a round neck for a comfortable fit under your mid layers
THERMAL MUG: RIDGEMONKEY THERMOMUG DLX BREW SET
RRP: £19.99
A hot drink goes a long way when you're stood outside listening for late night shows and a dual walled, thermally insulated mug is the ideal vessel for keeping that brew nice and warm for as long as possible. RidgeMonkey took the idea one step further and this doubles up as an entire brew kit! Two small containers for tea and sugar fit inside the mug with a third larger compartment for milk – everything you need!
GLOVES: TRAKKER FOLDBACK GLOVES
RRP: £14.99
Not only are cold hands uncomfortable, but it also makes intricate tasks such as rig tying very difficult. Unfortunately, wearing conventional gloves does the same thing! These fingerless gloves ensure you can retain your dexterity, while the fold-over mitt design provides that additional warmth when things really get chilly. Constructed from Polartec fleece, they are super-comfortable and warm, meanwhile a palm patch retains a solid grip.
HOT WATER BOTTLE: TRAKKER HOT WATER BOTTLE
RRP: £18.99
Is freezing your nads off in the name of being super-carpy really the way to go? A hot water bottle guarantees toastiness and is a real game-changer as the night-time temperatures begin to drop – just fill it up half an hour before you go to sleep and bung it in the sleeping bag. This Trakker Hot Water Bottle comes with a quilted fleece outer, which not only makes it comfortable to the touch but also keeps the bottle warmer for longer too.
WARM SLEEPING BAG: TRAKKER 365
RRP: £199.99
If you're going to be night fishing throughout the colder months, you'll need a warm sleeping bag, such as the Trakker 365. The name says it all – this sleeping bag is designed to provide comfort throughout the seasons, even the depths of winter. It features a reversible, removeable zip in liner which transforms the bag between a 3 and 5 season bag and offers either a fleece or smooth polyester lining. The waterproof Aquatexx outer and Q7 hollow fibre filling provide all the protection you'll need!
BOOTS: VASS R BOOT
RRP: £47.95
Cold weather is often combined with wet weather too, so avoid cold, soggy feet by making sensible footwear choices! Walking boots are designed for walking in – stop walking and you end up with cold feet! As carpers, we spend much of our time standing around at the water's edge, so it makes sense to opt for a Wellington style boot with a warm, winter lining. The R boot utilises the same boot design seen on Vass waders, with a comfortable and warm furry lining – designed for bankside use!
MERINO SOCKS: TRAKKER WINTER MERINO SOCKS
RRP: £15.99
Want to keep your feet warm and dry? You'll need to combine your quality footwear with the right socks. Merino socks are the way to go in winter, thanks to the natural properties of Merino wool – it's warm, durable and wicks sweat. These socks have an in-turned welt for a relaxed, comfortable fit; a ventilation channel for increased breathability, plus a reinforced toe and heel in Cordura
OVERWRAP: NASH TITAN WRAP
RRP: £279.99
Adding an additional skin to your shelter traps a layer of heat between the two skins, helping to keep the inside nice and toasty while the outside is freezing cold. By creating this internal space, it also stops the formation of condensation inside! It's important to use the overwrap specifically designed for your bivvy to ensure a snug fit. Extended overwraps or wraps for bivvies with porches like the Titan T1 also provide a little extra space at the front of the bivvy to store additional tackle that you don't want to leave in it, such as bait, boots and waders.
GAS CANISTER COVER: RIDGEMONKEY ECOPOWER USB HEATED GAS CANISTER COVER
RRP: £21.99
As temperatures plummet, so does the efficacy of conventional camping gas stoves. In past years, anglers would turn to petrol stoves but these tend to be messy and you really don't want petrol on your hands when handling bait. While most gas canister cosies actually keep the cold in, this handy device from RidgeMonkey actually gently heats it up to improve performance. Powered by a USB cable, it can be plugged into your power pack.