Day Tripper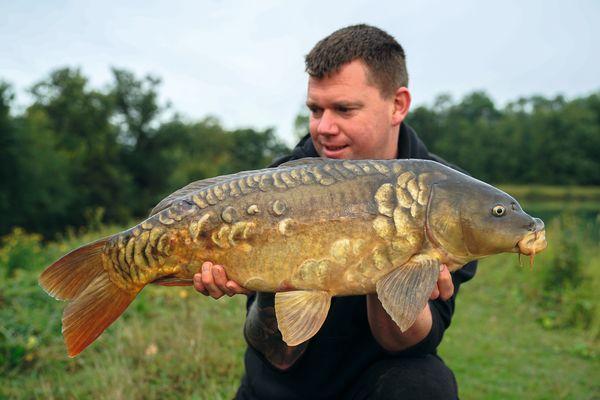 It is coming to that time of year once again where those dark nights are becoming longer, temperatures are dropping off and so too are the number of captures at the lakes. Winter can no doubt be a grim time of year to be huddled under a brolly, with long nights and unpredictable, cold weather – even building up the motivation to be out doing it in the cold can be a chore.
However, camping out for nights on end doesn't have to be the best solution, and we joined Dan Stacey on a small, Cambridgeshire venue to see how he goes about tackling a day session on limited time. After an early start, we arrived at the venue to find him getting his second rod in position for the day ahead.
DAN STACEY: "Day sessions or short five to six-hour trips are important for me during the winter; firstly to get my fishing fix, but more importantly, when spring does come around I still have my eye in having fished regularly throughout the winter period. With day sessions, you do not have to commit to weekends or trips in advance, where the weather may not be ideal. I can choose to go at the drop of the hat with very little prep work or organisation needed, which means that I am more likely to be motivated to get out there."
Dan baits up an area of slack water at the back of an island.
After Dan got his rod positioned just beyond the island feature in front, we sat back to chat about mobility and why it is key when fishing days only…
DS: "Winter fishing can be very tricky and certainly, those signs of fish are much less frequent, if at all. With this said, I feel that it is important to be on your toes or ready to move quickly if needs be. I generally fish from the barrow on day trips; using that as a base station that I can get rigs and bait sorted from. The only item of tackle that comes off my barrow is the chair and my main carryall, which gives me access to all necessary bits in the bag below.
"Throughout the trip, I will firmly have my eyes on the water, looking for any type of sign that gives their presence away. With the barrow loaded, I can quickly capitalise on a move at any time, quickly winding my rods in and heading off."
Dan's simple, yet highly effective day session rig.
Dan dunks his whole bag and hook bait into some Northern Special bait booster.
So Dan, could you briefly describe why you have chosen the swim we are in today and how you could make a decision without having seen any fish around the lake?
DS: "A lot of location in the winter does come down to experience and the knowledge you have built up over the years of specific venues and conditions. Today, I have decided to target the back of the island here, not tight, but in an area that is sheltered from this crosswind at the bottom of the shelf. This is a perfect interception point for any carp moving around the back of the island, using the drop-off to skirt around and look for food. Today, I have one rod fishing further up the shelf than the other, covering a couple of different depth options."
Before we could finish the first brew of the day, Dan's left-hand rod burst into action and a short battle commenced. With the fish safely in the folds of the net, he wasted no time in getting the rod straight back on the money.
DS: "It isn't unusual to receive very short periods of feeding activity at this time of year; the windows of opportunity are much smaller and as a result you have to capitalise on them wherever you can.
"The fish is sitting safely in the net and now I have the rod wrapped up with a fresh hook bait and PVA bag ready to go, I can get this rod straight back on to the spot. What was interesting is that this rod is the one that did the bite in deeper water, which may influence me into moving my right-hand rod in a couple of hours' time, but we shall see."
A pretty little mirror kick-starts Dan's day session.
With the fished photographed and slipped back, we quizzed Dan on his very simple, yet effective presentation.
DS: "Those that know me will know that I have used this same presentation for well over 10 years; it just works, and I am so confident in using it that I have no reason to change. I have used this everywhere from pressured big-fish waters to well-stocked commercial venues and it has always proved successful.
"A couple of the main reasons I use this rig are that I can rest assured it will be presented effectively over the majority of lake beds. The small pop-up positioned snowman-style gives the rig enough buoyancy so that it settles on top of any light debris or dirt on the lake bed. The small NS mini on top also provides a great visual sight marker for the carp to home in on, getting those bites that little bit quicker."
And have you found any particular colours to work best?
DS: "Every day is different and that is why I like to chop and change the colour of my hook bait throughout the duration of the day. The NS minis come in a range of colours, so I have the option there to switch it up and see what is working best. Today, I have found the orange colour to be particularly effective, which might be down to the clarity of the water here today. I am feeding a few Live System boilies, so I generally always keep the snowman bottom bait matching what I am feeding, increasing the numbers of food signals being released from the hook bait."
With mid-morning now pushing on Dan was once again starting to receive a few liners, and before long the same rod he'd repositioned was once again away. This time though, it was clearly a better fish, holding some ground before he had the chance to steer it towards the waiting net. On closer inspection, it turned out to be a beautiful, long mirror, just over the 20lb mark, a right result!
DS: "I had a good feeling that rod would go again; usually, it is one rod that does all of the bites and this seemed to be the case again on this occasion. It just shows how localised the fish can be at this time of year and where they prefer to feed, despite the other rod only being two rod lengths to the right.
"Those slight changes in depth can be the determining factor between getting bites and not, which is why I always think it is important to rove the rods about in varying depths if bites are not forthcoming."
Nearly there...
The final fish was this mega looking scaly at over 20lb.
Knowing Dan likes to keep on his feet and keep the action coming throughout the winter months, we wanted to pick his brains on how the weather in the winter months will determine his location.
DS: "It isn't always easy to spot signs of fish during the winter months, unlike summer where they are always on the move and showing. In the colder months they certainly have a tendency to shoal up and move very little. As a result, a lot of guesswork and instinct on where to set up is crucial, but there are always patterns and general determining factors that have an influence.
"Firstly, I always try to get an understanding of a water's past winter history; generally, the fish will always follow suit from year to year and spend time held up in the same sort of areas of the lake. By speaking to anglers and the bailiffs on a venue, this info can be quickly built up, to certainly give you an idea of areas to begin with.
"Secondly, the weather will play a big part in where the carp will be located in the colder months; being cold-blooded, they will quickly react to any warmth. Areas that hold any degree of warmth, such as reed beds, snags or dying weed beds are certainly likely to hold a carp or two. The daytime temperatures will also make a big difference; warmer days with bright sunshine will bring the carp up in the layers or into shallower water, whereas on those dull, overcast, colder days you will more likely find them in deeper water."
With the afternoon pressing on and two fish under his belt, Dan slowly began his pack down ready to make the short journey home.
DS: "I have always made the effort to find waters close to home during the winter; shorter journey times and ease of getting to the lake mean that I can be home quickly after a day's angling. The last thing I want to be doing during the winter is travelling for hours in the darkness, it just isn't pleasant. I have three or four small waters close to home that I can drop on to for day trips and have a good chance of catching; these waters will vary in terms of size and depth make-up, so I can decide on a venue based on current weather conditions, ensuring I have the best possible chance of catching."
HOW TO... Tie Dan's Day Session Rig
1. Dan likes to tip his hook baits with a fleck of colour, using the NS minis.
2. A matching Live System bottom bait makes the second half of Dan's hook bait.
3. Dan mounts the hook baits snowman style.
4. Take your chosen hook link material – Dan uses a soft coated braid.
5. Form a hair and mount the hook bait.
6. Cut to the length you require, Dan prefers a long link of around 10 inches.
7. Take your chosen hook pattern, this is a wide gape for Dan.
8. Tie a knotless knot.
9. Finish the rig with a kicker.