CC MOORE | Bloodworm Range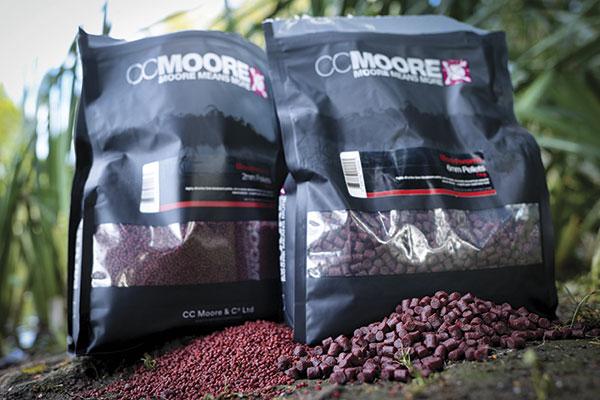 Keep the bites flowing this Autumn with a bait range created from the carp's natural food source!
Bloodworm Pellets
RRP: £5.99
Available in 2mm and 6mm sizes, these dark red pellets are extremely rich in amino acids derived from marine proteins. With a savoury taste and deep red aroma you can add these bloodworm pellets into PVA bag mixes and spod mixes at any time of year thanks to their medium oil content.
Bloodworm Bag Mix
RRP: From £5.99
This moist bag mix contains a number of different sizes of pellets, which will break down at various times to ensure attraction is always flowing from the baited area. Available in various weight options including 1kg, 5kg and 10kg you will find this product shines due to the inclusion of the highly attractive Krill Micromass.
Bloodworm Wafters
RRP: £6.49
CC Moore has created the perfect hook bait to complement the range with its hand rolled 10 x 14mm dumbell wafters supplied in a pot of 50. These have been given special treatment as all hook baits are glugged in the Liquid Bloodworm Compound and will equally serve to be a great single hook bait option.
Frozen Whole Bloodworm
RRP: £11.99
Should you be looking to add a natural food item that fish treat with no caution in your mix then look no further than these incredible 1kg blocks of pure bloodworm. Add this to a spod or particle mix throughout the year to prompt a strong feeding response from the largest and most pressured carp.
Bloodworm Session Pack
RRP: £18.99
Supplied in a spacious black bait bucket as with the floater pack, the bloodworm session pack provides the angler with enough bait for a number of sessions. Bites are virtually guaranteed with 2kg of 6mm bloodworm pellets, 10 x 14mm wafter hook baits as well as 100ml of the liquid bloodworm compound.
Liquid Bloodworm Compound
RRP: £11.99
With a recorded pH of 5.5, carp are sure to see their senses go wild once this liquid gold has been introduced into the water. This versatile product can be used to soak baits, add to boilie mixes as well as PVA bag mixes and much more to create a cloud of digestible attraction containing whole and blended bloodworm.
Bloodworm Bag Mix Pack
RRP: £18.99
Avid PVA bag users will be happy to see the addition of the bag mix pack in the range as this will keep for a significant duration should it be stored in a cool area. The 2kg of moist bloodworm bag mix, 100ml of liquid bloodworm compound and wafter hook baits are sure to see many fish sulking in landing nets!
WEBSITE: www.ccmore.com