CAMPAIGNING ON A DAY TICKET | Part II - When Your Lucks in!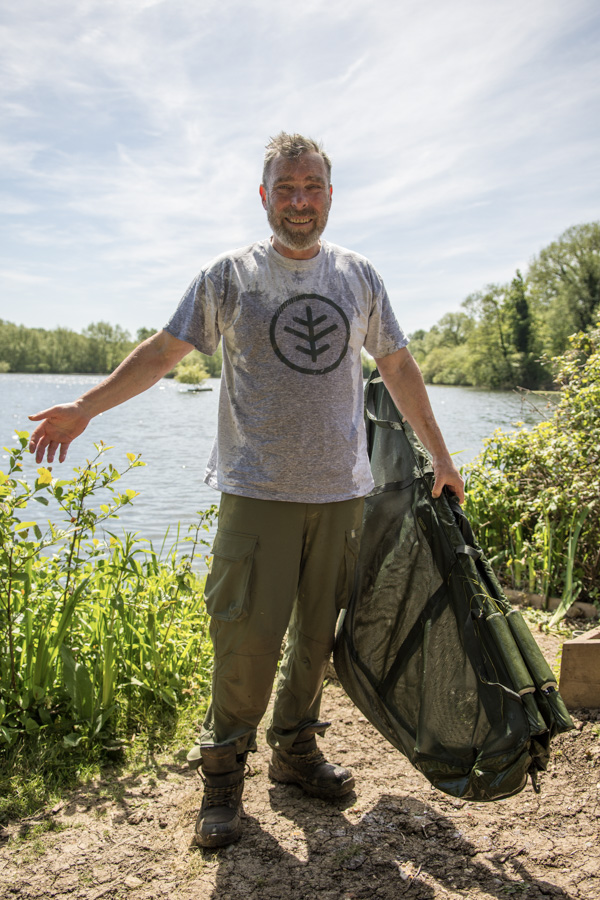 NOT READ THE FIRST PART OF MARKS SERIES?
Follow the link to check it out! PART 1
WHEN YOUR LUCK'S IN!
The first thing you're going to say is: "Who on earth has that amount of time available?" and, well, in this instance I do. I work a four-on, four-off shift pattern driving cranes at a steelworks, which gives me a three-night trip every week, which is usually how I choose to spend that time.
Each year I opt to use two of my holiday weeks, one for spring and one for autumn, and when combined with my shift pattern this gives me a great big session at my two favourite times of the year.
Now I understand that a lot of anglers don't have this luxury, but for those that do get a week's 'holiday' fishing as it were each year, I question why so many flock to foreign shores when their regular efforts on local lakes can really come to fruition if you time it right.
As you may recall from my previous feature, I'd just started my big session on Thorney Weir Mets and banked one off the surface on the first afternoon, so the pressure was off and I'd dropped in that same swim for the night, more hopeful than anything, as it was already late into the evening. I knew I probably wouldn't stay there long, but it was a starting point and I'd seen one fish come right into the edge and snaffle a mouthful of bait. It was no real surprise that I woke up to the bird song the next morning with no activity on my alarms, but I was raring to go for what lay ahead of me.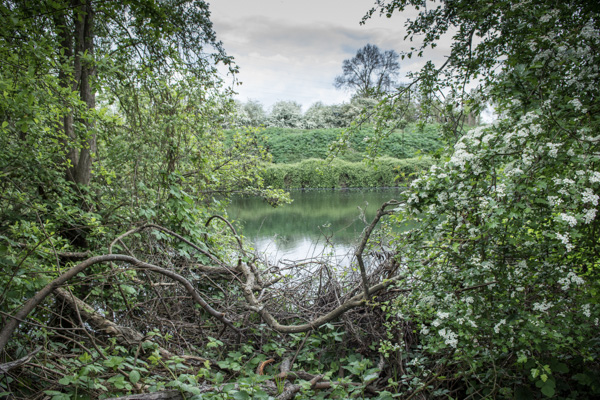 I noticed on the entrance to the bay there were a couple of fish showing first thing in the morning; it was an easy decision to move up the bank on to the fish, but with the bank holiday weekend ahead of me I knew I'd most likely be stuck there for the whole of it. It was a bit of a calculated guess to go into Pylons for that length of time, but I found a lovely spot that was five feet, with a steep drop down to eight feet with only light silkweed, so I opted for the deeper water and fished the bottom of the shelf. There was a lot of fizzing over the top but it appeared to be over the deeper water, and just because I'd had a hit before on top of a bar didn't mean they would always be up in the water like that.
It was probably a mistake in all reality, the decision to fish the deeper water, and even the decision to move into the swim in the first place knowing the lake would become very busy over the weekend. The swims were close together in that area of the lake and it was actually quoted to be the busiest weekend on record for the lake, as it turned out. I was 'hemmed in' for want of a better phrase, all my own doing of course, but I spent the weekend watching elsewhere and walking laps of the lake in the hope that swims would become free and a move became an option.
An angler walked past with a water bottle, and he'd come from a swim known as Lightning Point, a peg that commanded a lot of water towards the centre of the lake. I was already two nights in Pylons when he was leaving on the Sunday, and he'd caught a few fish too so it was an obvious choice to drop in behind him – no matter where I moved I'd be 'dropping in' after another angler anyway.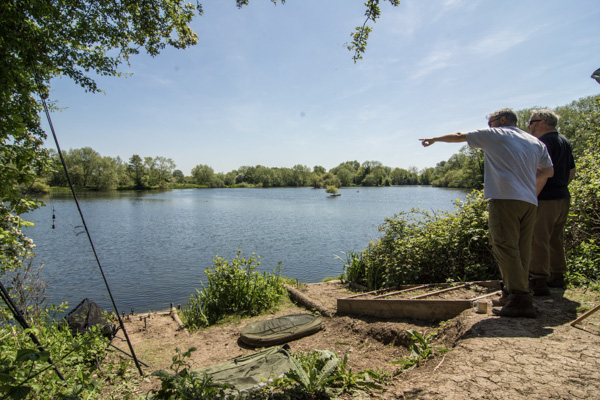 I barrowed in on the Sunday and although he'd had all his fish earlier in his session, I was definitely more confident than where I was. The fish appeared to be acting somewhat cagey, the weather was hot and bright, and in all honesty the first two nights in the new swim only resulted in one bite. I initially had a really good lead around after moving to make sure I had a good layout of the swim in my head, and perhaps this pushed the fish out but I knew I had time on my side. The fish were in the area regularly so I knew, or hoped I should say, they'd continue that and return if they spooked off.
I found one spot out to the left that had a light scattering of silt, just what I was looking for and it was glass smooth. Two other spots were found but they weren't quite as clean. Spodding a mix of chopped and crushed Nutz boilies with a scattering of 2mm pellets probably further aided spooking the fish out, and looking back that was probably another mistake on my part. The first bite had taken 36 hours so that really taught me a lesson on what not to do when you get into a good swim… lesson learnt.
The first fish was a stunning linear and worth every second of waiting, going 23lb on the scales – a truly beautiful carp. The rod had ripped off and it gave an incredible battle, the weed had really started to take hold and the diving of the fish throughout the fight was always balanced out as the weed broke off the tight line. I got the rod straight back on to the spot with a few Spombs of bait to top the swim up.
The next morning an incredible weather front came in, with horrendous winds and massive rain showers. It absolutely bucketed it down for want of a better phrase, the barometric pressure dropped significantly and it was, as they say, proper carpy weather. My one rod on the left-hand spot went several times that morning, and it was the only rod to go too. The bites were coming between first light and mid morning.
The first fish as the Wednesday broke was a big 31lb mirror known as the Devon fish, which I believe was stocked over 20 years ago. The second fish came, again on a popped up white hook bait to stand out over the loose feed, and materialised as a 30lb 4oz common – a brace of thirties in the most awfully wet conditions, not that I cared.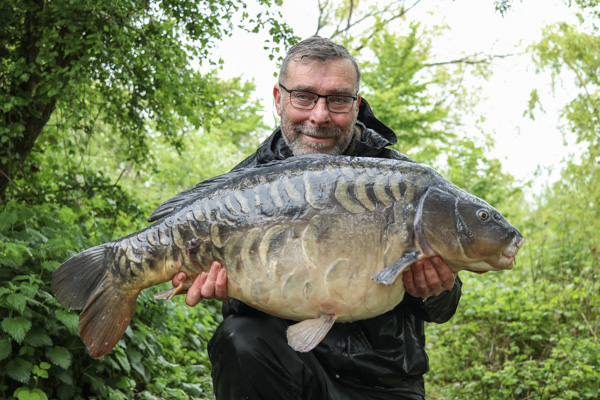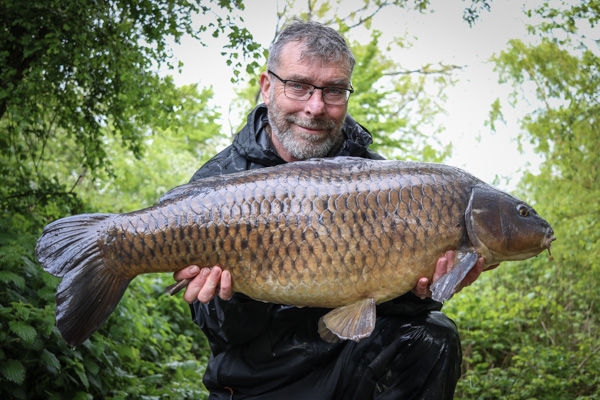 Its tail was huge and it really did put every ounce of its weight through my rod as it battled on to avoid the net. I further added to the fish tally with a 28lb resident and another 24lb mirror, more incredible looking creatures to photograph in the rain.
I topped the bait up that afternoon, or probably more towards the evening thinking back, in anticipation of another big feeding spell the next morning. The wind had already calmed and I could bait with the catapult using 12mm boilies, so I chose that option to spook any present fish as little as possible without a Spomb crashing into the water.
I was asleep early to prepare for what awaited, but the weather the next morning was totally different and I guess I couldn't expect a repeat of the previous morning. Nothing at all happened throughout Thursday, no fish and very few signs of fish too. I hoped they'd return and waited out another night, and at 8.15am on the Friday a 19lb mirror visited my net. Crucially though, the fish were showing and cruising over my spot, they were back!
I mis-cast the rod twice putting it back out, and in doing so I noticed the spot was not only clearer, but it was larger too. With no bites from the other spots I made the decision to drop down to two rods and fish them both on the same spot. This meant that if I did have a fish, I could leave one rod on the spot to nick another bite without having to crash a lead back into the water. It also reduced the line pressure in the area and it made complete sense with coots diving on the other two spots, indicating that none of the bait had been eaten.
It turned out to be a very good move. As the Saturday dawn lit the sky, it was a pleasant morning to be on the bank, albeit a damp one. At around 8am the right-hand rod, the one I'd added alongside the other on the spot, rattled off with a cracking 27lb scaly mirror. The conditions had warmed up and the wind had died down and changed to an easterly. I wasn't overly confident by this point, but I'd banked seven fish thus far.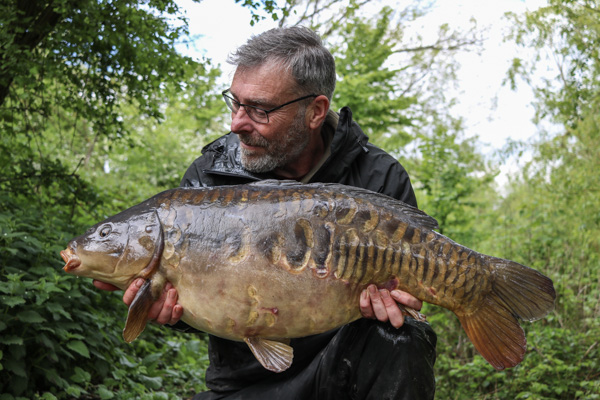 With the changing conditions I chose not to continue baiting as regularly as I was. I simply catapulted a handful of boilies after the last fish, believing they wouldn't be feeding as hard now the situation was so contrasting to the days previous.
I was also having a lot of problems with the bird life diving in my swim. It was a pain but I could tell when they returned to the surface if they had bait in their bills that there was still bait on the spot, so I considered them an ally at this point.
Baiting on dark was my only real option now, so I did so with a couple of handfuls as the last of the day's light disappeared on Saturday afternoon.
On Sunday morning I banked a colossal 27lb 10oz mirror, again at a very similar time to the majority of my bites, a few hours after first light. It's almost as if they were passing through the swim around the same time each day and couldn't refuse a free meal. Out of the blue I had an afternoon bite from a double-figure mirror on Sunday afternoon.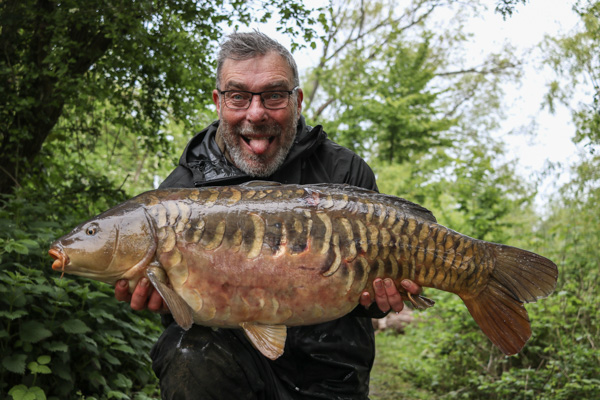 Monday morning came and went. I was meant to be heading home on the Sunday but I couldn't resist pulling another two days holiday at work and staying put. The fish were incredibly obliging throughout the session and as far as holiday sessions go, this one had been a blinder.
As the morning passed, however, I thought I'd made a terrible mistake, the spot was blown and I'd wasted two precious days of my holiday, what a waste…
At 12 in the afternoon my worries were quashed as a 27lb linear paid me a visit. A lighter belly but equally impressive scale pattern, this fish had some old tail damage that I treated before returning it to the water. That evening I banked a flurry of three fish – 25lb, 22lb and 16lb mirrors – they were back in numbers and the quiet banks from this weekend had continued into the week, a stark contrast from the weekend previous.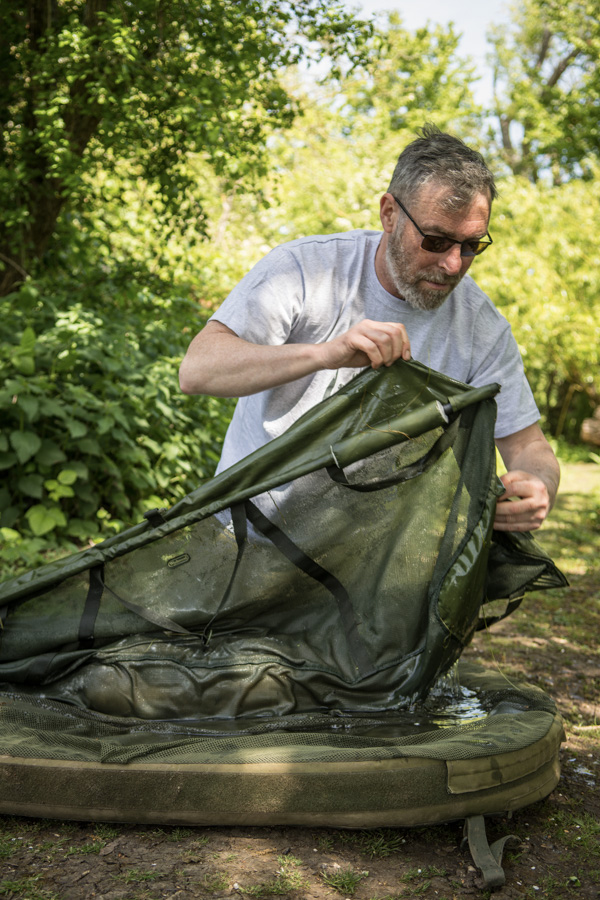 I went into the final night full of confidence, exhausted, but fortunate how well my session had gone – I truly couldn't believe the list of fish I'd banked. Sure enough I woke the next morning and enjoying a brew I was yet again running for the rods and attached to another hard-charging Mets Lake carp.
It was the first of three bites that morning, the final one of the epic spring session. I clocked up another 27lb mirror, a very sparsely scaled slate grey fish with huge fins and a tail to match – a real looker. It came on the left-hand rod and no sooner did I have it in the folds of my net than the other rod on the spot signalled a take.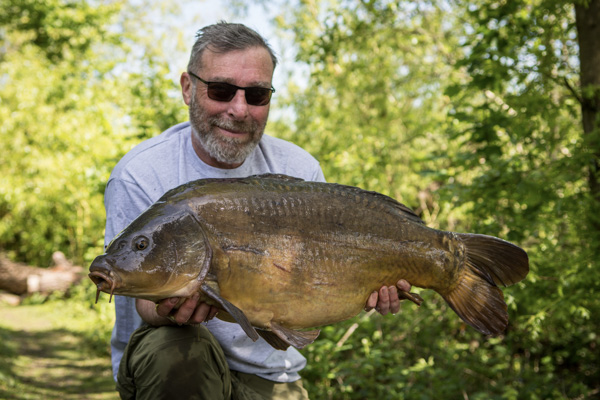 A lively 20lb 8oz scaly was the culprit, but such was its ferocity in the edge that it went back without pictures, it was simply too ramped up to try and hold for the cameras. I'd exhausted my bait supplies the night before with the last kilo of boilies catapulted to the spot, so I had to just chuck singles out for the remaining few hours, but I was so glad I bothered as my efforts were shortly followed by a belting 29lb 8oz chunky mirror.
With four fish on the Monday and three on the Tuesday I simply couldn't believe my luck, practically doubling my fish count in those extra couple of days. The weed has been growing almost before my eyes and with a few weeks, perhaps even a month away from the water ahead of me, I'm sure it will be a whole new jigsaw puzzle by the time I'm back again.
I have always wondered why the holiday session is generally a trip abroad for most anglers. I see many putting lots of effort into their syndicate lakes or target waters week in week out to then take their best opportunity they have in terms of time, and visit a different water. You can really get to grips with a water and learn a lot with more time at your disposal, and if you time it right in spring or autumn the rewards really are there to be had. I certainly can't wait to get back.
PART III, THE FINAL PART TO MARK'S CAMPAIGN!
Follow the link to check it out! PART III