SOLAR TACKLE | SP Spider Compact Bivvy (Video)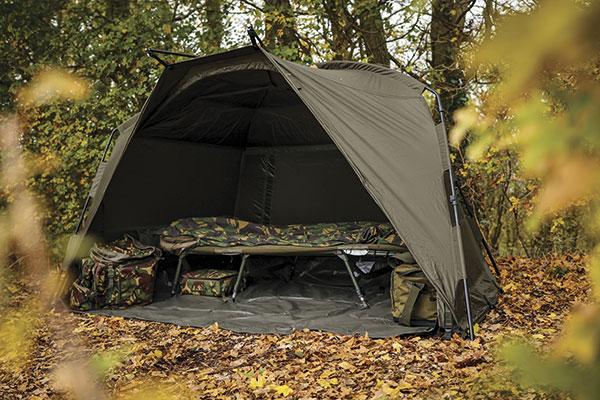 Traditional bivvy systems have come a long way since their original conception and now with updated technologies and high quality components we are all able to benefit from new and exciting designs. Solar's SP Spider Compact Bivvy is an ultra-durable, lightweight and compact system that simply reeks of magnificence.
The essence of setting up and packing away in a timely manner cannot be overstated for many of us running to tight schedules. Reacting to a show that you have been patiently waiting to act upon that instigates moving to the other side of the lake is a very good reason to own a system that can be erected in less than 30 seconds! The independently adjustable frame legs are a nice touch that takes the tension out of the design, making the fitting and separation of poles a much easier affair.
With a bivvy such as the SP Spider Compact you have the versatility to use said shelter at any time of the year, in any conditions, at home and abroad with added comfort and stability. Weighing in at just a mere 8kg for the bivvy, there is no denying this is indeed a lightweight system. However, this does not mean that Solar has shied away from including some very interesting features that sets its product apart from the competition. Measuring 2.7 metres in length, 1.6 metres high and 1.5 metres deep it can be said with confidence that space has been used extremely effectively thanks to its almost completely rectangular floor space.
The adjustable frame also allows anglers to use the Spider Compact on any ground type they wish. Uneven ground is no issue here as fabric tensioning is possible through the ingenious design. The back of the bivvy also boasts a flat profile that will allow for bedchairs to be pushed right to the back of the shelter, therefore creating maximum space at the front.
Utilisation of space is also recognised through the generous headroom provided for such a compact shelter. It is through using the stainless centre block that this bivvy is able to retain is rigidity session after session as the poles placed inside the entry points throughout its lifetime will not affect its integrity. Degradation has been kept to an absolute minimum as seen with the high grade Solar Tex fabric, which is an outstanding material that is sure to conquer many seasons on the bank without deterioration so long as it is cared for.
No matter how good quality the material that is used for the construction of any shelter, there will always be condensation of some form found inside unless a preventative measure is put into place. Solar has done just that with an internal vapour shield. The importance of air flow has also been recognised with a large, meshed vent at the back that is held open for use even in torrential rain.
The bivvy has an open front, but with a full range of zipped-in front options available separately including a solid front with a multi-way door. Also available is the full front mozzi mesh, which has a magnetic opening to easily break through during a take and it will handily seal back up on your exit! There is then a zip-in heavy groundsheet too, which effectively encapsulates you from any creepy crawlies or furry friends! Storm poles are included, as is a full set of pegs, neatly packaged in a well-made bivvy bag.
RRP: £315.99
WEBSITE: www.solartackle.co.uk
To find out more about Solar's SP Spider Compact Bivvy, watch the video below.