THE ROAD TRIP | Scoping It Out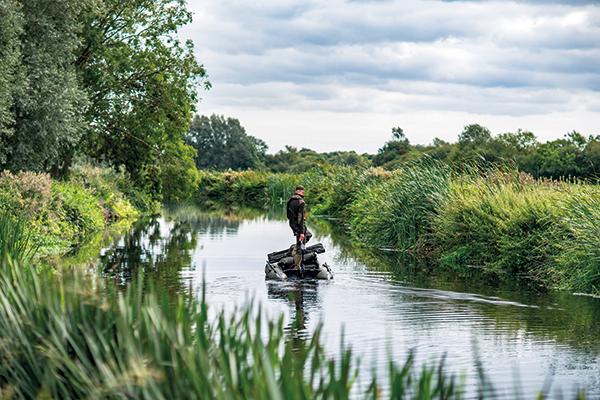 For our company and the other tackle companies out there it is when that year's new products come to fruition, catalogues are being put to bed, trade shows are starting. From a tackle development point of view it is a really hectic time of year, without taking into account that it's also a really good time of year to be out on the bank.
So a bit like every other instalment of this series my angling has been somewhat limited and I've been scratching around here, there and everywhere getting my fix where I can. I have been over to the Czech Republic for a long weekend doing some charitable stuff and really I haven't done any fishing at all. This particular road trip wasn't even a fishing road trip but it gives you an insight into part of what I do at Nash
One of the things I am heavily involved in is product development and this particular outing, taking place over a couple of days, involved another aspect, the marketing of that product. I was going out with Lewis and Oli shooting in a variety of locations to showcase the new Scope range that we are launching. It's all well and good developing new product but we also need to tell everyone about it. The most effective form of marketing in this day and age is through video and exceptionally good images. Images that make people go: "Wow, I'd love to be there, to go and do that!"
So we headed out with all the brand new Scope gear and staged it – I'd be lying if I said otherwise – but the places we went were places where I go fishing! The nature of the Scope range has always been about making fishing accessible in various locations right across the world – everything from small rivers to giant lakes. As quickly as possible in that timeframe we needed to cram in some of those diverse locations.
First stop was a small river where I donned one of the back packs, grabbed a single Sawn-Off and had a wander along the river in my waders, which is something that if you follow me on Insta you will know I do quite regularly. It's one of my favourite styles of fishing – that single-rod approach, rucksack, rod, net and mat and just go wandering off, sight fishing.
I was under very strict instructions from the media team that there was to be absolutely no fishing whatsoever because we needed to keep moving. There is always a danger when you take an angler out to do a non-angling job, especially in an environment when you have all this shiny new equipment and visiting some of your favourite locations, that the temptation will prove to be too much. I got the shoot done and then pleaded with the guys – could I just throw a few slices of bread in and let it drift down to see if any chub or the odd carp might be interested. The boys grudgingly said yes to stop me from sulking.
Lo and behold the fish started to take and four casts resulted in four beautiful river carp. Bearing in mind it's one of my favourite spots when I have a bit of time to myself and I haven't managed to get down at all this year, I was really chuffed to get the opportunity to drift a bit of bread down naturally in the current and watch those carp come up and engulf the hook bait. Yeah they were no monsters, but they were banging little river carp.