Keep cool this summer with the Ridgemonkey Coolabox
Say goodbye to squashed burger baps, soured milk and soggy bottomed cool bags, and hello to refreshing drinks, chilled meat and fresh bait thanks to the brand new CoolaBox from the RM Team!
Designed with angling and outdoor life in mind, the CoolaBox Compact 12 benefits from a sturdy and durable hard-shell construction and rectangular design; making loading and transporting your kit easy while all the time protecting your valuable goods inside.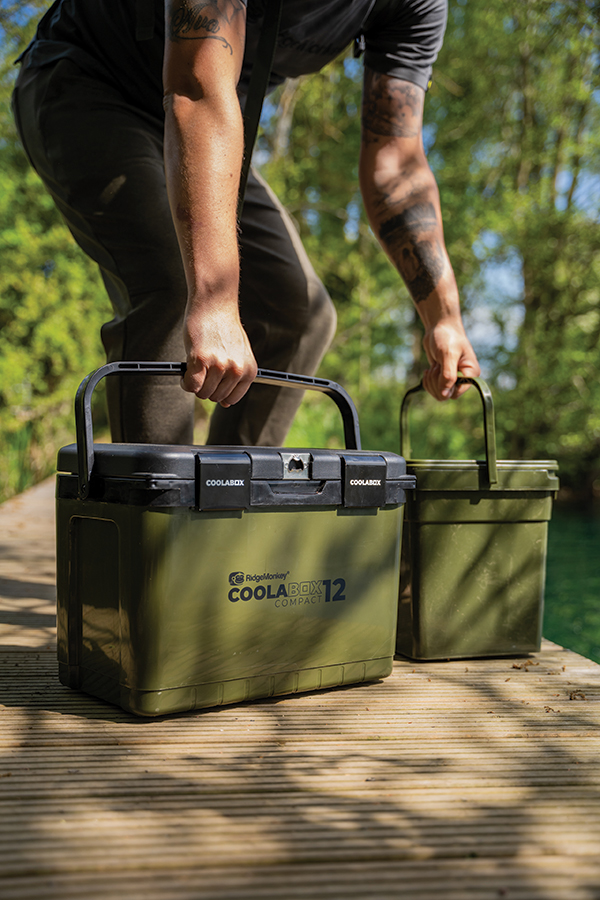 With an insulated, double wall design and integrated removable CoolaBox Freeze pack, of which two are supplied, your food or bait will stay chilled and remain refreshing for up to 48 hours on the bank. The CoolaBox Compact 12 takes its name from the 12-litre internal capacity holding either 12 330ml bottles or 14 330ml cans. Internal dimension are stated as 340mm wide, 220mm high and 180mm deep. In testing the team found this was ample space to ensure they had enough supplies for a 48 or 72-hour session, while keeping the CoolaBox compact enough not to take up too much space on the barrow or in the bivvy. The CoolaBox boasts an airtight lid to ensure maximum temperature retention inside and has secure hinged locking clips so the box cannot be accidently opened when in transit. There are also double padlock tabs for extra security, which is an edge to prevent your mates from stealing your last cold one or helping themselves to your snacks.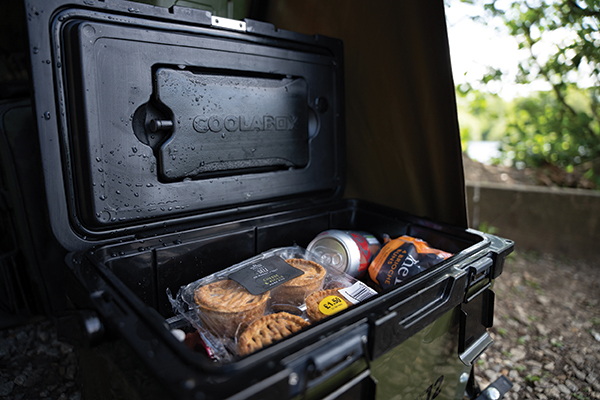 The external of the box is a black and green coloration, and has sleek RM branding for a classy look, and a sturdy and comfortable handle to boot. What really stole the show for us was the integrated bottle opener at the front, a small but worthy addition, so say goodbye to opening bottles with your teeth or trying to pop them off with your lighter.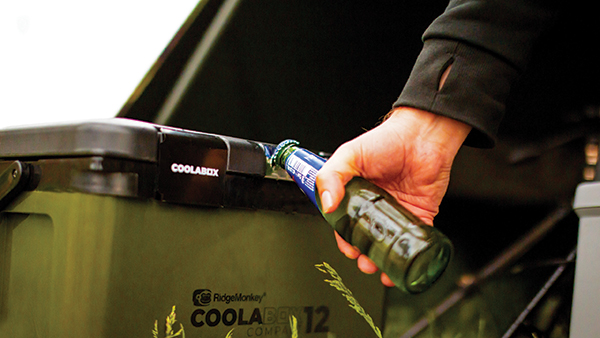 At 2.55kg in weight the external dimensions are 400mm wide, 300mm high and 250mm deep. This makes it extremely easy to take it with you, whether you are planning a quick session, a family picnic, festival or just want to take some beers to the beach!
RIDGEMONKEY
COOLABOX COMPACT 12
RRP - £69.99
WWW.RIDGEMONKEY.CO.UK