July issue on sale now!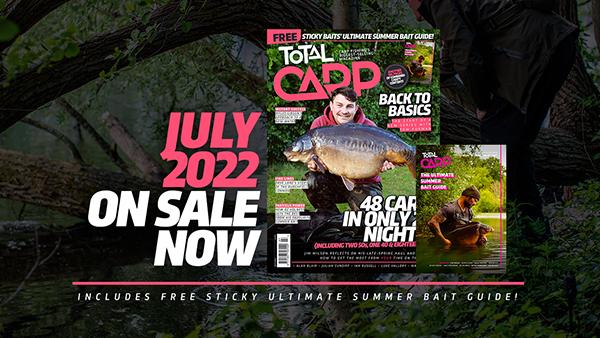 Our July issue is headlined by Jim Wilson, who despite family and work commitments had an unbelievable spring, landing an incredible 48 carp in just 22 nights, including a brace of fifties! In the feature, Jim delves into his mindset and how everyone can find success no matter their time constraints.
This issue also marks the start of a new series in the magazine, aimed at the beginner carp angler. Tom Forman is a multifaceted angler, very capable in a huge range of angling styles and in his new 'Back To Basics' series, he will be covering all the key skills that you need to progress your angling. With the basic skills delivered in bite-sized chunks, the feature will outline a checklist of how-to's for you to check against your own angling.
Practise all the skills he covers throughout this series and you should be capable of catching a carp wherever you go next!
Other highlights include Big-Carp Mindset where Myles Gibson covers starting afresh on a new water, having hit the ground running on Dinton's White Swan. Oz Holness discusses particle fishing in detail, just in time for the heat of summer and we rejoin a previous client for Troubleshooter reloaded, revealing how his angling… and entire life… have changed immeasurably since his initial tuition.
There's all this and so much more in the July issue of Total Carp and on top of all that, we also have Sticky's annual Ultimate Bait Guide, covering everything you need to know about summer baiting!
So, without further ado, it's time to crack on and enjoy the mag!
EDITOR'S TOP PICKS…
THE O.G. ROAD TRIP
The original duo reunite – Alan Blair's long-time Road Trip partner joins him once again for a trip through Belgium and Amsterdam in search of the very best of what these countries have to offer. Despite some horrendous thunderstorms that leave them soaked, the trip if filled with midnight manoeuvres, flota rotas, incredible carp and of course lovely times all round!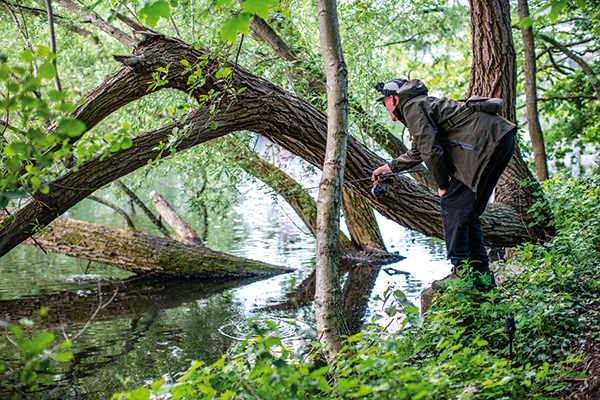 BIG CARP MINDSET
New season, new ticket? Myles Gibson found himself in this exact situation after landing the incredible Spike early this spring, marking the end of his time on Dinton's Black Swan. In this feature, Myles reveals how the transition went moving next door on to the super-pressured White Swan – just looking at his captures, it seems that his winning streak continues!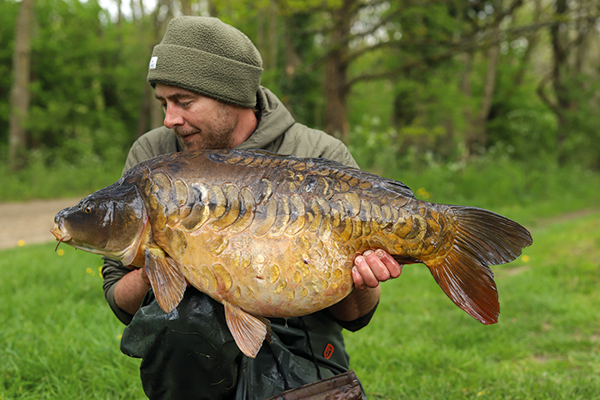 PARTI SEASON
With summer in full flow, that means one thing for Oz Holness – its Parti time! No, you're not going to see Oz in full UV rave attire, it's the time of year when particle fishing comes into its own! Oz outlines everything you need to know about particle fishing, what to use when, and his favourite go-to mix.
TROUBLESHOOTER RELOADED
Ian Russell rejoins client David Thorpe from back in the Jan 2020 issue, to see exactly how his angling has progressed since. It's safe to say David went from struggling beginner to big carp star, having now landed multiple 40lb carp from some very challenging waters. Check this feature out to see proof that we all have what it takes to succeed!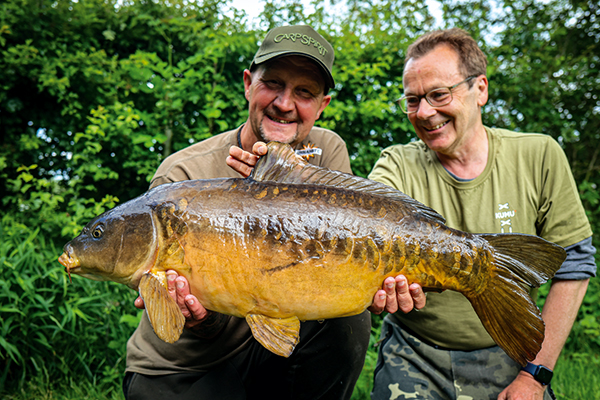 BACK TO BASICS
A brand new series hits the magazine, where all-round carp fishing ace Tom Forman takes you back to basics. In each feature, Tom runs through the basic skills every carp angler must master to find success; in this issue it's basic rigs, locating carp, feature finding, fish care and bait choice. Struggling in your carp fishing? Struggling in your carp fishing? Check your skill level.
WORKING MAN'S GAME
Jim Wilson reveals that you don't need infinite time to catch big carp and numbers of them! In just 22 nights' fishing, he managed an incredible 48 carp, including a brace of fifties and he reveals exactly what it took. Spoiler alert – it wasn't a magic bullet, but great planning, hard work and a solid angling approach!