A January giant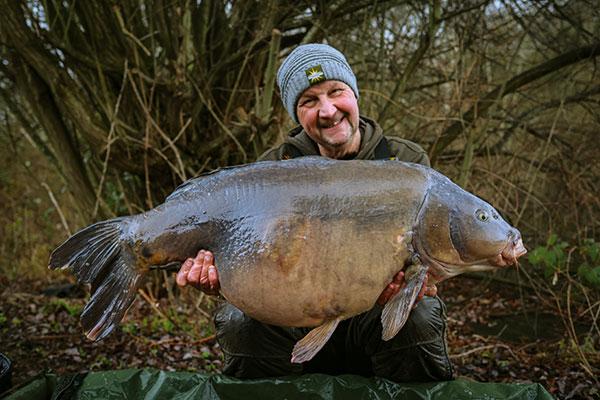 Well, it's not your usual Troubleshooter this month, but that's for good reason! Right at the start of the year, Matt the editor pinged me a question: "What are your targets for 2022?" and my reply was that I'd try my hardest to catch myself an English 50-pounder. I don't often find myself in the position of actually fishing a water with a 50-pounder in, but my current target water is Wraysbury 1 North Lake and that has at least two of 'em!
So, between all my tuitions, Troubleshooters and filming trips, I've been trying my utmost to put in the effort and try my best to catch these Wraysbury 1 leviathans. Since starting on the water I've caught two of my other targets: No-Name, which is one of the big Scottys, and also the lake record common, a fish called the Little Tailed Common. They were incredible fish, but as I mentioned the lake also holds at least two huge mirrors and I dearly wanted to catch at least one of them!
I got down on the Sunday afternoon and was lucky enough to slot straight into the Runway; a swim that had done four fish over the weekend. It was deeper water out in front of this swim and it was clear that the fish had backed up to this deeper water after a few colder nights following on from that really mild weather around New Year. To be fair, I couldn't really bait accurately at the range where Paul had caught his fish from, so I kept within my means and started off on a spot I've fished before in this swim at a more comfortable 28 wraps towards a prominent tree on the far bank.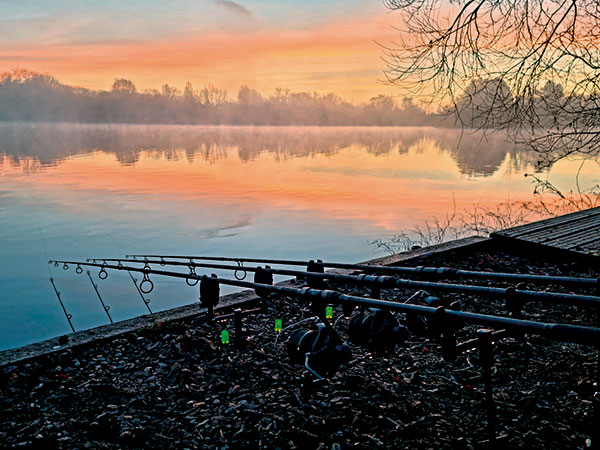 Knowing full well that the swim had been doing bites, I went in with 15 Spombs of hemp, corn and 12mm Monster Tiger Nut boilies, then fished my favourite little Ronnies over the top. I put two rods on that, then a lone ranger out in the abyss as far as I could get it!
That was me set for the night ahead, but by chance I got up for a wee at 1am and heard fish crashing out in front, so decided to stay up a little while and listen out in the darkness. Being on the outskirts of London, it's really not that dark at night and once my eyes adjusted I could see that they were showing a fair bit closer in than I had been fishing!
Anyone who reads my features will know full well that I'm not one to sit on my laurels and so I was soon up and reeling all the rods in to wrap them back up at a shorter range! I got to work with the spod rod too and put just six Spombs of the mixture over the two rods, which were positioned together.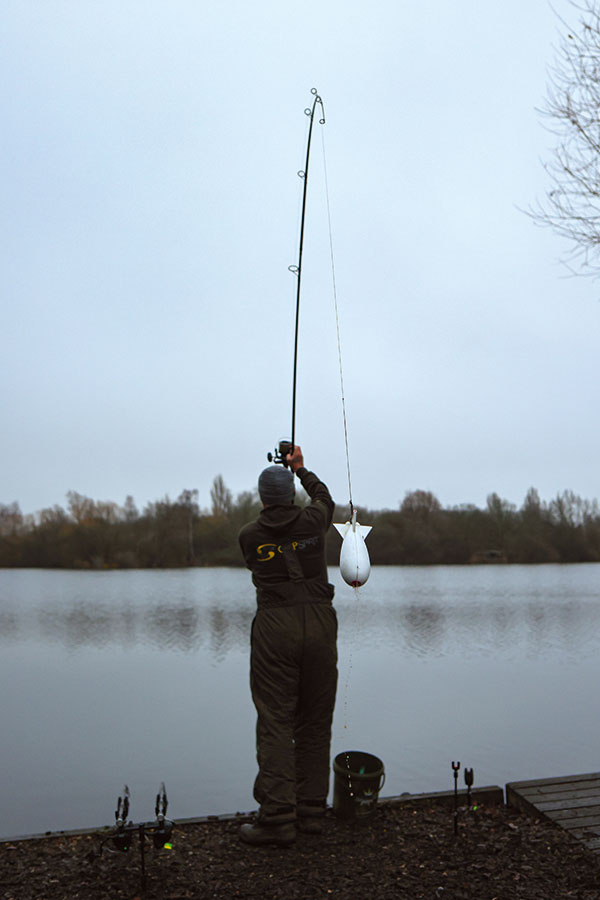 It couldn't have been more than half an hour after putting the spod rod away that one of the rods on the bait lifted off and I was into one – I had definitely made the right call! Unfortunately, that one got cut off, no doubt on one of the pea or zebra mussels that the lake is festooned with! At 6am that very same rod was away again, resulting in a nice 24lb mirror.
I sat it out until mid-morning, before heading off round the lake to see a few mates and check out if anything had been happening elsewhere. With the rounds done, I was back in the swim by midday and pinged them all back out at 25 wraps. The fish were clearly well on the feed, so I decided it was sh*t or bust and I'd put out almost a whole bucket of hempseed and corn, plus the remaining kilo bag of boilies I had left!
I spent the evening with a couple of my friends drinking all my tea as usual, then it was off to bed in hopes of a bite or two… and that's exactly what I got! Two bites at the same time – while it's all fun and games on somewhere like Linear, it's a bit of a nightmare on a place like this where one of the two could be that 50-pounder you've been waiting for! I managed to land the first one, which was another low twenty, but unfortunately the other one fell off shortly after getting in contact with it! The fish had also wound itself around the other lines too, so I ended up spending the next couple of hours sorting out the rods before they were back out on the spot – not what you want, especially when you've got a spot that is clearly kicking off!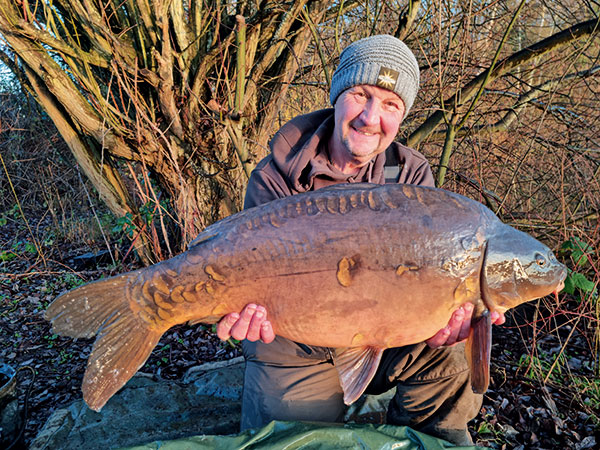 As expected, it didn't take long to produce another take; at half 4 in the morning the bite alarm lit up and I was in again and thankfully this time it didn't wipe out all my other rods! This was a lovely 27lb mirror, but with no one about in the early hours I slipped him back without pictures. Once again it was a case of reapplying everything and getting that rod straight back on the spot as quickly as possible.
It was morning by this point and there was no point in going back to bed, despite the fact that I was knackered, having been up since those first two bites around 1am! Instead I decided to just sit waiting for the light to grow. However, the action hadn't stopped and that rod that I recast after the 27 was away once again – proof once again of the importance of getting that rod straight back out and on the money!
Now, the last few fish had all been going mental, charging off all over the place, but I could see it at range, wallowing on the surface in the half light. I thought straightaway that it may have been a better fish, but it was also exactly the same fight I'd had with the Small Tail Common (the big Redmire common) and I hoped that it wasn't going to be a recapture!
Thankfully as it got closer I could see it wasn't a big common, but rather a whopping great mirror. I kept the steady pressure on and she just waddled her way into the waiting net. The rest as they say is history!
I already had a good idea of what it was and I only needed to turn the fish on its side to see that great big scar to confirm exactly what it was – Mike's Pet, the biggest carp in Wraysbury 1.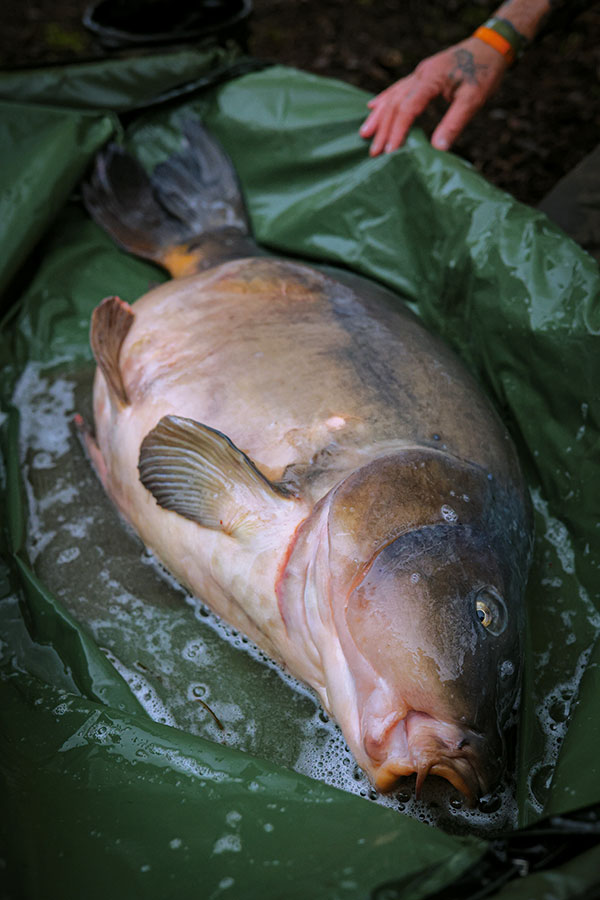 As luck would have it, I had already spoken to Matt who I knew was only 10 minutes down the road and he picked up straightaway asking what I'd got! "I've got him, it's the one I wanted!", to which Matt swiftly replied: "On my way!"
The kettle was on and soon enough I could hear the crunch of gravel as Matt made his way down the track with all his camera equipment, shortly followed by a few other friends from the syndicate! We had a quick brew, chatting about the weight gain she could have had, having come out at 52lb the previous winter to Al White. At 54lb, to say I was blown away would have been an understatement, but to have caught it in January just made it all the more sweet!
So, it turned out that my New Year's resolution may have been slightly short-lived… but not to worry, there are plenty more amazing fish to catch from Wraysbury 1 that will keep me coming back! For now though, it's back to Troubleshooting… I just love the variety carp fishing brings!