Hard work pays off!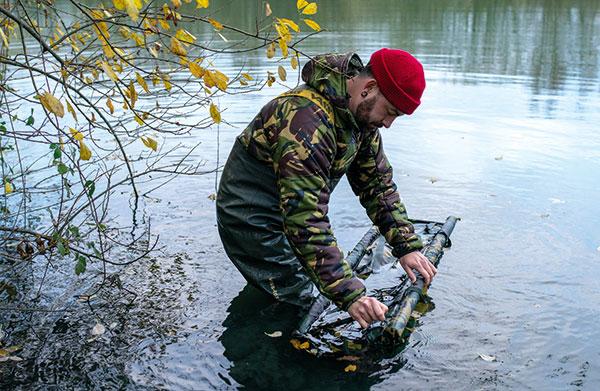 Whilst most are hanging up the carp rods, avoiding those cold winter days and dreaming of warmer weather I'm out walking the banks that seem eerily quiet, in the hopes of bagging myself a winter carp or two. For me, this is one of my favourite times of year for getting out and wetting a line. Since my last instalment back in the autumn the lakes have changed dramatically, there's a crisp chill in the air, frost under toe and the angling pressure has eased off, making it the perfect time for me to catch some fish.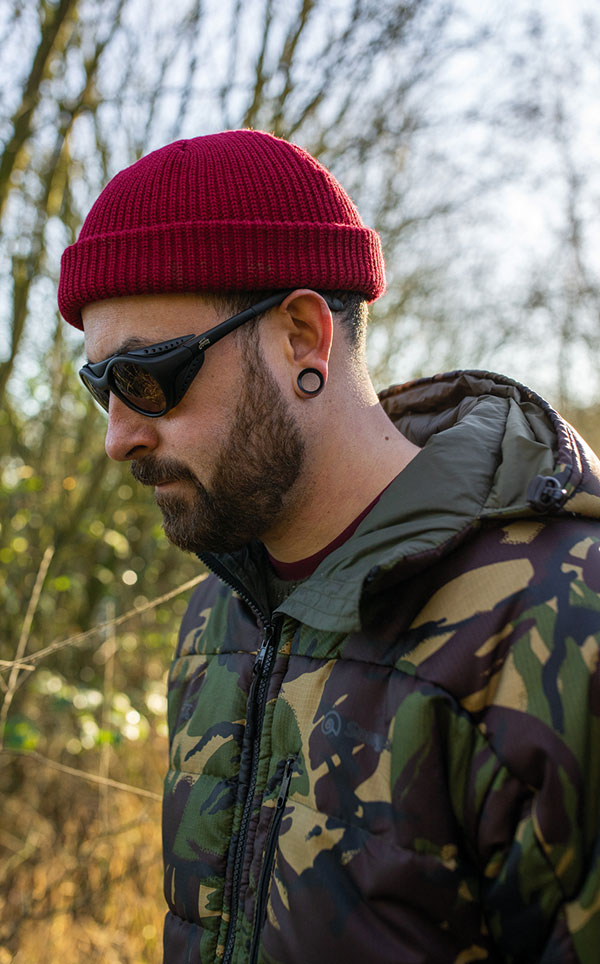 Although the fish are not as active through the cooler months there's always a chance to be had – you won't catch 'em sitting at home. Whenever you visit the lake there are always signs of fish, whether that's fish moving through the night or moving around first thing in the morning, and this can always be a great indication of where to fish.
Over the years there have been several venues that I have fished where had it not been for these indicators, I would have struggled. For me, when it comes to fishing it's always about maximising that short window of opportunity. My angling is and has always been quick overnight sessions; due to having a busy work and home life it's all about putting the odds in my favour. With limited daylight and time, I will always travel light so that I can lap the lake until I see signs of fish or at the very least feel like I am in the right area.
Through the course of the week before the upcoming session, I will continually be watching the weather forecast (XC Weather is a great app for this) for those pressure changes, wind direction and most importantly for those spikes in temperature. By keeping an eye on the ever-changing weather conditions, you can begin to build a picture of where you think the fish may be holding up. A slight spike in temperature can make all the difference as fish are cold-blooded, meaning that they will head to areas of warmth where they can bask in the warmer layers.
Now I'm not necessarily saying turn up at a lake with a preconceived idea as it could be completely different when you arrive. Your eyes are most definitely your most valuable asset when it comes to locating fish, regardless of the weather. However, if the weather is indicating warm temperatures in winter, you can pretty much guarantee that zigs are a great starting point!
The carp are not particularly in a feeding frenzy like they are in the warmer months; at this time of year as anglers we are snatching opportunist bites. Zigs, solid bags, and even single hook baits are great tactics to lure in the fish. Hi-vis hook baits, artificial corn, foam and maggots have always stood me in good stead, accounting for several captures throughout winter angling. I'm not one for making several changes to my presentations through the winter months as I tend to use tried and tested methods for beating those winter blues; sitting on the bank for hours on end watching motionless rods in the winter simply isn't the one.
As luck would have it my last session echoed this; arriving at an empty lake I made my way around the venue, barrow loaded and pushed over the withered leaves that lay on the damp ground. As I made my way down the track the barrow wheel squelched through the mud, and I soon found myself standing in the first swim gazing over the lake just as the light was beginning to fade. I opted to leave the barrow there as I made my way around the lake, climbing trees and standing in the swims scanning the water for any signs of fish as the light slowly disappeared.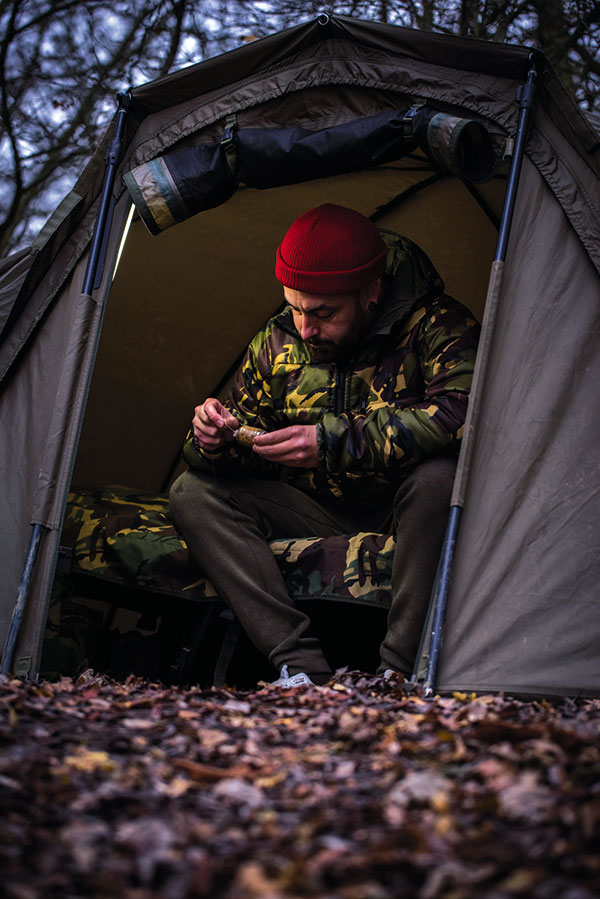 As I was scanning the water out of the corner of my eye, I saw a fish give itself away; not a particularly large one but it was a promising sign, in fact the only sign! I headed back to where I had left the barrow and made my way to where I had seen the fish. By now the light had well and truly faded, not wanting to rush I set about getting the bivvy up, kettle on and rods together.
At this moment, I opted to go with three separate tactics, something I always tend to do and has done me well over the years. I will switch accordingly if I've caught but this is generally a good way to approach any venue, it wasn't long before I was soon deploying a solid bag, a 4ft zig and a single hook bait tipped with a maggot all to the area where I had seen signs of fish. With all three rods on the spot, I was feeling confident as I clipped the bobbin on a tweak of the line and one final check that the alarms were set, it was time for a well-deserved brew, it had been a busy week and a mad dash to the lake.
As I sat watching the water, listening for more signs of fish the lake became lifeless for the next hour or so. I sat clutching a warm cup of coffee wondering whether or not I had made the right decision, then the water soon erupted as a carp broke the surface not too far away from where I had deployed the rods; maybe I had made the right decision and surely a bite was on the cards. As the hours passed and my anticipation faded I decided to get my head down for a few hours. Setting my alarm for 5am I jumped in the sleeping bag and got some sleep.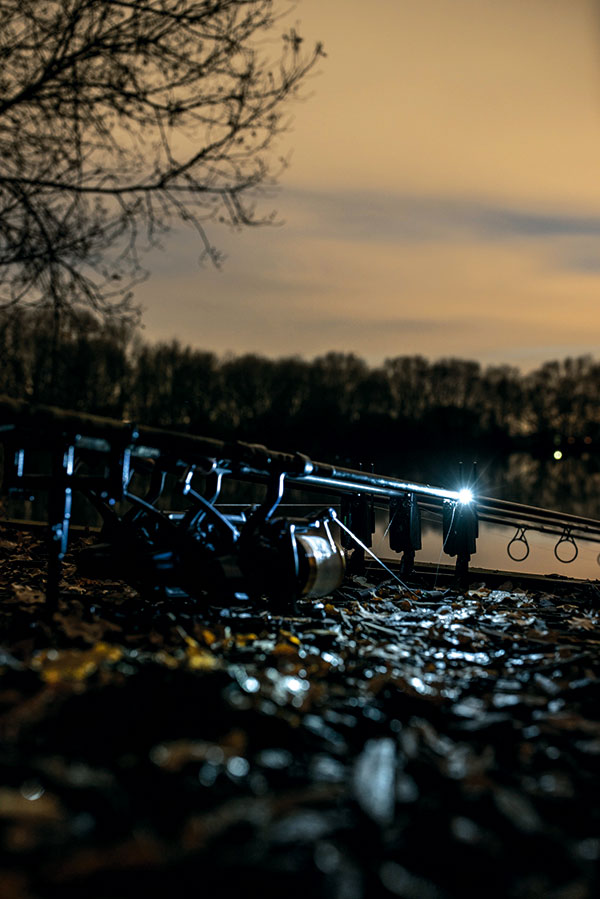 After what only felt like a few minutes I was soon being woken by the sound of my phone alarm. Was it time to get up already? It was still pitch black, a twist on the gas bottle and a click of the lighter and the kettle was on. As I sat watching the water, I waded my way through my pot of porridge. I sat there thinking that it was going to happen, and that time was getting away from me before I had to be making my way back to work, then a flicker of line and a couple of bleeps on the right-hand rod indicated a bite. I jumped out of the bivvy, the bobbin dropped to the ground, it was a drop-back. I lifted up the rod and began winding in the slack line.
It wasn't long before I was in contact and playing a carp, although it didn't feel like a big fish, nevertheless it was a fish in the depths of winter. To say I was happy would be an understatement, as after a spirited battle, I soon had a lovely low 20lb mirror in the net! The single hook bait tipped with an artificial maggot had done me well. A quick phone call, a few snaps later and after all the commotion time had got away from me and I was soon frantically packing the gear up and on my way to work!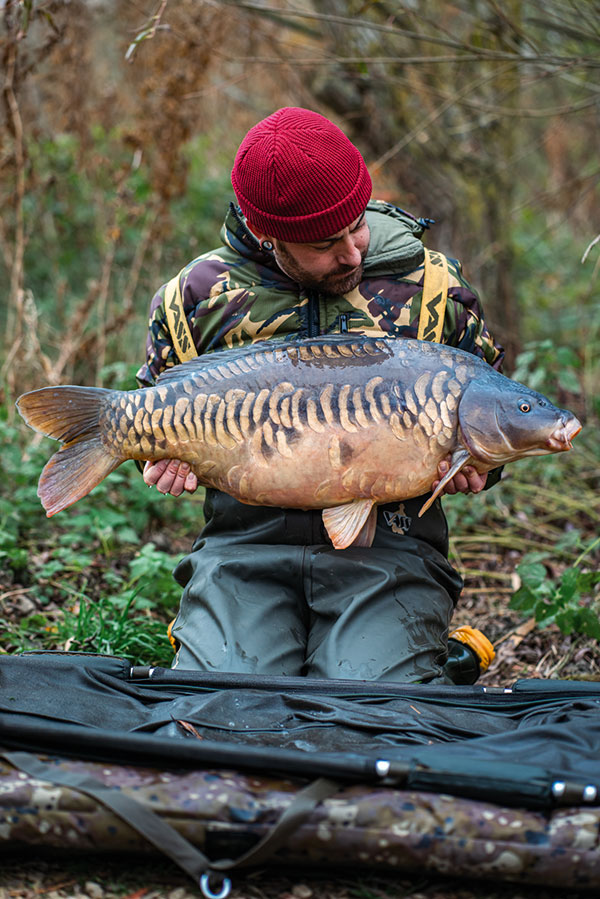 It only takes that one bite to keep the fire lit and the fuel burning over the winter months to keep getting out there and putting fish on the bank, it is a great time of year to be out enjoying the peace and tranquillity but most importantly the quieter banks, allowing me to get into areas, catching fish – I won't catch 'em sitting at home.