BIG CARP MINDSET | a new start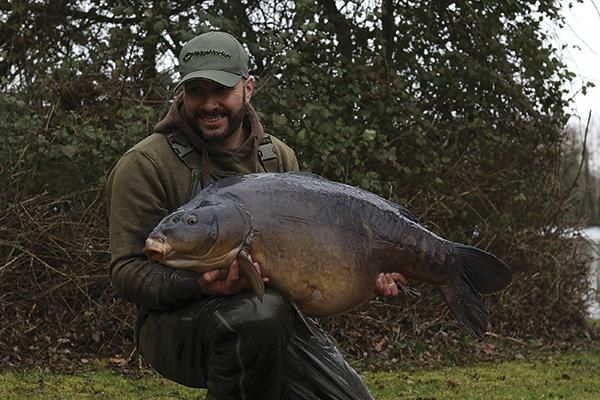 If, like me, you are an angler with a busy home and working life, short sessions such as overnight trips are very often the only way you can guarantee time on the bank. Spring offers the first few rays of hope following a dull winter and you start to believe that now is the time your short sessions might begin to turn productive and you won't be setting up and packing away in the dark, all to no avail.
As I described in the first part of this series in the December 2016 issue, I had decided to target RK Leisure's Horton complex and fish Church Lake because it not only has a prestigious and, in my eyes, history-rich background but it is also home to some very large carp that make up a stock of around 70 to 100 fish, depending on who you ask, in some 15 acres of weedy and pressured water.
It's no secret, and has probably been written about more times than I can count, that spotting fish and moving onto them at this time of year is far better than a mass baiting campaign where you sit and merely hope they will come to you. Like many, I spend as much time looking for fish as I can when out on the bank. However, it isn't always a case of turning up and being pleasantly greeted by an acrobatic display of hungry carp. In fact, this can be described as a rarity.
Church Lake was due to shut for two weeks on March 15th before the new tickets start and with limited time I wanted to make sure my next few sessions counted.
This time last year I was unfortunate to lose one of the lake's biggest residents from a swim known as The Salt Circle. While some called me mad and others delusional, I honestly believed that this would be where I would get my first chance of a Horton carp in 2017. Of course, if I were to see fish elsewhere I would have no hesitation but to pack down and move.
The swim isn't the most fished or desirable on the lake, but I like this. I believe that doing things differently and targeting quiet spots could give you an advantageous edge over the anglers around you.
So with my swim choice made up I wanted to find a good area to fish too. Now each swim has recognised hotspots, so I did found the prominent hard gravel spot that I know does bites throughout the warmer months but opted to find the softest substrate around that. Gravel offers absolutely nothing in terms of natural food content compared with softer detritus deposits or siltier areas. However, come the autumn, when the carp are openly looking for food, I will have no hesitation presenting them with a large offering on it. With the naturals in the lake now also beginning to wake up and emerge, just a few moments spent watching the immediate margins began to reveal various larvae; I felt that the carp would instinctively go in search of these areas because they don't know anglers are going to descend onto the lakes and attempt to give them a feed. So where would the naturals be now? I have often found these areas more likely to be soft, silty substrate, that is why I always give them a very gentle sprinkling of bait and begin there.
I always opt for a gentle approach throughout spring because the carp have often been sitting up during the winter and cold conditions, especially when the lake has had an icy hat on for a few weeks like Horton had. As a result, they cannot continue to feed on anglers' baits. I believe the carp enter what's almost like a dormant stage throughout this period, burning body fat rather than eating. I liken it to having a gastric band fitted, both their appetite and digestive tract shrink so they can't start off gorging themselves on the volume of bait that they would perhaps consume in autumn, for example. If I did start piling a load of bait in, I am sure they would eat some but I would have overfed them and they would have to eat an awful lot more before they reach my hook bait, in theory. Instead, I go in with a little-and-often approach. I can still prebait before leaving but only putting out 10 Spombs as opposed to 30. For example, on arrival I might put out five Spombs. If I haven't had anything throughout the night and I am staying on for a few more hours, just two to top the spot up will suffice. Remember, this is a relatively low-stock venue. If there were several hundred fish present I would probably double the amount of bait but still start with more crumb than whole boilies.