7 Top Tips | Bottom-Bait Fishing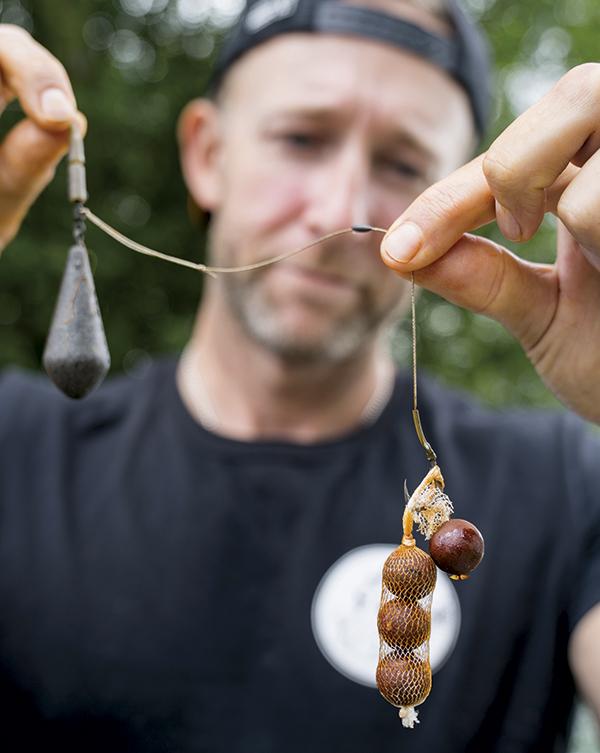 When was the last time you heard about an angler casting out a simple bottom bait, and when was the last time you heard of an angler attaching a three-bait stringer to that rig?
It seems that the trends of the modern era have been heavily based upon the use of pop-ups, and in the right situation, where they will provide a valuable advantage over a bottom bait, that would be my choice. However, I would always prefer to use a bottom bait presentation where the circumstances dictate; it offers so many advantages over a pop-up in my opinion, certainly on those cleaner areas of gravel, silt or clay.


1. The Natural Element Wherever possible, perfectly mimicking your free offerings will no doubt increase the carp's confidence when approaching the hook bait itself.
A hook bait positioned flush to the deck, matching the surrounding baits, will cause very little caution to the carp when they are feeding. Especially during the later stages of the year when the fish have been heavily pressured on pop-ups or bright hook baits, toning it down and completely matching the loose-fed baits you are using will provoke a positive feeding response.


2. The Stringer Most of my fishing in recent weeks has been done with minimal amounts of bait, often just a simple PVA stringer of three Pacific Tuna baits. By observing the water closely, looking for subtle signs of feeding and fizzing, you can quickly begin to pinpoint areas where the fish are moving and place minimal traps that can bring quick bites.
A three-bait stringer provides enough attraction around the hook bait to promote interest, while also maintaining the subtle factor that the carp cannot associate with angling pressure such as larger volumes of bait and large scatterings of boilies.
To increase the pulling power of my stringers even more, I like to give them a good dip in the Hot Chorizo Extract, to really crank up the food signals!


3. The Rig Fundamentals The rig I use for my balanced bottom bait set-up is very simple and is based on a rig I have been using for a number of years. The key in my opinion to this rig is at the hook end, where I have used a piece of shrink tube to extend the shank of the size 4 Edges Beaked Point hook, which I favour.
The hair is trapped in place with a small piece of silicone and when used in conjunction with a wafter hook bait, it creates superb hooking mechanics from the 'extended' shank present.