ESSENTIALS | Summer Fishing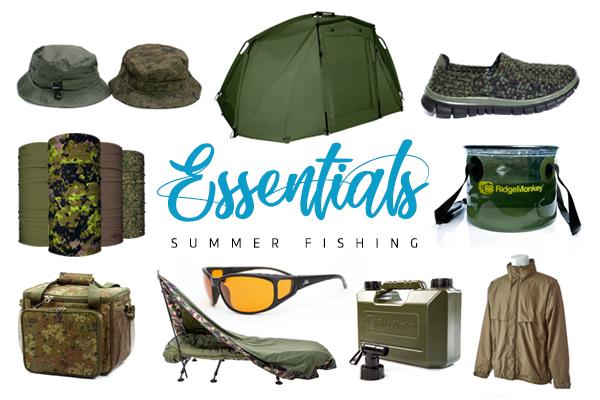 Get ahead on summer with these summer fishing essentials.
Lightweight Shoes: Navitas Weaves
Combining the comfort of slippers with the functionality and versatility of trainers, the heel is designed to fold down flat so they can be slipped on quickly and used as a bivvy shoe. Ideal for use on and off the bank, once you put them on you'll never want to take them off…
Polarised Sunglassess: Fortis Wrap
These fit perfectly around the face, totally eliminating unwanted light and the side lenses allow for 180-degree peripheral vision. Available with top quality AM/PM (amber) lenses for low light such as dawn and dusk, or 247 (brown) lenses for all-day wear. Soft rubber inserts on the frame arms ensure these frames don't slip off your head, while a unique vent system increases airflow preventing mist/fog build up when pushing a barrow or climbing a tree to spot fish.
Brolly Plus Mozzy Mesh: Trakker Tempest Brolly Advanced/Insect Panel
A lightweight brolly will make those hot summer nights more bearable, and this one is easy to use and ultra quick to assemble, with Adaptive Ventilation Technology to keep air circulating, reducing condensation. Four large rear vents give 360-degree ventilation with the Insect Panel in place. The Aquatexx fabric is super-waterproof, breathable and hydrophobic while remaining lightweight, super-strong and with small pack-down size.
The zip-in insect panel will keep those biting bugs at bay, without adding a load of weight to the setup. With tie-backs for door and side panels.
Fishing Face Masks: Hoo-Ray
To keep yourself safe, comfortable and motivated on those long summer sessions by the lake or river, you're going to want – and need – to protect yourself from the sun, wind, and the elements.
Try one of the fishing face masks from Hoo-Ray – you can wear them as a face mask, neck gaiter, headwrap, balaclava, neck and face scarf and more! Fishermen and women can choose from a vast selection of neck gaiters with a unique fishing inspired design.
Hoo-Rag fishing bandanas are seamless, soft, moisture wicking, breathable, wind resistant and lightweight. Stay cool, look cool, be cool! (Please note these products are NOT a replacement for medical-grade Personal Protective Equipment.)
Shorts: Trakker Vortex Jogger Shorts
Stay cool in the sun (but don't forget the sun cream on those knees!). Zipped hand pockets, drawcord waist, 50 per cent cotton, 50 per cent polyester.
Hat: Korda LE Digi Kamo Boonie Hat
A classic look with an all-round brim, this is a lightweight sun hat perfect for providing shade and sun protection. It is important to protect yourself from the sun while on the bank, because of issues such as skin cancer caused by the sun due to how much time we spend outdoors.
In two versions: an understated dark olive water resistant waxed fabric perfect for undercover work as well as keeping you dry or contemporary digital camo to help you blend into the surroundings when stalking around the lake.
Water Bucket: RidgeMonkey Perspective Collapsible Bucket
Never be without a water container again – designed to be folded away and ready for use in an instant, simply extend and fill to keep a supply of water close to hand at all times. Featuring an all-new clear see-through front that allows viewing of the bucket contents from various angles: perfect for checking those all-important rigs to fool the wariest of fish.
Cool bag: Thinking Anglers Cool Bag
A compact, chunky zip cool bag in a Camfleck 600D fabric that'll keep your food fresh on the bank, with elastic straps on the inside to stop its precious cargo falling over. Mesh pockets on either side house cooking essentials and the front pocket features a number of elastic loops that will hold spoons, knives and forks securely.
Lightweight Shroud: Wychwood Tactical Carp Tarp
Answers a demand for fast erect, lightweight and compact shelter solutions to keep yourself and your kit dry when travelling light. In 10,000mm hydrostatic head HD Ripstop material with reinforced webbing fabric loops positioned around all sides and bankstick/storm poles pockets in all four corners. Dimensions: 1,500mm x 2,500mm.
Drink/water bottle: RidgeMonkey Heavy Duty Water Carrier
A simple solution to an age old problem – by screwing on the inclusive removable tap, the water flow is immediately much more controllable, perfect for those one-cup kettle fills. With a robust HDPE body, available in 5, 10 and 15 litre capacity.
Lightweight Rain Jacket: Trakker Downpour+ Jacket
Sometimes it rains in summer – this waterproof and breathable lightweight jacket has mesh air vents front and back, an adjustable storm hood that rolls into the neck and a storm flap covering the heavy duty full length zip. With zipped hand pockets and adjustable Velcro cuffs.
Air Dry Bag: Avid Camo Bag
In three sizes – small 1kg, medium 3kg and large 5kg – these make great hook bait air drying bags or can be used for the storage of small amounts of bait for day sessions and stalking. The camo pattern is stylish while the mesh has been carefully selected to stand the test of time.