Win A TF Gear AirBomb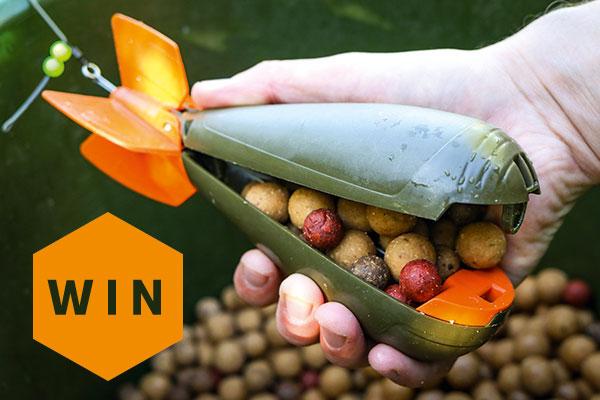 This competition is now closed, the winner was Mark Finayson from Mablethorpe.
Here's your chance to win a TF Gear AirBomb mid-air baiting device worth £14.99.
Rather than open on impact, the AirBomb is designed to open mid-air in order to produce a spread of bait. Of course this can easily be achieved at short range with a catapult or at mid-range with a throwing stick, but you will probably find that these days the seagulls get each and every boilie delivered with a throwing stick during the day. This isn't the case with the AirBomb, which successfully deters the 'white plague', and can be used at even longer ranges of over 100 yards too (150 yards with the midi version)!
Now some people might ask – why spread? Unlike tight baiting, which allows the carp to filter feed on the spot (making them tricky to catch), spread baiting is a tactic that gets the carp moving around your baited zone, making them much easier to hook! It also enables you to use some really efficient pop-up presentations like chods and hinged stiff rigs! Spread baiting is typically done with boilies due to how easily they can be delivered at range, but why stop there? The AirBomb allows you to achieve this same tactic with the like of pellets, chops, tigers… you can even use it with hemp or maggots if you like!
The AirBomb also has a few additional uses such as for baiting close to snags. Once the line hits the clip, the AirBomb stops and falls short while its contents are propelled forward towards snags or under overhanging trees. This makes it a great tool for baiting up tight to obstacles without the risk of losing your baiting device in the trees!
For more great tips on how to get the most from your AirBomb, check out our handy guide on the Total Carp Fishing TV YouTube page!
For your chance to win a TF Gear AirBomb, simply answer the question below.