Win! Solar Tackle SS-K bait range!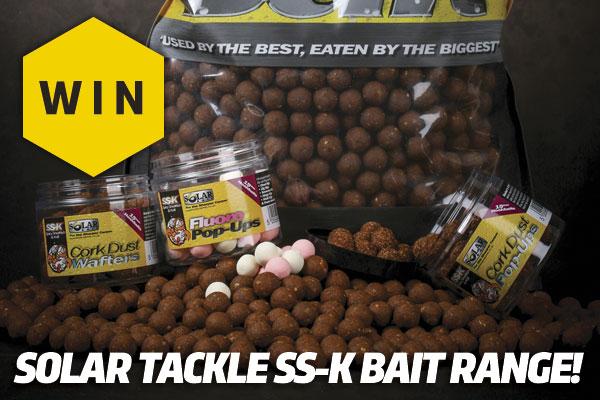 This Competition is now closed. The winner was Mark Stubbs from Cheshire.
Take a look at what you could win...
Shelf Life Boilies 5kg
RRP - £40
As the name suggests, there is no mistaking this bait when you open up the bag, with a high quality pre-digested fishmeal and blend of hydroloysed fish proteins this rich bait smells as good as any fishmeal we have seen. A unique blend of amino stimulants from Krill, Indian spices and a high inclusion rate of betaine, the SS-K is sure to be recognised as a carp catcher. The base mix itself is a complex blend of krill meal, fishmeal, bird foods, milk protein and vitamin supplements, providing the carp with a nutritiously rich meal. The team at Solar have even gone as far as saying it is the best fishmeal they have ever produced, and that is a bold statement! Available in three sizes – 12mm, 15mm and 20mm – and at just £8 per kilo, this is one bait we would certainly look at mixing up the sizes and buying in quantity so you can really introduce the bait in volume and get those carp on the search for SS-K!
Cork Dust Wafters
RRP - £5.99
Boasting a match the hatch appearance, the Cork Dust Wafter Hook baits come in two sizes, either a 15mm or 20mm variety to suit which free offering you are fishing over. Best used with a bottom bait presentation these cork dust wafters are great at offering a neutral buoyancy hook bait that often leads to the downfall of many a tricky carp.
SS-K Fluoro Pop-Ups
RRP - £5.99
Available in 11mm and 15mm the pop-up hook baits offer a washed out pink and white coloration with superb buoyancy, making them perfect for being fished as a single cast to showing fish, or alternatively as a high attract bait over the spread of the matching SS-K boilies. What's more you could even top a matching bottom bait to create a devastating snowman presentation.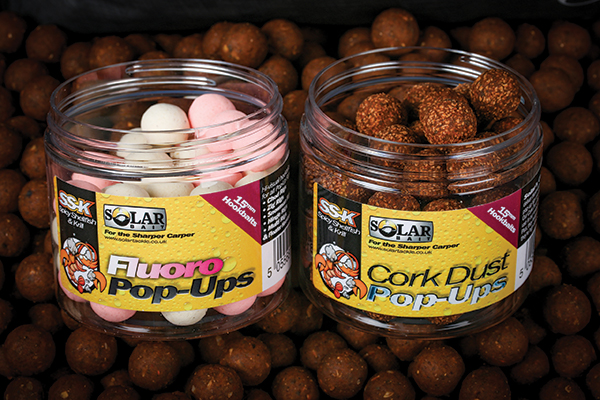 Cork Dust Pop-Ups
RRP - £5.99
Available in just 15mm these hook baits have become a firm favourite for many of the team once the carp have been hammered on bright baits throughout the years. Benefiting from the same smell and flavour profile as the SS-K bottom baits, these cork dust pop-ups are the perfect hook bait to present a pop-up presentation with a match the hatch appearance.
For your chance to to win this Solar bait bundle, simply correctly answer the following question (multiple entries will disqualify you).