Win a New Direction Multifunction Bivvy Table V9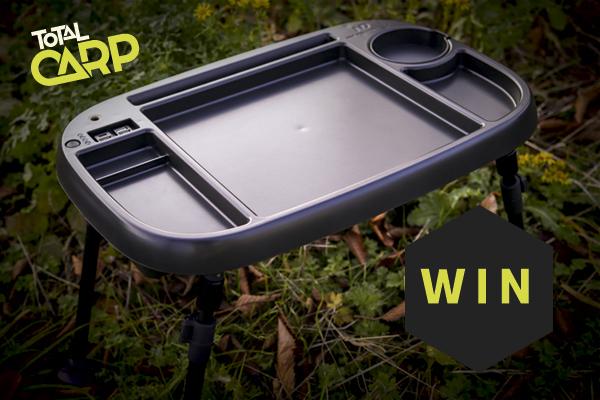 This competition is now closed, the winner was Steve Thomas from Berkshire.
Thanks to New Direction we have a Multifunction Bivvy Table V9 to give away, worth £49.49!
For long sessions or those dark nights there are certain items that make the time we have on the bank just that little bit more comfortable. In fact, a bivvy table may be something you carry all the time and from looking at the New Direction Multifunction Bivvy Table this is totally understandable!
As expected with New Direction, it is really easy to set up and comes supplied in its very own carry bag with a full-length zip. Once removed it is simply a case of unfolding the legs and screwing them to fix them into position. The large round feet ensure the table does not sink into soft ground and the legs can be adjusted to preference with a maximum height of 40 centimetres or 29 at its lowest.
The table itself accommodates a whole host of essential tackle items when bankside and measuring in at 47 centimetres wide and 31 deep a number of activities can be carried out at the same time.
There are several compartments on the table top, whereby the main compartment is ideally suited to tying rigs or possibly storing the likes of car keys and wallets for safe keeping. At the back a slot has been created to hold a phone, tablet or both, and to the left there is another slot created to house the new Power Bank from New Direction which is sold separately.
The installation of the power source is not difficult in the slightest, simply flip the table over and fix with the provided screws. When back upright your table is now ready to charge a number of devices at any on time with the three USB slots.
On the same side of the table is a magnetic compartment designed to house hooks and any other metal items needed to tie rigs for the session ahead. Many of us love a hot beverage at any time of day, but when the night-time temperatures dip significantly a constant boiling kettle will help warm us through. New Direction is aware of this and has crafted its very own cup holder, eliminating any unwanted spillage from an offending caffeinated beverage.
Last but not least a connector for a bivvy light has been strategically placed on the upper left corner to illuminate everything situated on the Multifunction Bivvy Table.
For your chance to win a New Direction Multifunction Bivvy Table, simply answer the question below.