Win a fantastic sleep system from Nash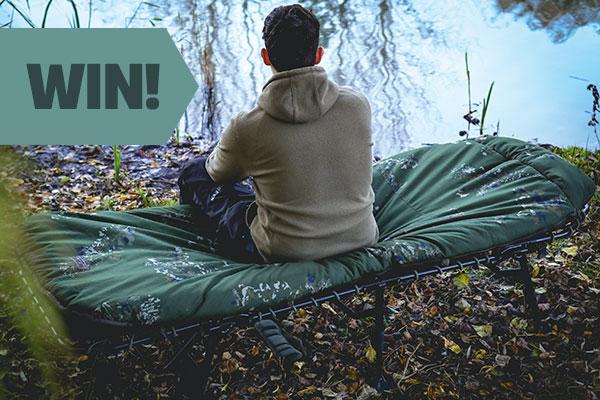 Closing date: Friday, February 11th, 2022.
If your budget allows, investing in a sleep system is certainly the way to go. No longer will you need to faff around with a separate bedchair and sleeping bag, as with a sleeping system it comes as one complete package.
The problem however, is what sleep system do you buy – nowadays there is a huge range of sleep systems on the market, but if you don't want to be lugging a huge weight to your swim, Nash provides a perfect alternative.
And if you don't fancy buying one, we're giving you the opportunity to win one… free!
Check out what you can win…
SCOPE OPS 4 FOLD SLEEP SYSTEM MKII
The Scope range from Nash has gained massive traction since its conception and for very good reason! An initiative to provide bare-bones tackle that is compact, lightweight and perfect for shorter sessions has been something many anglers were looking for until the Scope line was created.
The Scope Ops 4 Fold Sleep System certainly reflects Nash Tackle's thoughts impeccably and is quite the contrast to the heavyweight sleep systems available. The innovative, space saving four fold frame, with three leg support – now has an improved mattress configuration to ensure more compact pack down and transport dimensions as well as reducing overall weight. Weighing in at 12.4kg this sleep system is a lot lighter in comparison and can be easily carried on the shoulder to make for an easy move to another swim, or for ease of transport when setting up and packing away. There has been a strong focus on making sure this sleep system packs down compactly, and for a quick overnighter or maybe even two nights it really is perfect.
Despite the saving in weight there is still plenty of comfort to be had. A three position rake adjustment means additional head section incline, while the high density foam mattress lining is present with the trademark Nash peachskin cover, as well as a fantastic micro fleece thermal foot liner and installed heat baffles for maximum heat retention.
The inside of the Four season hollow fibre luxury duvet has a smooth nylon lining for snag free movement when sleeping. Elastic loops have been installed on the sleep system too, where an additional pillow can be added for improved comfort, plus heavy duty crash zips.
With swivel mudfeet and spring-loaded legs there is no environment where the Scope Ops 4 Fold Sleep System cannot house an angler comfortably for the night.
For your chance to get your hands on this fantastic Scope Ops 4 Fold Sleep System simply correctly answer the following question (multiple entries will disqualify you):