Win a fantastic haul of Speero Camo luggage and Sirius clothing worth £422.25!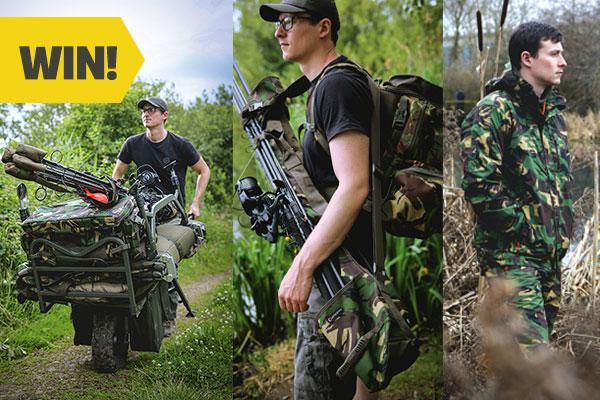 Here's your chance to win loads of great camo gear from Speero – you never saw that coming!
Check out what you can win…
BARROW BAG XL
The new XL Barrow Bag from Speero is a sizeable and cleverly designed carryall with various storage options and plenty of space and scope to assemble the bag to your requirements.
Multipoint barrow attachment clips make fixing the Barrow Bag on to the front of your barrow a piece of cake and not only allows for quick access of items but will also see you benefitting from a far more balanced load.
There are five external pockets on the face and sides of the bag, perfect for keeping crucial baits and end tackle items close to hand. The main compartment is very spacious and incorporates an internal dividing system.
Military spec zips make access a breeze and an ergonomic shoulder strap helps with carrying off the barrow as well as to and from the house and vehicle. With the bag being fully padded the contents will be protected at all times and a wipe clean base allows for easy maintenance.
COMPACT RUCKSACK
The Compact has a 45 litre capacity, and there is still plenty of room inside, plus five external pockets strategically placed around the rucksack. The two largest pockets are great for storing the likes of large rig bags or scales, maybe even a tea kit!
Rather than the single large front compartment on the standard rucksack, on the Compact model this is split to allow further organisation of your tackle. The main central compartment is then where the bulk of tackle and essential items can be cleverly packed with various bags and pouches for ultimate efficiency. Speero's Modular Clip System allows for the attachment of even more kit.
With a padded adjustable harness, the bag itself is padded throughout with a handy grab handle allowing for quick movement, while the military spec zips are extremely resilient to dirt and grime. The pocket bottoms and base of the rucksack incorporate a wipe-clean heavy duty material.
COMPACT ROD SLING
It really is impressive just how much tackle can be carried in this, so much so that four rods can be carried comfortably at any one time with all of the popular lengths (9ft to 13ft) being catered for thanks to the quiver style design. There are also dedicated pockets for the carrying of a brolly and banksticks too, as well as a generous central compartment that is perfect for storing retainers and slings.
When not in use this compact luggage piece can be easily folded away and tucked into a bag or left under the bedchair until needed for a quick move or pack away.
THREE TIPTOPS/ROD BANDS
Padded to give your tip and butt section protection in transit the Tiptops feature 300D Cordura material and are suitable for 12ft and 13ft rods, cork handle rod compatible with soft touch inner on the rod lead bands, which are 26cm long x 11cm wide.
BREW KIT BAG
There are two compartments for this bag; the larger carries all of the kit required to create a brew while the other is intended to carry a maximum of two pints of milk. What's more, the latter utilises a special thermo cooling system to prolong the life of the milk, particularly useful in warm weather conditions.
SIRIUS TECH-LITE JACKET
The Tech-Lite Jacket is a true fishing garment, packed full of features. It is lightweight and windproof, which means this can stay in the rucksack when not being used thanks to the small pack-down size.
Constructed from 100 per cent Taslon nylon with a mesh lining it boasts a number of pockets, including one in the chest and two lower pockets, both with waterproof zips. A full front zip allows for temperature control and on the most atrocious days the jacket can be fully zipped up, working in unison with the removable hood, which is fully adjustable by using the elasticated cord. There are also two zipped under arm vents for maximum airflow as well as elastic cuffs that can be adjusted to avoid any wind or rain from entering.
SIRIUS TECH-LITE TROUSERS
The Tech-Lite Trousers are fully adjustable on both the waist and ankles for the best fit as well as helping to reduce any unwanted wind chill or water ingress. Made from 100 per cent Taslon nylon, the leg boot zips are a real winner as footwear can be removed or donned easily without the need to take the trousers off first.
A double layer shin impact area makes for a durable garment and the weatherproof zipped two pockets complete the package.
*PRIZE CLOTHING ONLY AVAILABLE IN LARGE
For your chance to to win this fantastic bundle of Speero Camo gear simply correctly answer the following question (multiple entries will disqualify you):