WIN! A bundle of bait from Sticky!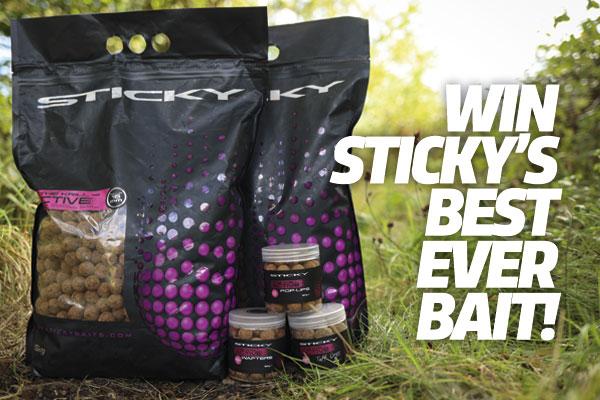 This competition has closed. The winners were Ian Hastings from East Sussex, Malcom Jewers from Norfolk, George Gordon from Lincoln and Leanne Baker from Cornwall.
"This bait is instant, packed with nutrition and the ultimate boilie in our eyes." Dan Wildbore
Check out what you can win…
Since its official release in 2020, Krill Active certainly proved itself with plentiful captures of carp, big and small, all across the country. With one of Sticky's awesome Krill freezer boilies at its core and a wrap of highly attractive paste around the outside, this really proved to be the ultimate carp bait. The paste wrap provides huge amounts of attraction, while the core boilie represents the finest carp nutrition and resilience against nuisance fish species.
Now Sticky's BEST EVER BAIT is in a shelf-life variety! Following its incredible impact over standard baits, the new Krill Active Shelf Life undergoes the same processes as the freezer version. Utilising special machinery, liquids are pumped into the bait, which is then combined with powders to create a durable, yet super-soluble and attractive paste wrap. Once submerged in water, this outer coating breaks down slowly, releasing levels of attraction that far surpass that of a standard boilie. Thanks to the use of pure liquids, with high natural salt content, the Krill Active Shelf Life boilies are as close to fresh as Sticky can possibly make them, with minimal preservatives, while still retaining their usability and ease of storage with no need to freeze. Sticky claims its new baits are quite simply the biggest step forward in off-the-shelf bait for decades!
The prize Krill Active Shelf Life is the 16mm version, plus the new Krill Active pop-ups, which are designed to retain the same level of buoyancy as the coating breaks down and falls away from the pop-up, ensuring accurate and effective rig mechanics. Also in the bundle are the corresponding Wafters and Tuff Ones.
To win, all you need to do is answer the following question correctly (multiple entries will disqualify you).