Win a Bivvy Top Work Mat and four Magnetic Bivvy Hooks from A La Carp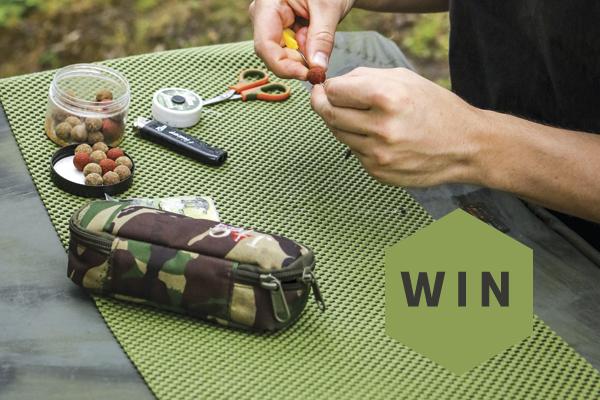 This competition is now closed, the winner was Steve Saunders from Merseyside
We have teamed up with A La Carp to give you the chance to win their waterproof, non-slip bivvy top work station.
A La Carp has come up with the simple but ingenious idea of a roll out work mat that can be draped over the top of your bivvy or brolly, providing an instant workstation. The non-slip material ensures all of your bits and pieces remain safe and secure, exactly where you have left them when working from the bivvy top.
The standard sized mat measures in at 30cm wide by 120cm long, though A La Carp does provide bespoke lengths (minimum 60cm) for those who prefer a smaller workstation to suit their shelter. It's produced from a waterproof, non-slip mesh meaning that it doesn't absorb water – you can leave it on top of your bivvy in a full downpour without fear of a soggy mess in the morning.
Each end is finished with a weighted neoprene bar that can be used to keep the mat tensioned over the shelter, as well as provide structure when rolling up to be packed away. These bars also make a handy magnetic attachment site of an internal bivvy light or hook.
The Bivvy Top Work Mat comes supplied with a water-resistant camo drawstring bag for storage, ensuring it doesn't unravel when not in use.
A La Carp also produces its own Magnetic Bivvy Hook, which provide a convenient hanging place for items such as keys, glasses and receiver so they don't get misplaced during the session, or worse still, stood on! As you can imagine, the Magnetic Bivvy Hooks work perfectly with the Work Mat, however they do also come with a dedicated polished backing plate, giving you the option of positioning the hooks anywhere inside the bivvy.
The Bivvy Top Work Mats are hand-made in Great Britain, so not only are you getting a really useful product, but you are also supporting local British business!
For your chance to win an A La Carp Bivvy Top Work Mat, simply answer the question below.