Win a big bundle of DT Baits Cold Water Green Beast!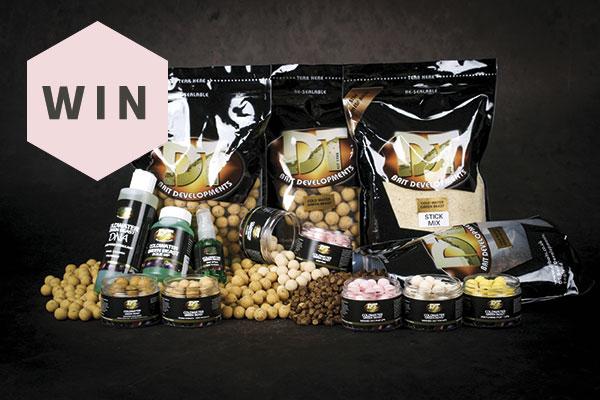 This competition is closed, the winner was David Wood from Dartford.
We're giving you the chance to win some of the best winter bait around, worth more than £104!
In winter we require a high quality food source that carp will easily digest and the Cold Water Green Beast from DT Baits ticks every imaginable box. With a proven track record in the harshest winter conditions, its coarse make-up, high levels of proteins and exceptional flavour leakage make this an exceptional bait for year round use, especially when the majority of anglers are using fishmeal based baits.
The birdfood base of the Cold Water Green Beast gives off a beautifully rounded and creamy profile with a distinct summer berry flavour of blackcurrant. Additions of whey powder and calf milk replacement help to significantly boost the protein content of the bait and the carp will absolutely recognise this as a nutritionally beneficial food source. The boilies are also wonderfully soft and fish will appreciate this as they will expend less energy to consume free offerings. Cold Water Green Beast is highly visible, especially in the crystal clear waters found in the depths of winter.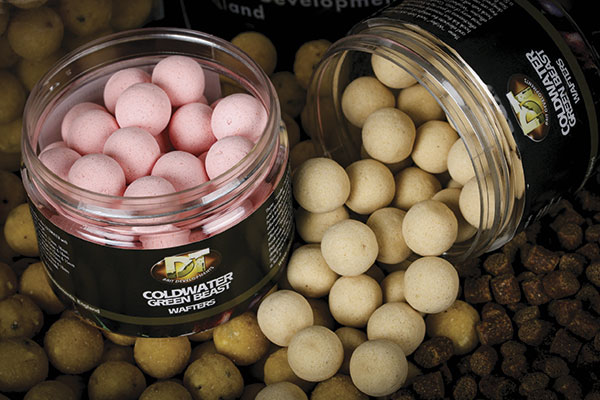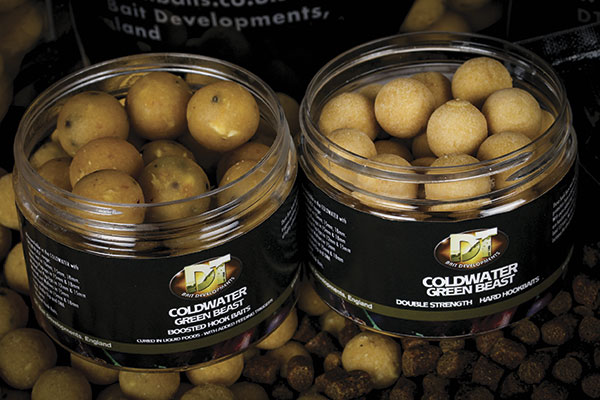 There are pop-ups to accompany the food bait, including the matching pop-ups as well as the washed out pink and whites, in sizes of 12mm and 15mm respectively. The Cold Water Green Beast Wafters are in the same colours as the pop-ups in 15mm and 18mm sizes and will help to negate the weight of any hook to fool the trickiest of carp. The boosted hook baits have been soaked in liquid foods and refined nut oils for six months to ensure maximum attraction is released into the water once submerged.
Being such a coarse bait the Green Beast accepts liquids readily and the matching Boilie Dip and Bait Spray will seep into free bait and hook baits extremely quickly – you can really see where the 'Green Beast' name comes from here!
Lastly and by no means least are the matching pellets and stick mix. With the Cold Water Green Beast pellets the unique and irresistible flavour disperses flawlessly in cold water, while the matching stick mix uses the same quality ingredients that are found in the boilie, including the addition of a refined nut oil, making it perfect for using straight out the bag.
It's safe to say that this DT Baits classic is here to stay!
To win a big bundle of DT Baits Cold Water Green Beast baits, simply correctly answer the following question (multiple entries will disqualify you):