TRAKKER | Trinity Rods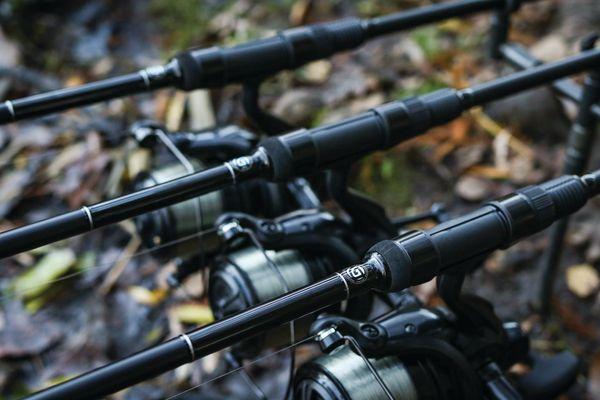 Trakker has long been a leading brand in providing many of us with superior clothing, durable luggage and some of the best shelters we have ever seen in carp fishing. So when the announcement dropped that Trakker would be creating its own range of rods it was welcomed with open arms. The Trakker Trinity Rods were designed to be an affordable carp fishing rod, ideal for either the newcomer or those who are budget conscious. This however, does not mean that any compromises have been made; the Trinity Rods use quality components that have been finished to the high standards we have come to expect from Trakker.
There are four rods in the Trinity line-up, with two 12ft rods in a 3lb and 3.5lb test curve as well as two 10ft rods, and these too are available in a 3lb and 3.5lb test. Every rod in the range has its own advantages for use but they are all capable of being good all-rounders for the individual.
The two 3lb test curve options are wonderful fish playing tools, provide a lovely through action and will cast lighter leads with magnificent precision. The 12ft has the ability to cast further than its shorter variant and will also be able to get high above a hooked fish in weedy scenarios, whereas the 10ft is certainly at home at small waters, canals and rivers. The two 3.5lb test curves are a slightly heavier blank that can comfortably handle large leads when casting accurately at long range, with the 12ft and the 10ft proving their worth when battling and netting fish from a boat. Their significant backbone will handle very large carp when trying to find sanctuary in snags while remaining forgiving enough in the tip to prevent dreaded hook-pulls.
Clearly there is a choice to be made when looking to grab a set of the Trakker Trinity rods, but whatever model you decide to procure will see each and every one looking incredibly stylish within a setup. Slightly different from the norm is the holographic branding as featured above the reel seat, which really grabs the eye and reflects beautifully in daylight. The blank itself is of course an in-vogue matt black and is a wonderfully robust blank that has been equipped with sturdy ceramic guides throughout. The remainder of the fittings have been given the black treatment too with a DPS reel seat, minimalist black butt cap as well as a handsomely shaped abbreviated shrink and Duplon handle. Install a reel of your choice and be ready to tackle any venue you desire with confidence that your rods will never let you down!
RRP: 10FT £89.99/12FT £99.99
WEBSITE: www.trakkerproducts.co.uk