Hook-Bait Approach
There's no need to spend bundles of money on bait. Quality over quantity is the order of the day and here's how you can succeed with just a pot of pop-ups!
The mighty single hook bait has been catching carp ever since the days of Frank Warwick on Redesmere chucking golf-ball-sized baits to showing fish. They have proven to be an effective tactic on venues up and down the country. As the temperatures begin to drop and the cold, long, dark nights make an appearance, bites generally become less frequent. The fish begin to slow down and their need to eat quantities of bait drastically reduces.
The single hook bait has come in many shapes, sizes, colours and flavours. Now, in a market full of countless weird and wonderful varieties, choosing the right hook bait can often prove tricky and leave you in a state of confusion.
There are a number of factors to take into consideration when adopting a single-hook-bait approach and by implementing them you can rest assured that you are getting the best from the power-packed attraction that these hook baits are renowned for.
A single bright pop-up is extremely effective at nicking bites when times are hard due to the vibrant colours and often strong aroma. With the short daylight hours and warmer daytime temperatures, one of the best tactics in winter is adopting a mobile approach during the day. Looking for signs of fish and casting single hook baits to them can often prove the most successful way of getting those all-important winter bites. Keeping on the move, armed with a few pots of bright ones, will certainly help to single out individual fish.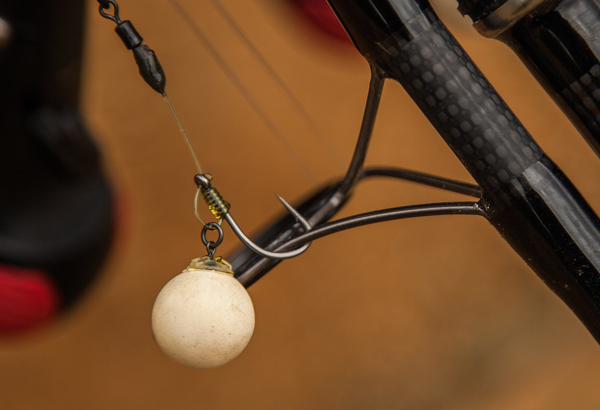 Ready and waiting. Try using a different colour on each rod to see which is the most effective
Often overlooked, but always a hugely important aspect of single hook baits is their size. With a multitude of sizes ranging from 8mm to 20mm, it can often be a tricky decision choosing the right one.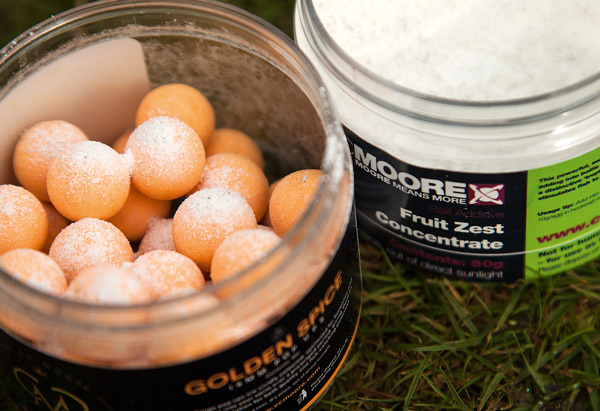 A dusting of powder attraction won't go unnoticed.


Firstly, the size of the fish makes a huge difference. The bigger the fish, the larger the bait you can get away with. However, bigger isn't always better. Small hook baits often trip up the biggest of carp, provoking the inquisitive nature of the fish. Balancing the size of the hook bait to the size of the hook is vital to maintain your rig's effectiveness. A bait barely able to hold up a size 6 hook will only decrease in buoyancy when submerged. To combat this, a super-buoyant hook bait such as the Northern Special + will ensure maximum buoyancy and rig efficiency when cast to showing fish.
The same can apply to the size of hook being used. Many anglers scale down in winter, therefore ensuring the end tackle is balanced to the size of bait, which is important to improve hooking potential. A small hook coupled with a big bait, or vice versa, will often lead to the fish easily ejecting the baited rig or very poor hook-holds.
The hook bait colour can often be the deciding factor between inducing a bite or leaving the lake with a blank. The typical colours will often work on most lakes, but, under certain conditions, particular colours will no doubt outperform others on the right day. On some days the classic yellow will outfish the more recent pale/washed-out yellow colour, whereas on others it will be the complete opposite. To gauge a better understanding of what will be the most effective on a given day, it's important to make regular changes, utilising a variety of colours on each rod throughout the course of a day.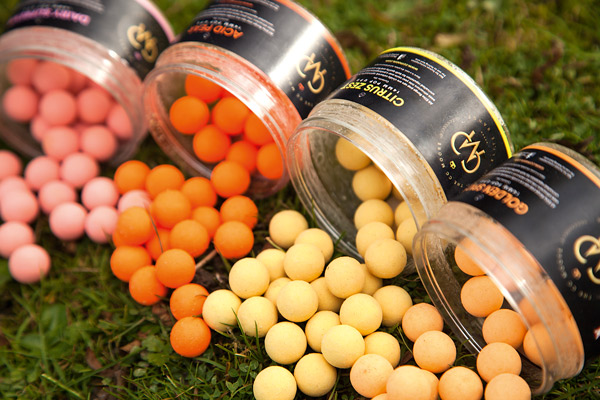 Changing the colour can often bring success from what could be a quiet day.
The substrate also plays a huge part in the effectiveness of certain colours. For example, the difference between fishing over an area of dark silt compared with a lightly coloured clay bottom will inevitably have an impact on the visual impact of a white/pale-coloured pop-up. Over the silt a white hook bait will contrast well, standing out to any patrolling carp. Whereas the same white pop-up will become less visible when presented over a light coloured sand bottom, causing the colours to blend and therefore reducing the 'standout' factor.
Water clarity plays a huge part in the visibility and sight factor; with changing depths and turbid levels of different waters, certain hook baits are less inclined to be as successful when used alongside others.
PINK | THIS YEARS FAVOURITE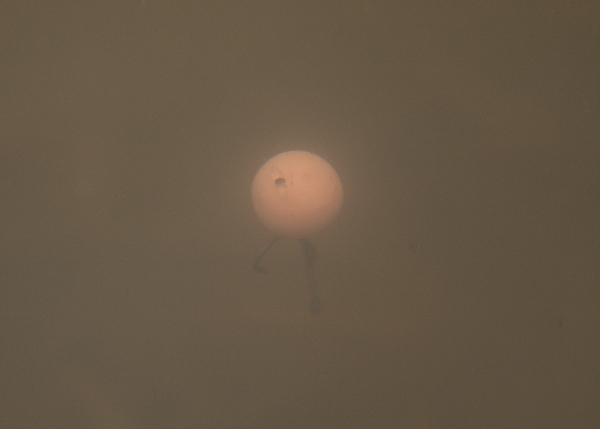 Colours generally go in cycles, for years it was orange Tuttis, then it was yellow pineapples, well this year pink and washed-out pinks seem to be the ones everyone's on.

ORANGE | CAN YOU SEE THE HAZE?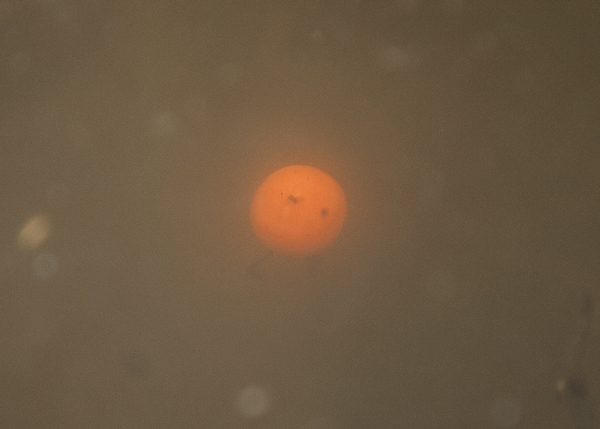 You can see what appears to be a haze around the bait. Now although carp don't see the same as us, it stands to reason that this will stick out like a sore thumb


WHITE | NOT AS VISUAL AS YOU MAY THINK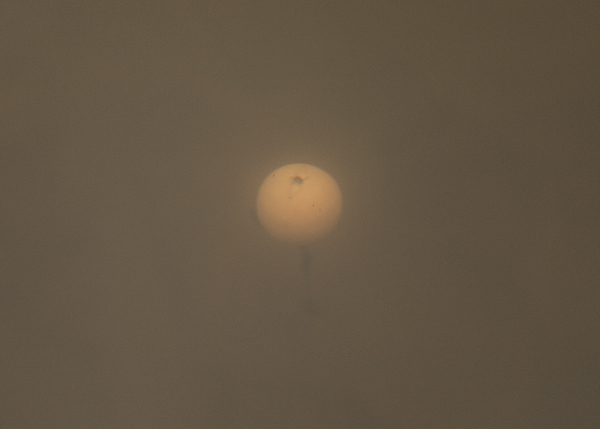 White is often seen as a bit of a nothing colour. However, it can really come into its own, especially on lakes where the public feed the birds bread
Let's start with water depth. As the water gradually gets deeper, light penetrates less. Due to this, hook bait colours are perceived differently by the fish's eye, altering their willingness to investigate. In this instance, trying a variety of colours to find out what works best at different water levels can be a huge edge for on-going success. A crystal-clear lake compared to a murky, coloured pool will have drastic changes in visibility. A good method of testing the visibility of your hook bait is to drop the rig in the edge and see for yourself how much or little the hook bait stands out in the varying levels of water clarity.
DID YOU KNOW: Vodka is a great liquid to help boost the attraction of your single hook baits, allowing the flavours and attractors to release even in the solder water
Boosting the scent and aroma given off by your single hook bait can in many cases lead to more instant action. By triggering as many senses as possible (sight, smell, taste), you are giving yourself an increased chance of hook bait investigation and rod- bending action. Boosting hook baits by applying matching spray will lead to better leaking and instant appeal. This can be further enhanced through the use of powdered additives to create a soluble crust of attraction, which is released when the water begins to break down the powdered baits.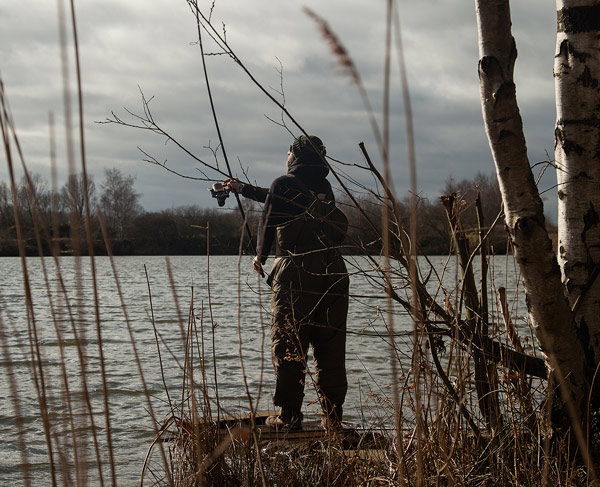 Casting to showing fish is essential in winter.
Finally, be confident in your approach. Over time you will build a better idea of what pop-ups work well in certain conditions. Single hook baits are not just a winter tactic and applying them into your fishing can often lead to success all year round. By placing your faith in a few individual 'specials', you will spend less time worrying if your bait will work and more time focusing on your fishing. Being confident is key when it comes to single hook baits and this will only be gained through experience and captures, so get out there and give the singles a go this winter.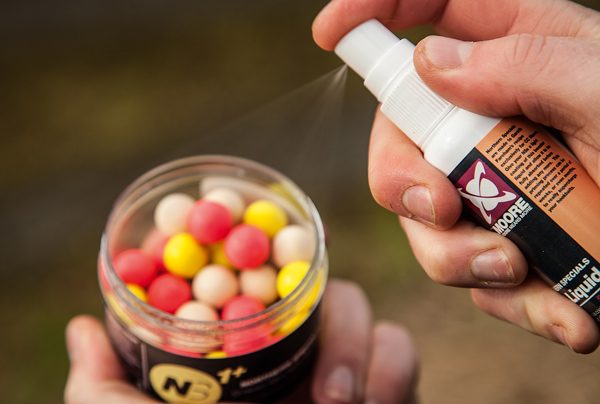 Boosting your baits with a dedicated spray is another great little edge