When our own Katie Griffiths decided that she wanted a bit of help with her chucking we knew exactly who to call on… casting coach MARK HUTCHINSON.
01 - LET'S GET IT STARTED!


While it may not be the most picturesque of venues, Naseby Reservoir on the Leicestershire/Northamptonshire border is ideally suited to practise your casting, with its flat banks and huge expanse of open water. Free Spirit-backed Mark holds regular casting clinics in both group and individual formats here and, although today he's enjoying some welcome time for his own fishing, he's more than happy to have Katie and I pester him for some help.
First things first, and Hutch is keen to see how Katie sets up her gear, what she is using and what her current casting style looks like.



Katie sets about getting her rods and reel ready for the day's event!


As Katie gets sorted and makes half a dozen casts, he is watching carefully and making mental notes on her technique and, importantly, potential.
He spies that she is only using 10ft rods, armed with medium-sized Shimano Baitrunners and some hideously purple line!
"Okay, I'll let the line go for now, seeing as Marc tells me you really like it, but bear in mind immediately that using short rods is going hinder your potential for achieving big distances." Hutch explains.
"Yeah, that's fine. This kit was given to me by Marc and it has suited me for all of my carp fishing so far, but I do understand that to cast further I'm going to need to upgrade at some stage," is Katie's honest reply.
"Ha, that was generous of Marc I bet it was when he got his Free Spirits!" is the jocular retort from Katie's mentor for the day.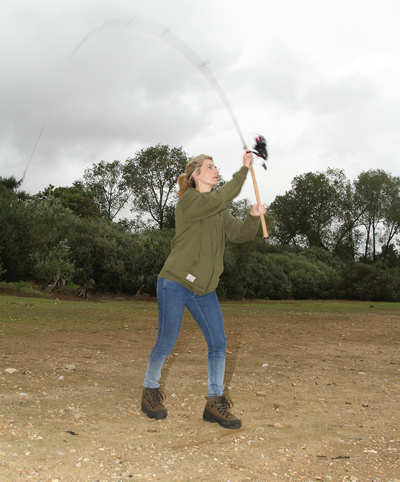 Warming up with a few costs prior to any instruction.


With around a dozen or so practice casts made, Katie has one last go before the lesson gets under way and Mark measures this final cast at around 68 yards, possibly the longest of all her casts so far.
TC TIP:
Relax – Mark says that anglers are generally too tense when casting and this can cut their potential hugely. Keep it loose and concentrate on good rhythm; don't grip it like a madman and try to smash it out of sight!
02 - Lead Drop
"Right, I've seen plenty that we can work on but I must start by saying that you already have lots of things that you are doing right. Your casting isn't a million miles away, especially considering you haven't been carp fishing all that long," Mark reveals.
"The first thing is what we call the drop, namely how much line you have hanging from the rod tip before you make your cast.
"Ideally, this should be around five to six feet and because you're using 10ft rods we'll call it five. So, when you're ready to cast, the lead should be hanging around level with the spigot, or the join of your two rod sections.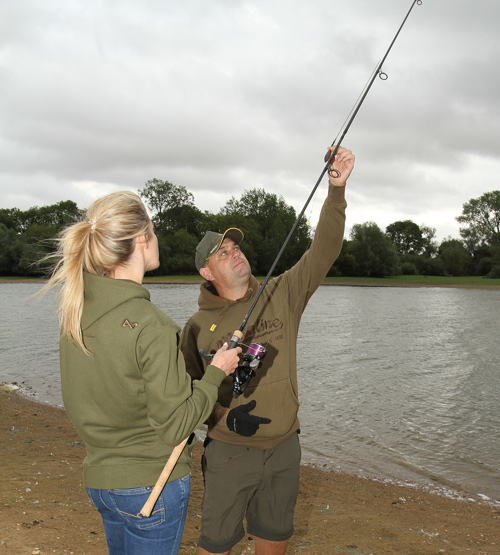 The correct 'drop' should see the lead level with the spigot of the rod.


"This is vital to create the right inertia and the right flight of the lead through the air. Too short a drop and the lead flies too low; too long and it goes too high and you get too much of a looping cast rather than a penetrating one."
Katie understands this immediately and makes another two test casts without any further changes.
Mark tells me, as she's casting, that he only wants to work on one thing at a time so as not to cause unnecessary confusion.
03 - GET A GRIP!
Next on the checklist is how Katie actually grips the rod. This takes two forms, but initially, Mark wants to deal with the position of the reel between her fingers.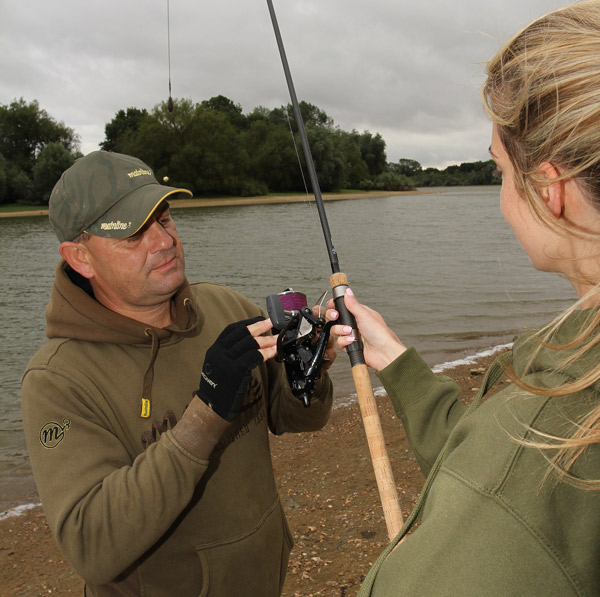 Mark sets about altering Katie's grip...


She has started with the reel between her index and second finger, which Mark points out can be quite a weak grip. It also creates a sharp angle where the line leaves the reel and is then trapped under the index finger.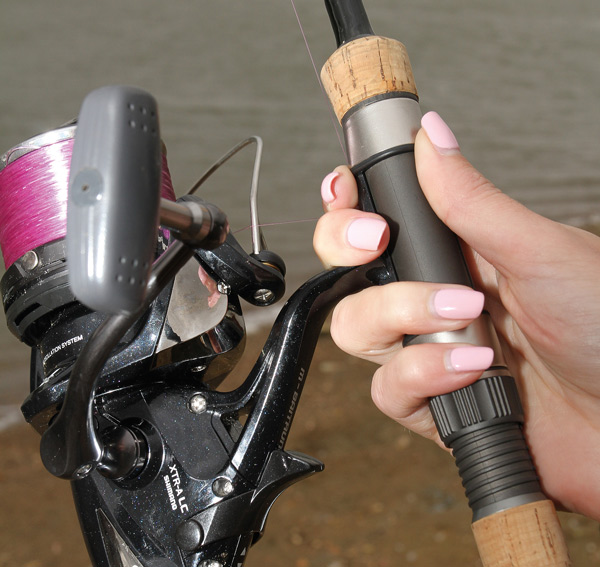 ... which she tries with the reel between her middle fingers...
He moves the reel to between her second and third fingers and then, after a few test casts, moves it further back still. The stem of the reel now sits between Katie's third and little finger and she confesses immediately that it feels more secure, if a little strange at first.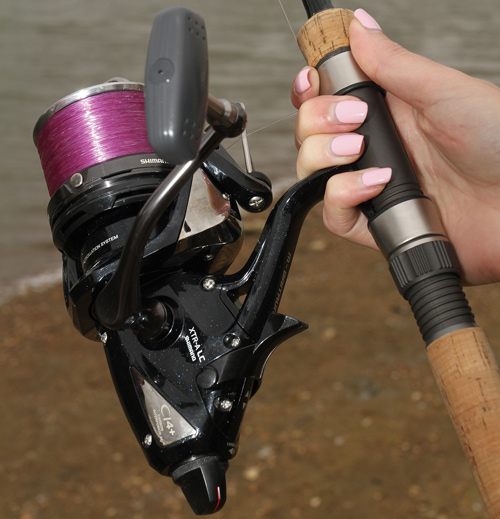 ... before a further change to this grip, which immediatelt felt more secure.
04 - HAND POSITION
An extension of the grip problem is where Katie's hands are positioned on the handle of the rod. Extension is the perfect word for it too, because Mark wants some space between Katie's hands. She is currently gripping the rod with her bottom hand too far up the handle and soon repositions it at the bottom.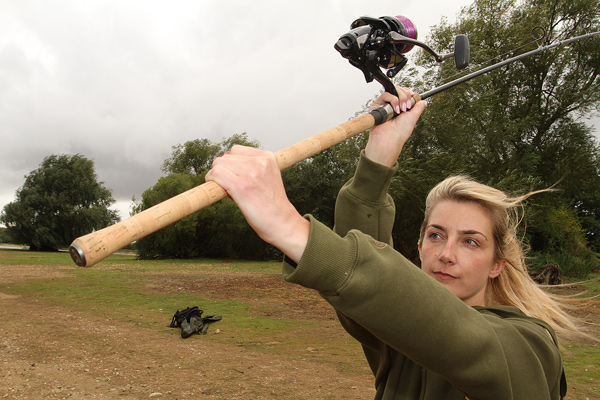 Katie's bottom hand was for high on the rod handle...
"This extends the left arm nicely and will also create more power by using the entire length of the rod," says Mark as he once again allows Katie a few more casts with these new things in place.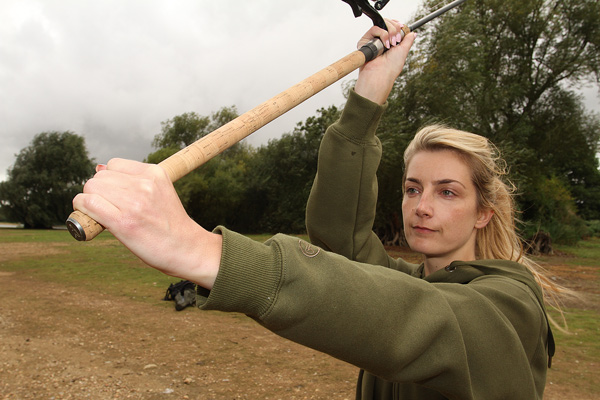 ... but she soon found the correct position at the bottom of the handle.


"There's already an improvement mate," Mark whispers to me as Katie's lead is landing around 15 yards further on average, but noticeably more accurately and consistently then before, even despite a building crosswind from our right.
"How does that feel?" he asks.
Katie replies: "A bit weird, but I'll soon get used to it."
05 - SET THE SPOOL
This is a quick tip that Mark passes on to Katie and covers the position of the spool prior to casting.
He points out: "The spool, ideally, wants to be fully extended, so at the top of the spindle. This moves the spool a little bit forwards, sometimes a few inches on some bigger reels, and can make a bigger difference than you might realise."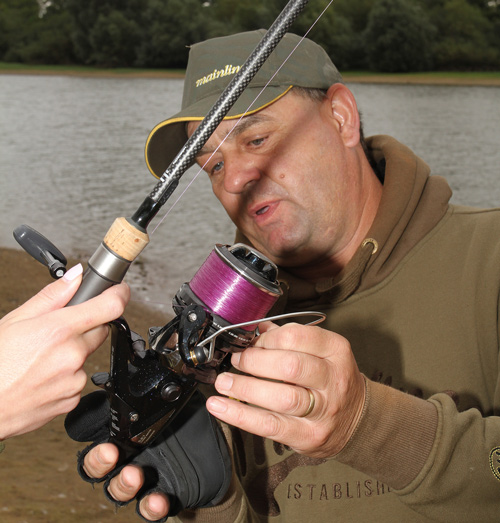 Have the spool at the top of the spindle before casting.


Katie confesses at this point that there is a lot to remember all at once, but Mark is confident that she can deal with it. Besides, with practice it will become normal. For now, though, he talks her through each checkpoint before casting.
DID YOU KNOW:
Mark is a former tournament caster whose longest recorded cast is a whopping 242.5 metres (266 yards). Just take that in for a moment… 266 yards!
06 - AIM HIGH AND… PULL!
One problem that most anglers suffer from is not using their left arm enough, instead almost 'throwing' the cast with their right arm and shoulder. We are, of course, using the analogy of a right-handed caster, like Katie.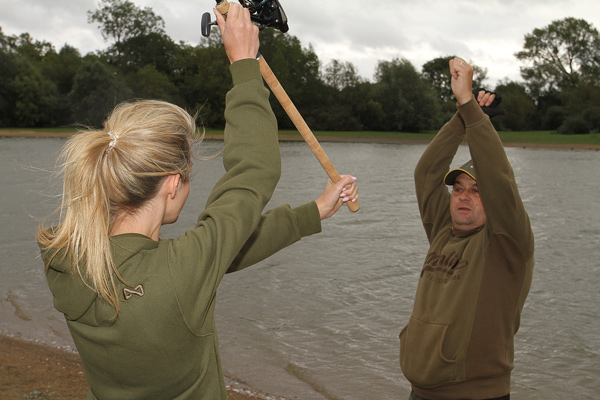 Nicely extended arms, aiming 45 degrees above the taget, and it's time to pull down with the left arm.


"Okay, you now have a really good starting position. For now, though, I want you to pick out a point a little higher than you are currently aiming.
"Imagine a target around 45 degrees or so higher than the spot you want your lead to land. In other words, aim up to the sky. This will give you an altogether better trajectory because it is still a little on the low side.
"Once you've done this, the secret is to start using for left arm more to pull the rod down into your chest and really get the power building.
"It is easily the most common fault and, Katie, you're suffering from it a little here."
I now from experience that this issue massively hinders the power in your casts and I have a great deal of sympathy as Katie struggles to get to grips with this element of the cast.
Her natural tendency is to 'throw' with her right arm, but she spends a good 20 minutes or so making repeated casts. This is the first mechanical element that Mark has introduced; all of what he has done with Katie so far has concerned the static position before casting.
Suddenly it all clicks into place and she sends her lead flying out towards the far margin of the arm of the lake that we are situated in.
Katie beams, and Mark cannot help himself, letting out a huge cry of "Yeees!"
It's no fluke either because Katie makes a further three casts that fly much, much further than any before.
07 - TRANSFER YOUR WEIGHT
"Here's the bit that will really add distance now that you are technically getting it more right than wrong," an excited Mark beams.
"Marc, as a former golf pro, you'll understand the importance of weight transference and it's this that I want Katie to look at next," he rightly points out.
"Your stance is currently a little narrow and it stays that way throughout the cast but I want that to change.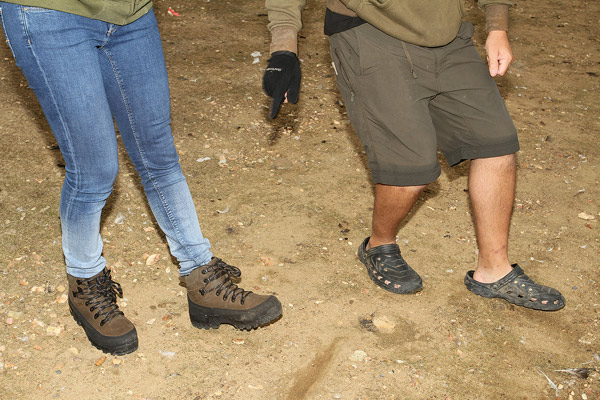 Mark demonstrates how katie's weight is to central.


"Instead of staying narrow, I want you to think about shifting your weight from your back leg onto your front leg when casting. The best way to do this is to have your weight almost entirely on your back foot, lean back and then take a big step forwards as you bring the rod through. This will take some getting used to, and you might forget some of the other stuff we have done, but give it a go," he asks.
Katie surprises us both by absolutely nailing it first time and we watch, impressed, as the lead sails out almost effortlessly.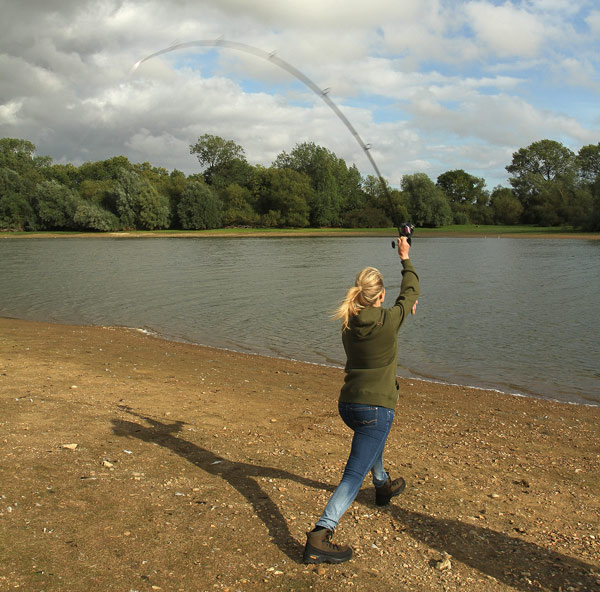 With a big step Katie soon has her weight moving forwards and launches a big cast.


Another short period of practice casts sees Katie really show signs of improvement. There are a few blips, but we have been here for barely a couple of hours at most and she is showing huge signs of improvement already.
08 - GO GIRL!
With only a few gentle reminders about her starting position and some positive feedback after each cast, Katie is merrily flinging a lead out towards the far bank, where fortunately no anglers are fishing!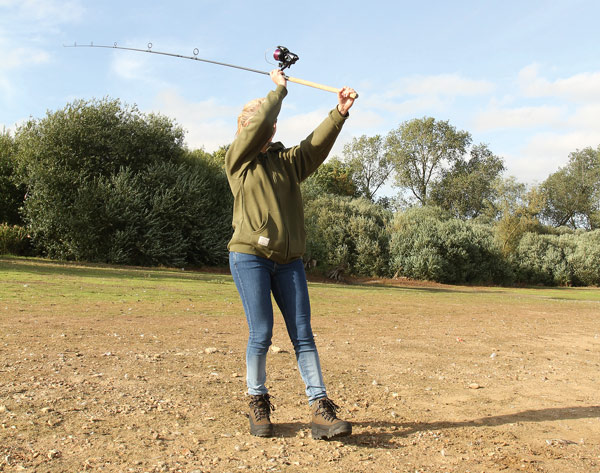 With so much to take in Katie sets about learning back in a good position.


Her technique has improved beyond recognition and we're extremely impressed with what we're seeing. She is also rightly pleased, but all this work is taking its toll and she says she's tiring.
There's only one thing really left to do and that's a measured cast so that we can compare her distances to the 68 yards she hit earlier.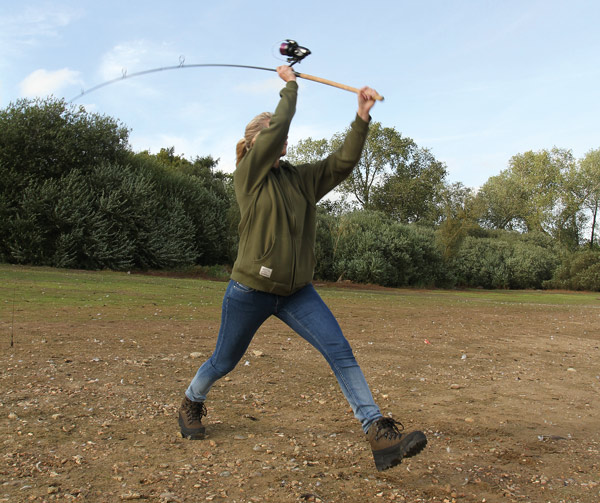 As she pulls the rod forwards she then shifts she weight with a big step forwards.


"No pressure!" I joke as Katie takes her starting position and then fires out a lead on a near-perfect trajectory. We all know it's a good one, and Mark sets about measuring it back in.
Grinning like the proverbial Cheshire cat, he reveals a distance of 124 yards, approaching twice the distance of her earlier casts.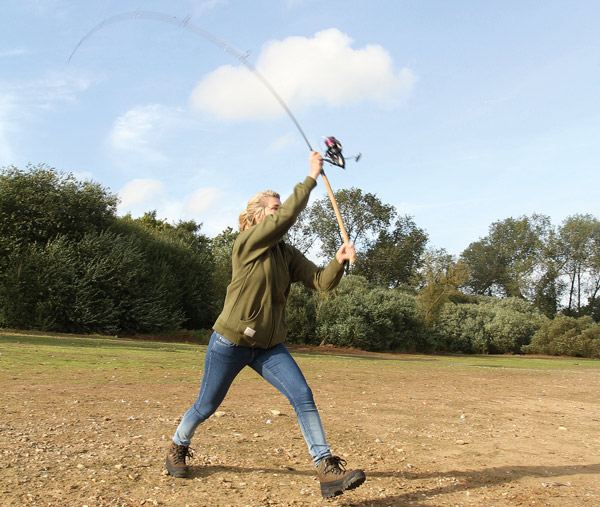 Boom! It's her longest cast of the day and shre's gained an incredible 56 yards!


It's high fives all round and Katie is absolutely thrilled, and rightly so. Mark is equally chuffed and it's obvious that he is a guy who takes great pleasure in seeing such progress in his pupils.
IMPROVE YOUR CASTING:
Get yourselves on Facebook and search Mark Hutchinson Carp Angler, where you can speak to him about booking individual or group casting tuition sessions. You won't regret it!
09 - HOMEWORK TIME!
Katie has shown remarkable progress but before we leave, Mark points out that she needs to take a few thoughts away with her.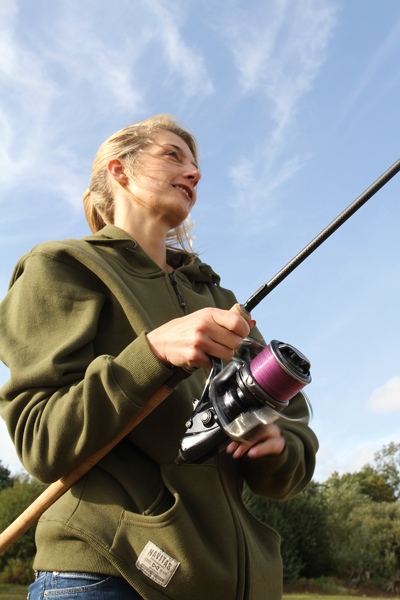 It's going to take her much longer to sind her lead in from now on!


"First up, let's consider how well you have done with the setup your are using, but how much better this could be with the right kit.
"I'd definitely recommend that you try longer rods, 12ft ideally, and in a test curve around 3.25lb or so.
"I'd absolutely consider the Free Spirit CTX and I'm not saying this purely because I work with them, but the CTX is a very special rod, is reasonably priced and has given so many of my pupils excellent results. I'll lend you a couple so you can make your own mind up.
"Secondly, it's all about practice now Katie. The more you can get out there and cast the better you will become because it becomes second nature to do the things we've taught you today."
As Katie winds in a considerable amount of line from her final cast of the day, she vows to keep practising what she has learnt. With a huge smile on her face we then make our way back up the A14 and home, hugely satisfied with our day's work and immensely grateful to Mark for what he has helped Katie achieve.
ANGLER FILE -
Name: Mark Hutchinson
Age: 47
UK PB: 43lb 8oz
Occupation: Plumber
Sponsor: Free Spirit, Mainline Baits, Shimano and Korda
FB: Mark Hutchinson Carp Angler
&
Name: Katie Griffiths
Age: 30ish
UK PB: 17lb 10oz
Occupation: Head Designer of Total Carp
Sponsor: None
Instagram: @katetotalcarp
Like this article? Subscribe to TC for more great tips like these