Tips And Tactics
Northern maestro JIMMY HIBBARD looks to keep the bites coming this winter. A few minor alterations as the temperatures slowly drop and it's game on!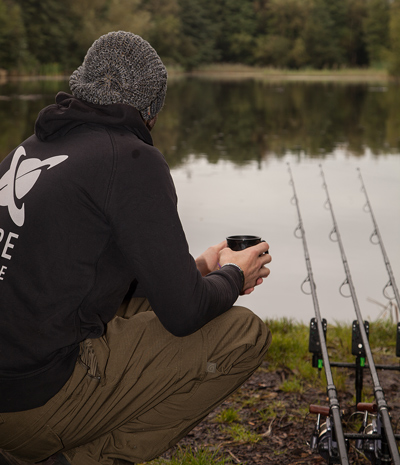 Time spent watching is essential to success


For me, carp fishing is an all-year-round passion. I find the colder months some of the most enjoyable. The cooler days and longer nights mean that temperatures rarely exceed double figures, but that doesn't mean the fish won't be up for a feed. With the banks emptier than they have been all year, it gives you the best opportunity to get out there and target different areas of the lake in the hope of picking up a few bonus winter fish.
As far as I'm concerned, winter is all about keeping the ball rolling and getting a bend in the rod. I'm happy to turn to alternative venues in winter to ensure that action is plentiful, even in the coldest of conditions.
This feature outlines my winter approach and the changes I make to ensure the carp keep visiting my mat. It's a great time to be out and with a few tactical alterations it can be some of the most rewarding fishing to be had.
One of the biggest factors is location and by this I am not just talking about fish location at a given lake. Lake location is equally as important and my choice of venue changes as winter begins to loom.



Semi-tight lines help to read line bites



I spend the majority of the year on slightly lower stock pits. These are generally bigger with fewer fish per acre of water. In winter I turn my efforts towards lakes with a much higher stock of fish per acre of water. It could be a small lake of a few acres with 100 fish, but this means there could be 30 to 40 fish per acre at any one time. This greatly improves the chances of one coming into contact with your bait and is one of the most important things I take into account at this time of year. Because I only usually fish short days in winter, I want to ensure that the chance of catching a few is the highest it can possibly be.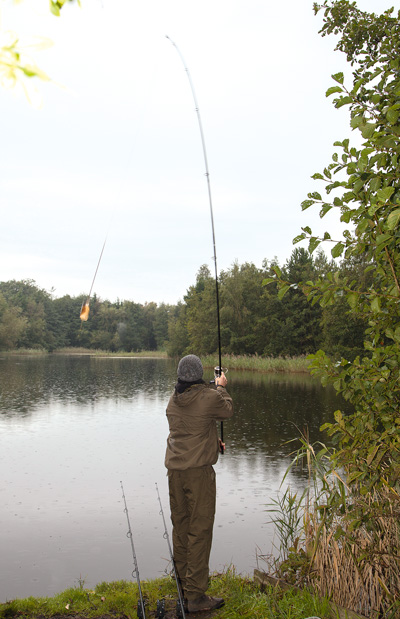 A PVA bag goes out quickly and easily



This takes me on nicely to my next most important aspect – location. Carp become much less active and therefore tend to travel less, if at all, over the course of a day. Not only that but the thermoclines of a lake mean they often shoal up tightly in the warmest areas. This differs from lake to lake, with shallow ones providing completely different thermoclines too much deeper venues. By doing your research beforehand, finding a lake with a good head of fish with winter form can keep the bites going into those chilly days.
Because the fish move less, pinpointing carp becomes a much harder task than in spring or summer. Your less likely to spot a showing fish, so scanning the water at all times of the day is vital to find their whereabouts. First light and evening periods are again prime times for looking for telltale signs of carp. When it's warmer they can often give away their location throughout the middle of the day and this is often regular bite time with the altering water temperatures. Bird life is often a key indicator of moving carp and watching groups of birds carefully in different areas can produce the vital information needed. A sure indicator of carp is skittish birds showing unusual behaviour on the surface, which is often caused by large dark objects in the depths.
Another hugely important factor that relates to location is staying mobile, keeping on your toes and not being afraid to move. After all, on these short sessions you have no reason to commit yourself to certain areas because you've used quantities of bait, so get mobile and get catching. Using the high-attract tactics I will outline later, bites will often come up to a couple of hours after casting out if you are in the right area.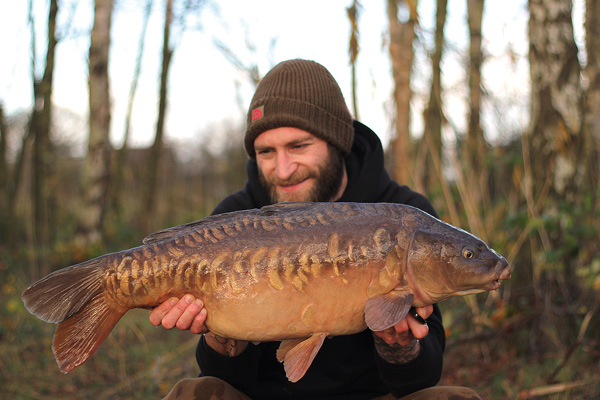 TOP TIP - The daylight hours are short at this time of year so it is best to get yourself set up with a self-take camera kit. Waiting around for hours for a photo simply isn't acceptable, so be prepared!




On the highly stocked venues I often fish for line bites to give me an idea if fish are in the swim. I can get a firmer understanding of whether fish are passing through or around the baited area or closer in. I use semi-tight lines with only a short drop on the bobbin head to register any movement from the carp. This way I can gauge the activity in my swim and make a decision based on what occurs. If I have received no liners and there are few signs that carp are present I will quickly move to a new area and give that a go for a few hours.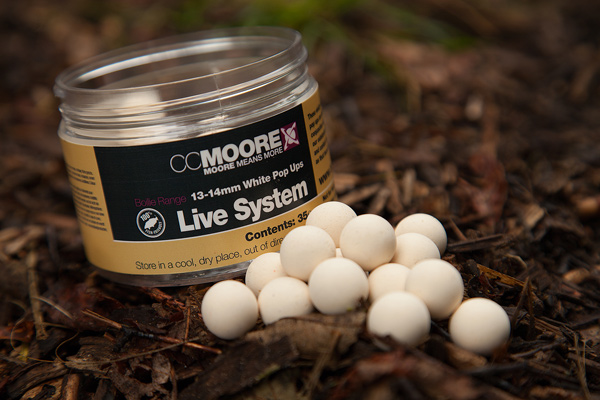 Killer Kit - Highly visual with a distinct and irresistible aroma that the carp just seem to love. Working all year round, they really come into their own at this time of year.


I can think of a few occasions where I have quickly moved on a hunch and then had a fish in the net more or less straightaway after getting the rods out. I wouldn't hesitate to move three, four or five times in a day because I know finding those small pockets of grouped carp is without doubt one of the biggest factors in successful winter fishing.
This brings me to another hugely important factor that I put a lot of my winter success down to – boosting attraction.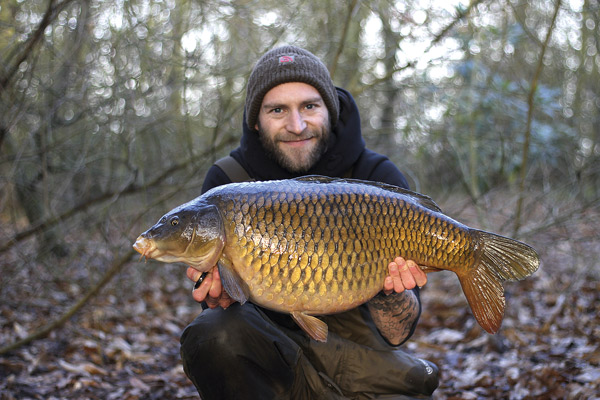 When you're om them the action can be thick and fast, just like this common




Not only does reduced temperatures mean less feeding activity, it also means that baits become less effective. This can be likened to, say, a pint of milk in summer. If left out of the fridge it quickly goes sour because bacteria work at a higher rate in warmer temperatures, breaking down the milk and the enzymes it contains. In winter this process takes a lot longer because the temperatures are cooler and bacteria work at slower rates.
Likewise, your standard boilie approach from summer is no longer as effective with the colder water temperatures and therefore the effectiveness of attractors in the bait is greatly reduced.
I employ two super-attractive tactics to enhance the attraction of my loose feed. One when I am staying mobile and casting about to different areas where I may not know the lake bed, and the other when the fish seem to be up for a bit more food than normal, trying to hold a number of potentially active fish in a swim for a period of time.
First is my all-time favourite solid bag presentation. This tactic has provided the fruits throughout the year on many different venues but I feel it really comes into its own as the temperatures drop. Why? These small parcels of attraction around the hook bait can be pumped full of super-soluble attraction while maintaining a small amount of food settled nicely around your hook bait. This is ideal when your keeping mobile because you can have a few bags ready and made up for a day's winter fishing. Furthermore, due to the nature of the solid bags, they can present effectively over most lake beds. Waters that have had considerable amounts of weed growth during summer often change dramatically as the first few cold snaps come about, resulting in lots of low-lying dead weed and debris littering the lake bed. The solid PVA bag is the best way of getting a few rigs presented effectively, packed full of instant attractors, to a few areas with minimal disturbance. If I have spotted a few subtle signs of carp in a certain area, a solid PVA is the best chance of getting a bait in position with little disturbance, which is perfect for my mobile approach. I always incorporate a small, bright pop-up in my solid bags; just enough visual for the carp to home in on the bait and fall victim. I sometimes use this on its own, or as a topper to create a balanced snowman setup.
My other favourite tactic is to get a small bed of bait down on the deck in the hope of holding the fish in an area when the conditions dictate so. I may have moved swim and began to get a few bites on the solid bags in a new area. This would indicate that there could be a number of feeding fish shoaled up there. In this instance, a few handfuls of bait spread around could provoke some sort of feeding competition. This would help increase the chances of getting multiple bites by making the most of the opportunity laid out by the numbers of carp present. Whereas this is what we try to achieve on most lakes during summer with quantities of boilies, during winter I like to alter my boilie tactics to suit the colder water temperatures.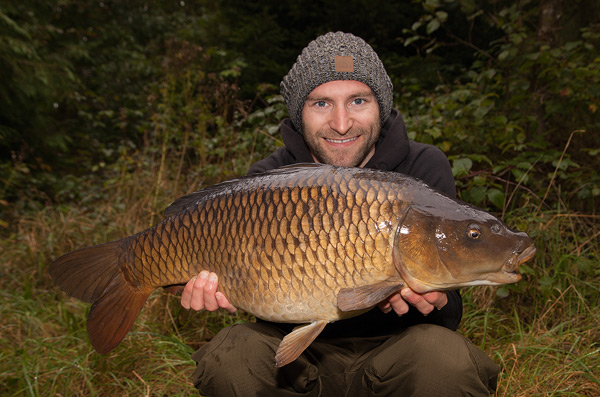 The bites just kept on coming...



A good starting point is 20 to 30 baits, offering enough individual items to provoke a feeding response while pumping out enough attraction to draw attention.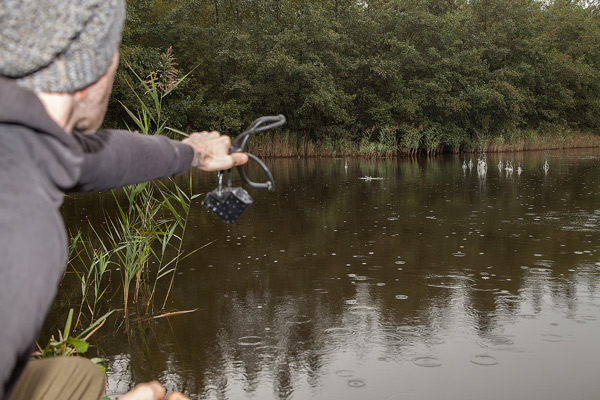 Baiting little and often is all that's required


Unlike most anglers, I like to add a little edge to my minimal boilie baiting approach. Of the few handfuls of Live System boilies I like to introduce, half of these baits I will make up using raw Live System boilie paste. I produce similar sized balls to my boilies and dip them in water before introducing mixed boilies and paste baits with the catapult. The whole purpose behind the paste baits is to mimic the boiled baits but increase the attraction when using smaller amounts. The paste baits are extremely soluble because they have no outer skin and therefore release higher levels of attraction when the water is much colder.


DID YOU KNOW: Paste makes a great hook bait when fishing in the edge, but by wrapping it around your bottom-bait boilie it will allow you to boost attraction once it's out in the pond
Step-By-Step: Paste Tip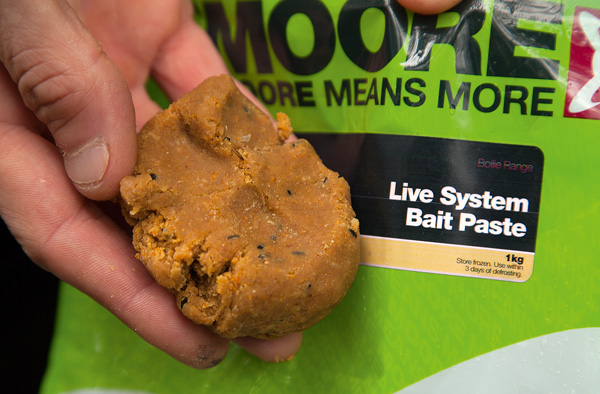 1 - This dedicated paste is ready to use straight from the bag, so simply begin by tearing off a lump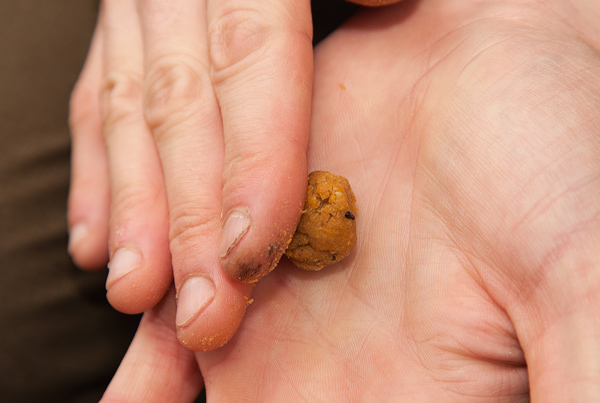 2 - Rolling the paste into a boilie-sized bait is next. They do not need to be identical but the closer the better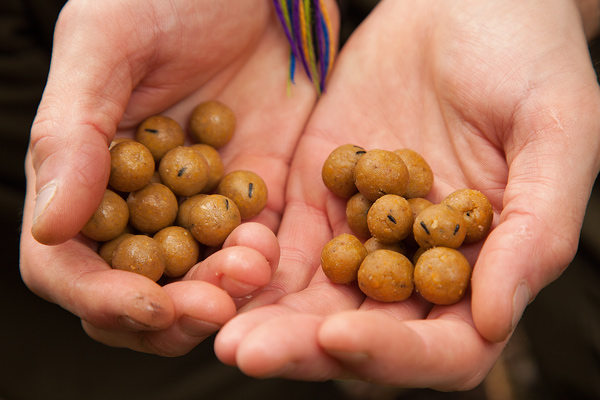 3 - Introduce Live System boilies alongside the paste and watch for a feeding reaction like no other
Winter is a great time to be out and by paying close attention to finding the carp, understanding where they become grouped up and then focusing on presenting effective, winterised bait can certainly help bring action, like it has for me in many past winters. Alongside this, make sure you are comfortable and well equipped because the conditions can often change for the worse. The last thing you want to happen is start catching and then have to end your session early because you don't have the right gear for the job. A warm, waterproof set of boots, good quality thermal jacket and powerful stove can make those cold days out on the bank more than enjoyable.
By following the tactics and tips outlined, I am sure you will have a good chance of putting a few extra carp on your mat.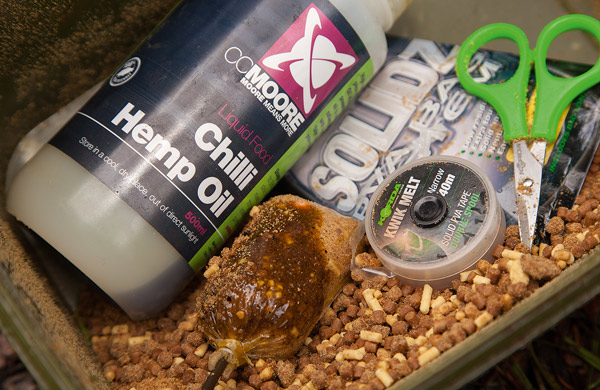 1 - Solid bags are a great way of catching winter carp. Choose your ingredients from what you have faith in.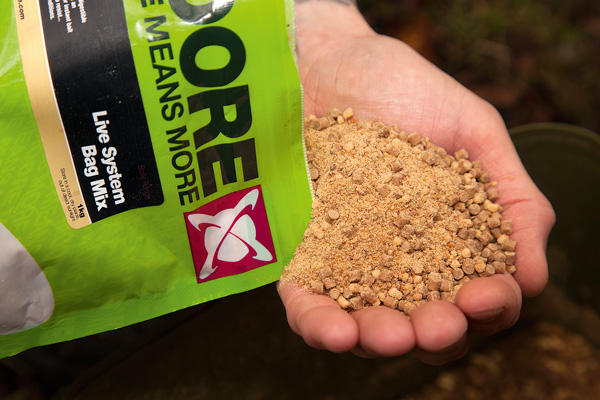 2 - Jimmy begins by adding a few handfuls to a container of the irresistible dedicated Live System bag mix.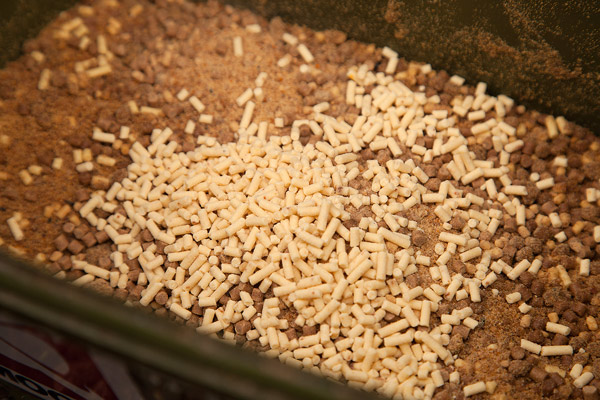 3 - Milkimin pellets are next on the list. These are a real edge, so add a sprinkling of these too.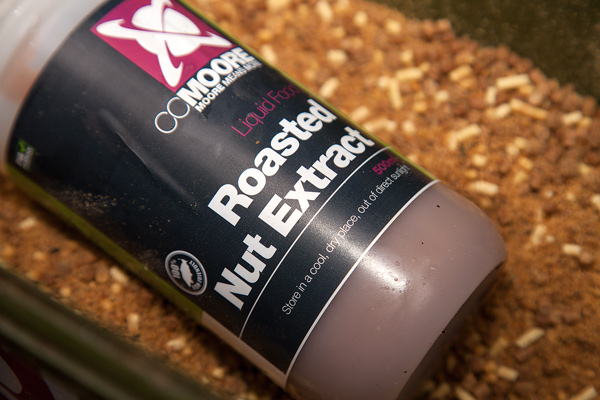 4 - Take the Roasted Nut Extract add a good dollop to the dry ingredients. This helps to bind them together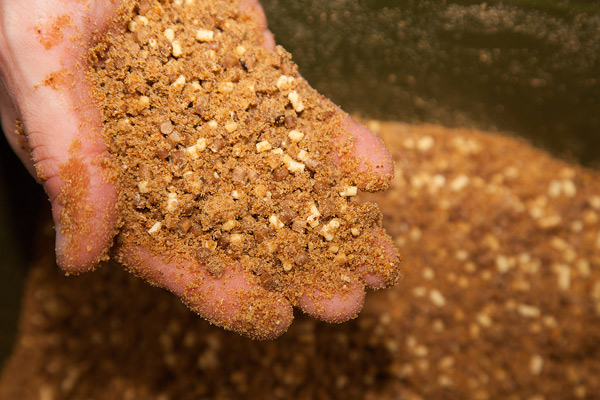 5 - Be sure to mix up the ingredients thoroughly, ensuring the liquid is well distributed throughout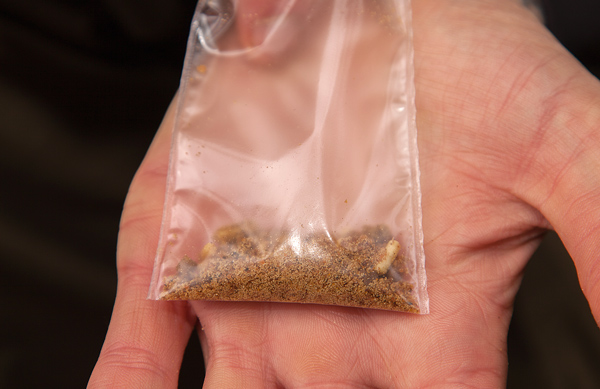 6 - Place a small amount of the mixture into the PVA bag. This will protect the hook point in the bag.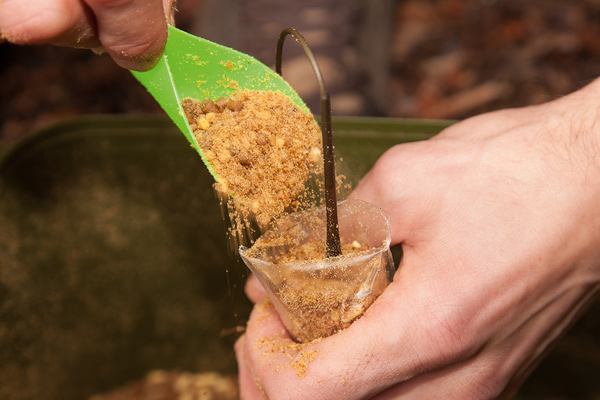 7 - Place your rig and lead arrangement in the bag and begin to pour the mix over the top.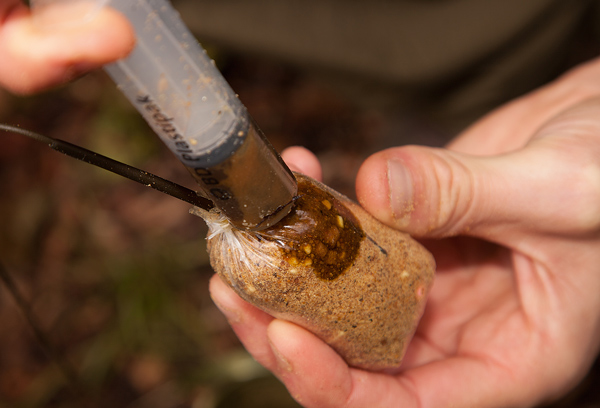 8 - Lastly, and taking care as you do so, inject some Chilli Hemp Oil into the bag for a real added boost of attraction
At the time of writing Jimmy was with CC Moore and now with Nash Baits

Like this article? Subscribe to TC for more great tips like these