This was my third visit to Linear Fisheries in oxford, as I had two previous successful sessions on the complex but on different lakes. I had fished both Manor and Hardwicks and but this time I was visiting the very infamous Brasenose Two. After doing a lot of research on the lake and speaking to fellow anglers is was apparent that "the Point" was the swim that most people wanted to fish and that it had previously produced a lot of fish. With so many people giving a difference of opinion one thing that a lot of people did agree on was that the lake was a particle and sweetcorn venue and spodding was essential to achieve bites.
With this in mind I was keen to get to the lake early doors and meet mark who I was due to be fishing with and to try and get the point. After an hour and a half drive I arrived at the gate and was one of the first on the gate, as with most day ticket venues it was not long before there was a que of cars and people waiting to get in. Once the gates were open it was like a mad dash to get to pegs. Unfortunately the point was taken for the duration of our visit but there were a couple of swims in the "woods" area and as we arrived we heard a fish top right in front of us followed by a couple more fish topping.
This was as good a sign as any to choose these pegs to fish in, with that we returned to the vans to grab or fishing gear. Mark had first choice of pegs and decided to fish the right hand peg and I fished the peg to the left hand side. As always I got the marker rod out to try and see what the lake bed was like as I had heard it was up and down like an egg box, Along with looking at google earth to view the lake. After casting a bare lead around it became apparent that there was a deeper area and a shallow area this was a gravel bar that runs along the lake bed. After making a note of the areas I got the distance sticks out and wrapped the line round them and clipped the rods up. This is something that I always tend to do in my fishing as accuracy is key.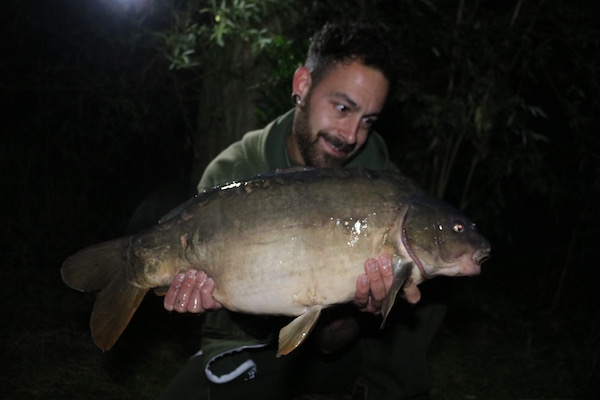 After clipping the right hand rod up at twelve wraps I decided to fish this rod on the Gravel bar that was about three foot deep. I decided to spod my particle mix over the top of this area with the majority of the spod mix being made up off sweetcorn I opted to use two pieces of buoyant plastic corn on a multi rig. On the left hand rod I decided that I would go into slightly deeper water and fish at fourteen wraps with a bollie approach using the Ronnie Rig with a white pop up.
After getting the rods in on my chosen areas I decided to bait the right hand rod heavily with bait and had been told introducing 2-3 spodfuls every half an hour would produce fish and having not fished the lake before and having local knowledge I decided to go with this approach. Mark was also taking the same approach as he had had fished the lake to great success and landing a few fish.
After a few hours into our session mark was into his first fish which was a great start, after jumping into my waders I had the pleasure of netting the fish for him, which just tipped the scales to 20Lb, after I rattled of a few pictures for him I was back to putting a few spod-fulls of bait over my area. Even though I wasn't getting any bites I had been told that the fish move in shoals and if they got on the bait they would clear it in no time at all. As the day went on I stuck with it and got into a routine of spodding every half an hour and resorted to spodding my bollies out over the left had rod due to there being so many seagulls using a throwing stick was out the question.
As the daylight began to fade marks rod was off again this time it was an upper double but none the less still an immaculate hard fighting Mirror carp. Feeling like I should have had a bite I decided to reel both rods in re clip them and give them fresh hook baits. Once I reeled the rods in it was only when I got the second rod In I realised it was covered in mussels much to my disappointment. With this I decided to fish both rods at the same distance and sharpen both hooks due to there being gravel just in case the hooks had bumped across the area. Again I topped up the swim with a little bit more bait. As night drew in and I decided to get my head down for a couple of hours after an early start I was awoken at 12:45 to my right had rod screaming off. As there was no weed or debris in front of me the fish came in relatively easy which for me was unusual as most of the waters I tend to fish are thick with weed.
As the fish graced the net I could see it was a mid-double mirror, after a few self takes the fish was back in the water and I was getting a few more spod-fulls of bait back on the spot. I was happy to have had my first fish from Brasenose but wanted to make sure that if there were any more in the area I wanted to keep them there. Six hours later my left hand rod was bent round and I was into what felt like a good fish, just as team mate and good friend Scott was arriving to fish the venue. After playing the fish for a few minutes it began to kite to the right so I decided to get the chest waders on to try and bring it back into open water after a good battle the fish began to tire and started to come up in the water, I could see that the Heli safe had done its job and had dropped the lead helping the fish reach the surface quicker.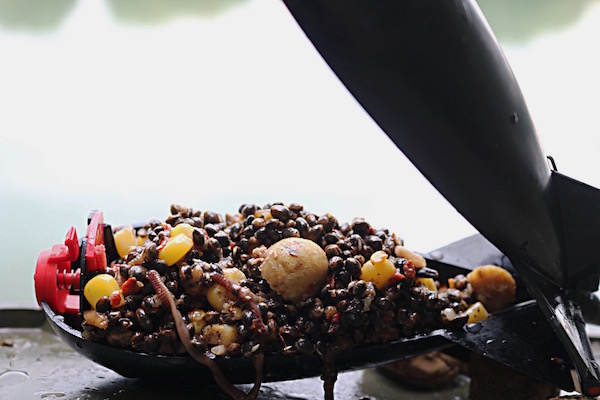 With mark returning the favour and helping me net the fish it looked like a good mid twenty and I was buzzing to have caught my second fish of the trip so far. After weighing the fish that tipped the scales to 23lb 6oz I left the fish in the retaining sling for a few minutes to recover before releasing it back into the water. As the rest of the day went by I continued to introduce bait little and often but the action seemed to die off for me although mark managed to land a last minute fish as we were packing up. It was my third trip to linear and having caught on three of the lakes on the complex I was over the moon.