By Matthew Kingsford
My second French trip of the year was fast approaching, having just returned from a great week away on holiday with my Fiancée I had to cram in some work and also prepare for a week away at the fabulous Jonchery complex, all within 4 days, tight you may say? But I am a seasoned pro at last minute, this should be a piece of cake…….
Well not quite……I don't generally do things by halves as I am sure my fiancée would agree on, and had my work cut out to get it all done, my initial optimism in thinking I would breeze it with time to spare soon rapidly left my thoughts and turned into blind panic. Luckily before I went away I had already put my bait orders in with DNA Baits,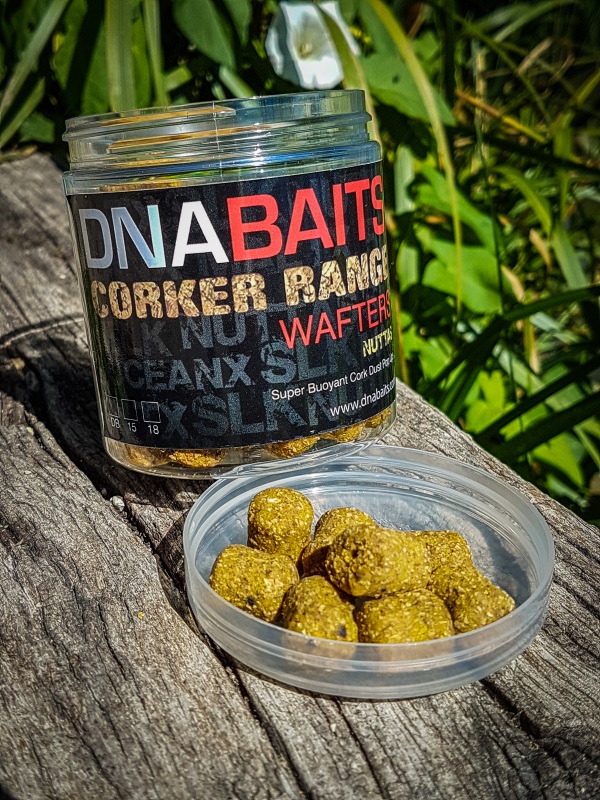 having opted for the awesome baits "The Switch" and "Nuttas" in 2 different sizes of 15mm and 18mm, so the important part was already taken care of. This still left a mountain of other preparations, sorting out tackle I would need and not need, clothes, food, charging up the numerous camera batteries, Ridgemonkey Power Pack and lights as well as tying copious amounts of rigs! I could of done it on the bank but I much prefer to tie a selection of rigs to cater for all eventualities beforehand, just in case when arriving on the venue the fish are on it, I want to be on fish at any opportunity without the hassle of unpacking to then tie up rigs etc, better to be prepared and not need it, than not be prepared need it is what I say.
Somehow I managed to make the meeting time of 6.30pm on Thursday (well nearly that time) to meet the others and load the gear up in preparation for a 4am set off time on Friday. Everyone was in good form, all excited to be setting off in the morning, we all departed with thoughts of big carp going through our minds and I am sure all with our own personal aspirations and targets for the forthcoming week.
At 3am the alarm went off, I truly think that this is the unholiest time to be waking up, I am not exactly a morning person at the best of times, most mornings normally takes me a good two coffees to get kick started. However, the buzz of getting back to France and a week's fishing gave me the much needed boost and I was buzzing.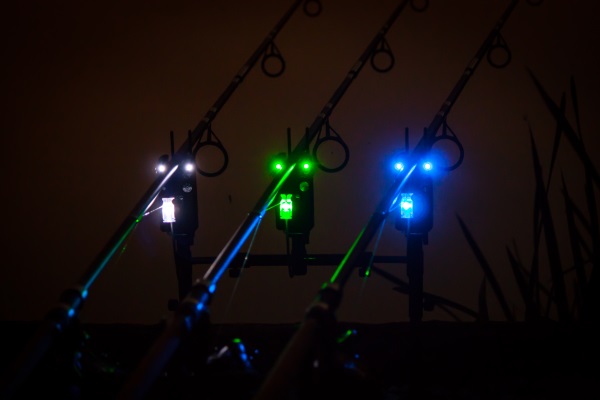 Our trip was pretty uneventful, everyone was on a high to be going, finally be leaving after months of planning and waiting. Myself and 2 others on the party had already set eyes on the venue, the others were working on our descriptions and images they had seen, we were all in fairness like school children waiting to go on a school trip.
The Jonchery complex consists of two lakes, Jonchery itself and Jonchery No 7 we would be Fishing the main Lake Jonchery. The complex is situated within the Champaign region of France, in the amazing countryside of Brevonnes. The lake is owned by the Bachelier Family, a well renowned fish breeder with a reputation of growing stunning course fish and in particular Carp. The lake amongst others is run by Mark Slade and his wife Anita, who both live on site and are on hand to make everyone's stay enjoyable, to which they do exceptionally well.
We arrived on Friday evening, to be welcomed by Mark and Anita, and a delicious BBQ that they laid on for us and the other anglers who were fishing, we would not be going on the lake until Saturday morning so an early night under the stars was most pleasant and welcome. We all slept well due to the full on day we just had and woke to a beautiful morning and the stunning view of our home for the week.
Having picked Mark's brains that evening we were all raring to go, after a delicious breakfast we were eager to get our rods out. We had previously drawn pegs that evening, opting for 3 double swims and 3 single swims, catering for the 9 anglers on our party. I was one of the single swims, and drew peg 1, not my first choice for fish potential looking at the lake, as I was keen on peg 5 & 6 but on a more social side it was perfect being situated a stone's throw from Mark and Anita's house it would allow me to have a catch up with them, and of course not have to venture too far to have dinner.
Setting up on Saturday it was soon apparent it was going to be a hot week, talking to the previous lads they had to endure the heat, and fishing had been hard but they all had caught, so we were all optimistic of our chances despite this. After a discussion with Mark regarding features and holding areas I found 4 spots that I felt very happy with, 2 holes going from 3.6ft to 4.95ft which were obvious feeding areas straight out in front at around 110 yards each. The Right hand spot was a small hard spot off the tree line to my right, which looked very carpy and the 4th spot which was my back up spot was on the left hand side of the swim in a small bay area that I could keep bait going in over the week by walking around with the plan to fish it later on in the week.
After I found the spots, I decided to get a small amount of bait introduced, I knew I was fishing 2 rods off of where the previous lads were fishing so really had no issue in putting a little bait on these, the other spot I was fishing I knew they had fished this so went light and fished over the top of what was left from them, for the first night at least. Apart from what could only be described as a phantom take in the day, not much happened Saturday day time or night, which was to be expected. A couple of our party had a couple of fish that night but no huge numbers.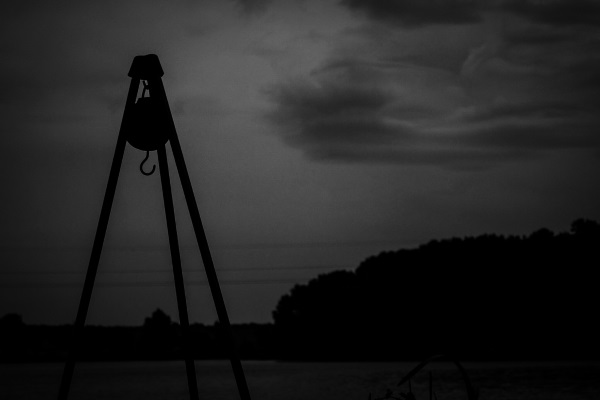 My rig of choice to start off with was really basic, there was hardly any weed just a thin layer of silt, so I opted for a korda Supernatural Braid straight through to a size 6 Kraken Offset Hook, tied with a basic knotless Knot, with a fairly long hair. Hookbaits were a DNA Baits Nuttas Wafter, trimmed down to balance the hook on two rods and a balanced single grain of fake corn on the other, in a washed out pink, both rigs were finished with 2 PVA Nuggets from Castaway PVA. On Sunday morning I decided to tweak the rigs slightly using the same components but with the addition of a ring added, to make it more a blow back style rig, with the addition of some shrink tube at the eye, to make the already aggressive Kraken Offset into an even more aggressive hook.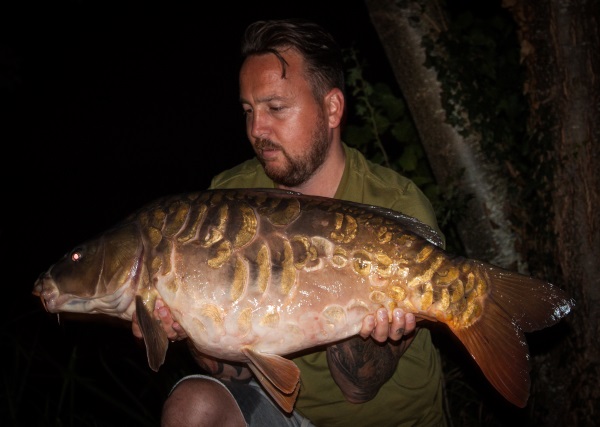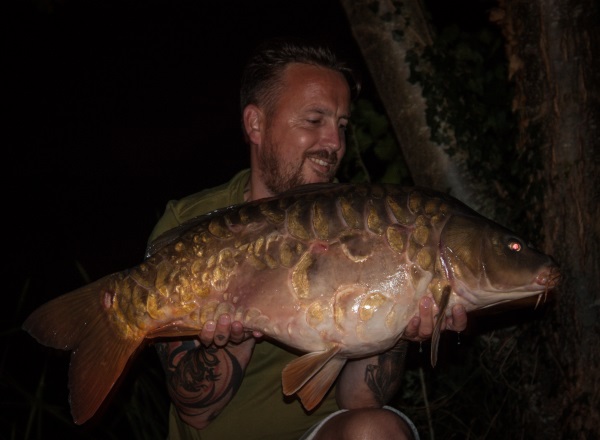 I just felt that what with the fish being hard fished for that this would ensure if a carp even sniffed my bait he would be hooked, time will tell….
Sunday soon passed around, the daytime very little happened, which incidentally turned out to be the way all week for us all, with daytime non eventful and night being the most productive which was totally understandable with the heat the way it was, reaching mid 30's. Come Sunday Night, this all changed for me, I had persevered with my spots and the two hole spots in front both produced, in quick succession.
Firstly, my left rod signalled a finicky take, to which I hit to be greeted with a satisfying bend in the rod after a hearty fight I slipped the net under what was quite clearly, even in the dark a stunning mirror. My first Jonchery carp, and a stunner to boot! I gave Mark a shout, this was around 11.30pm to which he kindly came out and did the honours taking some great shots. Mark went on to inform me that the fish I had caught was regarded as the prettiest in the lake, and had only been caught twice previously that year, once by him and the other by a well-known angler there doing a video, to say I was happy was an understatement, although weights are irrelevant in the scheme of things she went 24lb 8oz.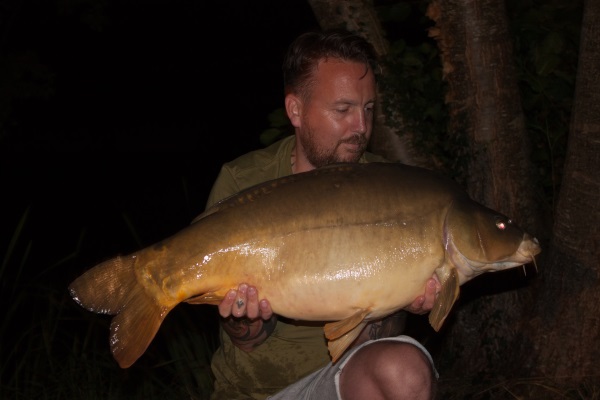 As I was zipping up the retainer after the shots to let her rest in the water to recover, my middle rod signalled a take. Mark kindly finished off sorting out the beauty in the
retainer while I dealt with the visitor to my middle rod. After very good fight with several nice runs, I finally slipped the net over what I thought to be a Leather, once on the mat it soon became apparent she was a mirror, with very little scales. A lovely looking fish non the same, weighing in at 29lb 8oz.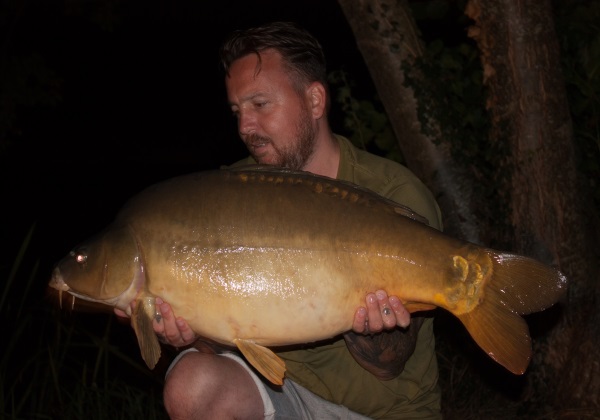 My baiting approach for the week consisted of the DNA Baits boilies as mentioned, mixed in a Crunch Mix I had done by Deep Blue Particles. I mixed the Nuttas and Switch Boilies in both sizes in with the Crunch Particle, which also had sweetcorn and maize added, mixed it all together and added plenty of DNA Fruitylicous additive and a dash of molasses. The mix was a very sweet mix, as I had been informed the carp reacted well to sweet baits.
Come Monday my confidence was high, I had pretty much resided that most of the action would come in the night, so made use of my time by keeping my mixes topped up, tied rigs, housekeeping (bivvy-keeping) and a little bit of socialising, I like to keep all my gear organised which I feel makes me fish more efficiently so I was constantly working in my swim, and when not I was watching the water and trying to get more in tune with the lake.
Monday night saw me bank one of the Koi's present, a lovely looking fish of 27lb 9oz which was a welcome surprise, photo's done and safely returned nothing else happened of note that night. Tuesday day came and followed the previous day's pattern, then into Tuesday night I had a common of 24lb on the nose, then it all changed.
Wednesday daytime played out as the rest, a few beeps but nothing indicating a take. Then it turned into the battle of the Grassies. I hit a strange take which at first thoughts I instantly assumed it was a grass carp, once I hit into it I was certain. Now I know the Grass Carp is a marmite fish, personally I love them, I fish for other species too not just carp, so I am happy to catch species whatever they are really. After a good rod tip battle which is common, I slipped the net underneath her, the usual net battle ensued, if you have had a grass carp you will know exactly what I mean. After switching her to the cradle and slipping the sling on her I gave a her a quick weigh in as I thought that this lively one may beat my personal best of just over 39lb and to my delight she did, weighing in at 41lb 8oz I was over the moon. Now this is the part where I say here's my nice trophy shot, but no, I didn't actually do any trophy shots of this or any Grass Carp I caught, not because I dismissed them, far from it I would have loved to have got some nice shots. My reasons were, grass carp are very lively in the net, and also on the mat, for one person to look after them correctly in the dark I couldn't justify leaving them while I sorted out the camera gear to do a night shot, and retaining them is out of the question. They give so much in the fight to leave them in a retainer unattended is effectively giving them a death sentence, and I as an angler was not prepared to do that just for a little self-exposure or bragging rights. Instead I took a very quick mat shot, zipped up the retainer and walked over to the water, getting in with her. Please be careful if you do this as they do have a tendency to go ballistic when confined, a hit in the face or anywhere else for that matter from the head or tale will hurt! I then unzipped the retainer and held her gently by the wrist of the tail, letting her get her strength back, this time around it took 15 minutes for full recovery, if it takes 5 mins or 40 mins please take the time. I have a video which illustrates the care I go into to help in the recovery, which I will be putting out there in the near future.
Thursday and Friday followed suit, and I proceeded to bank 2 further grass carp all late at night, the weights were 39lb 4oz and 40lb 1oz, again these fish were treated with exactly the same care as the previous fish caught, alas due to the same predicament as above no capture shots were taken, just some video and mat shots.
The last fish (40lb Grass Carp) was the hardest fighting grass carp I have ever had and a lovely way to end the session.
Although I didn't get into the big carp in the lake (they go to 67lb) I had a fantastic week with great company, great hosts at a truly fantastic venue in beautiful surroundings. If you haven't been to France before or have and are looking for a new venue then I would seriously recommend Jonchery, or any of the other Great Lakes owned by the Bacheleir Familly, such as Brocard Small & Large, La Brie or the almighty La Horre.
Thanks for reading, and until next time.
Enjoy your fishing.
Matthew Kingsford