Ready, Steady, Go…
Maximising your time on the bank is essential. MARTIN WIFFEN uses ready-to-go baits to his advantage and here's how you can too.
Every angler would like enough spare time to prepare their own particles and roll their own boilies, but in this ever-turning world it simply isn't that feasible. With the developments in bait manufacture in the last five years there is no excuse to be using second-rate bait. Right from the shop counter you can purchase all you need for an angling session. Whether you chose to fish with particles or boilies, simply pop the lid, break the seal and you are away.

Baiting up is an absolute doddle
Choosing to fish higher-stocked venues, Martin is all about saving time to maximise his fishing and allowing him to fish more efficiently in the hope of a big-hit success. Because the venues he chooses often change depending on how busy they are, the weather and the time he can get off work, he likes to house a selection of ready to use prepared particles and shelf-life boilies so he can adapt his approach to whatever the carp are taking a liking to on that particular day.
This time he is targeting a rather heavily pressured day-ticket fishery known as Tricklebrook Fishery in the heart of Kent. The specimen lake is around four acres and boasts a long island down the far end. With a healthy stock of carp going up to 40lb this is by no means your average runs water, but a tricky venue where, with the correct approach, good hits of fish are achievable. Having been told to fish with solid bags in the hope of nicking a few bites, Martin went against the grain and took a variety of the Crafty Catcher Particle Spod Mix and a few bags of Spicy Krill & Garlic Big Hit Range shelf-life boilies.
Favouring the dam wall end, he set about trickling a mix of both baits on marginal spots among the extremely luscious green water flora. Utilising small items such as the particles will allow Martin to read any signs of feeding carp by the coloured water and bubbles produced when they grub around among the soft substrate, filtering out these little feed items. A sprinkling of boilies also gets the carp to pick up bigger feed items, so when a boilie is used as a hook bait it is less of an alien shape but more of a cheeky bonus sweet among the array of seeds.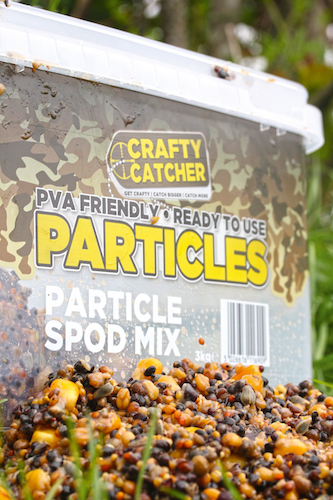 Full of attractive particles, this mix takes some beating
Martin is extremely happy to use both items straight from the packaging. However, he, like many anglers, sometimes wants his bait to stand out from the crowd and this is easily done. With the warm water temperatures, Martin chooses to utilise the Crafty Catcher Salmon Extract to give a little edge to his baits. This also helps to dissipate a cloud of attraction over each area, providing plenty of scent without adding another food item and diluting the chance of catching one of Tricklebrook's residents.
Priming three separate marginal areas, it is best to keep the bait fairly tight to each spot because this helps determine where the fish are happy to feed and gives you a much better chance of them picking up your hook bait as opposed to a large scattered approach.
STEP-BY-STEP
Mesh Bags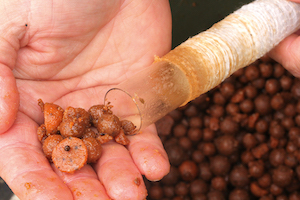 1 . Start by introducing just a few broken and whole baits into the tube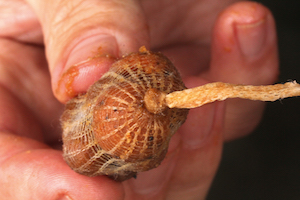 2. Compress the baits and seal with a simple overhand knot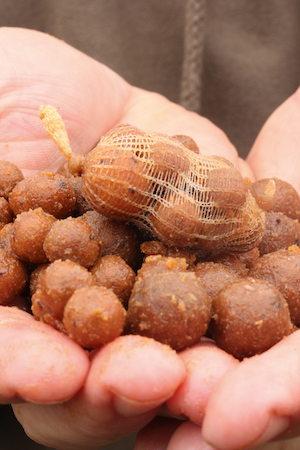 3. Ready to go and these can be tied up in advanced
Choosing to fish a larger bait on the hair, Martin uses a King Prawn Wafter hook bait from Crafty Catcher's Retro Range. This is a proven bait that he has the utmost confidence in and with a highly attractive pungent prawn flavour, Martin is sure the carp will be able to sniff it out in the coloured water. Because Tricklebrook is a heavily fished venue, Martin decides to fish a shorter than normal hook link, in the region of four to five inches, thinking that the carp will have less time and room to make its escape unscathed.
Using a selection of Sharp Tackle components he constructs his trusty combi rig that will present his chosen hook bait over the array of free offerings. The stiff boom section allows the rig to be cast quite hard and direct to these tight marginal areas without the risk of tangling.
To ensure the supple braided material stays straight on entry, a small PVA mesh bag of glugged boilies is nicked on to the sharp size 6 Curve Shank before every cast.
With a good population of specimen-sized roach present, it isn't long before Martin's hook baits are under attack and a light bobbin indication relays what is happening on the spot straight back to the bank. By using particles, Martin wanted to get the other species into the zone and feeding to hopefully entice the carp to follow. This is another reason why a larger hook bait is better because it will withstand the constant whittling down by the roach better than, say, a piece of corn or maize. Because the roach are so active it is wise to keep recasting every few hours and slowly trickle the bait in every time you do so.
Ideally suited to spodding, as the name suggests, the ready to use Particle Spod Mix has a thick, gloopy consistency produced from the release of natural sugars and oils, which occurs during the cooking process. This consistency allows the bait to be hand thrown into marginal areas with ease – another way of introducing the bait while keeping disturbance down to a minimum. Plus, by doing it by hand it is a lot easier to gauge how much bait you are introducing and, of course, you can be as accurate as you can be at close quarters.
It isn't long before Martin is in and with a clean 13lb mirror to show for his efforts he is off the mark. No sooner had the fish been slipped back than Martin trundles around the lake to begin introducing a bit of fresh bait over each spot. A handful or two will suffice, just to keep the attraction in the area.
Quick to knock up a few PVA mesh bags, it isn't long before the combi rig is making its way back out to the zone. With an average weight of between 20lb and 22lb, Martin is unlucky with the size but happy nonetheless that his chosen methods are paying off.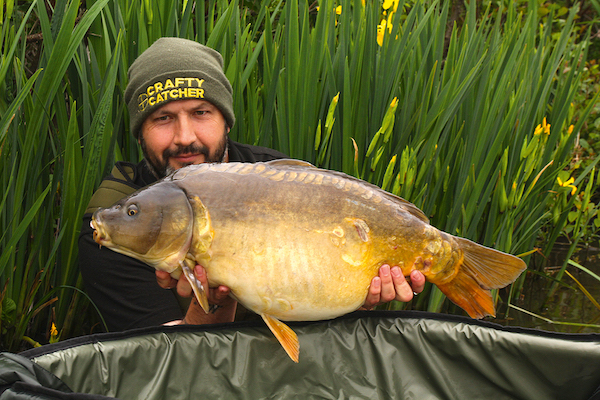 One of the biggest this session at over 19lb
In the next 24 hours he successfully lands another five carp, all hovering around the 13lb mark, while the rest of the lake seems to be pretty slow going. A healthy mix of commons and mirrors are much appreciated and with a few bigger carp now rolling over the spots, surely it is just a matter of time before one falls foul of the King Prawn Wafter.
With the weather changing for the worse and a long jaunt back to Essex, Martin decides that it's nearly time to call it a day when his right-hand rod wraps around and carnage begins to unfold. Following a very spirited battle, another welcome mirror graces the net's mesh. This time it's a slightly better fish, pulling the dial around to just over 19lb. With the photos taken and the fish safely returned, Martin continues his slow pack down. Unfortunately, the remaining two rods are left inactive until reeled in.
As we walk around to the carp park, I am quick to notice a box in the back of Martin's motor.
He explains: "One of the best reasons to use ready to go bait by far is the fact that I can keep plenty in the car and it is there ready, depending on how the session develops.
"For example, I was told to fish bags but trying my approach certainly brought in a few fish. If I hadn't had this bait with me the bites could have easily stopped. Big-hit fishing is all about supply and demand. Once the carp get on the bait you have to keep supplying it, otherwise they will move off and find the next available food source. By then you may never get them back, or you will have to work hard at it."
If in doubt, pop down your local tackle shop and try it out for yourself. Keep a pouch or two in the car ready to go, or put some in the shed. When you next decide to go on a spur of the moment trip, bait is one less thing you will have to worry about.
STEP-BY-STEP
Combi-Rig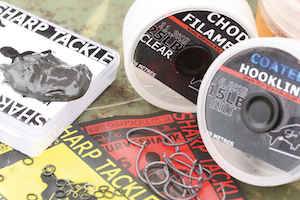 1. All the components needed to tie this effective presentation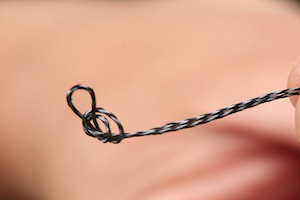 2. Using a supple braid, tie an overhand knot for the traditional hair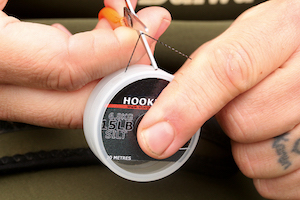 3. Cut this leaving plenty of material - around six inches - to play with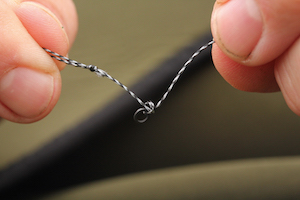 4. An inch from the hair, tie on a small rig ring and thread onto the hook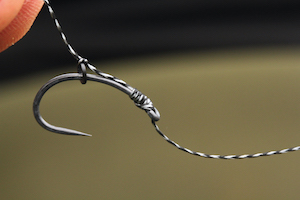 5. Secure the material in place with a traditional knotless knot

6. Next up is a stiffer version like a chod filament for the boom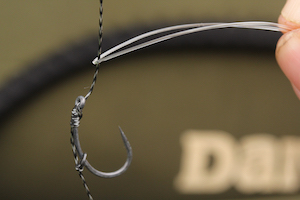 7. Double over the bristle filament around the supple material like so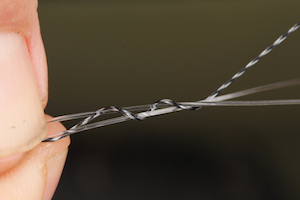 8. Begin by whipping the braided line up the stiffer one seven times.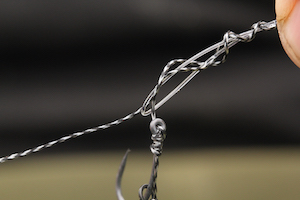 9 . After several turns back down pass it through the loop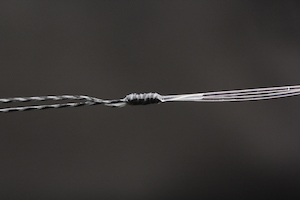 10. Take your time and moisten it and then pull it down

11. Trim both tag ends and conceal with a small lump of putty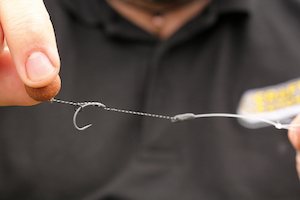 12. That's it - a great presentation for bottom baits and wafters alike