We always like to hear how the readers, social media followers and,of course, web visitors are getting with their own fishing. So much so that we've invited a few guys and girls to share their stories, in their own words, which have included some fasacinating stuff. Luke Nottingham from Essex in one such angler here...
Getting into fishing
I started fishing from the age of 5 it was at this age i started going because my dad and my mate Matt's dad went quite a few times and told us about there stories and sounded interesting. I first went with my mate Matt, his dad said that he would take us for our first ever session as he knew how to teach us the basics. We went to a local lake in Waltham Abby called Lake John. We fished the Top lake that is about two and a half acres in size. It has a island in the middle and swims all around the island. It also has lilly pads and reeds. We had a look around the lake and chose a couple of swims.
I was borrowing some of Matts dad's rods as i didnt have my own yet. We got shown how to set up the float with the weights to make it float just right in the water. We then got shown how to tie the Hook on with a blood knot, I had to Practise this a few times to get it correct. Once the float and hook was all done we had to get the bait on the hook, We was using maggots. I picked some up for the first time and they felt weird and really wriggley. I soon got used to them and managed to put them on hook every time.
We was catching quite a few small fish, Roach Rudd Perch Bream and Carp This was a really enjoyable day. So we went more and more and now we had found a new hobby that we really enjoyed. We was doing river fishing and lake fishing catching all different fish.
By the age of 15 I had all of my full set up of fishing gear. I bought the full set from my cousin Richard as he bought a new lot. I had everything matching and was all Fox Gear. 3 Matching Fox Rods and Reels.
I got really into just carp fishing and joined a club syndicate that had about 6 different lakes in the Essex area with it. I was catching 10lb to 15lb carp and was loving it. I really enjoy catching carp because of the fight they give you when your hoocked on and the pull just felt good. I Always wanted to be at the lakes and getting away from everything else and relax.
Night Session
First ever night session was getting planned. A man at the syndicate who I spoke to and fished with alot said that he would take me night fishing at one of the syndicate lakes that i fished alot in Nazeing. I got really excited about doing a night because you get more fishing time and i really didnt know what fishing was like in the dark. I sorted out all my gear and food to take with me. We met at the lake at about 4pm and got all set up in the swims that we had chossen. I had got in the swim that had a big open space where i would have one rod, My second rod was to the right that had a couple of hanging trees and some lilly pads.
At about 3 am i had a massive run, i got out the tent and run over to the rod and struck it, Yes i was into a carp. I had my headtorch shinning out to the lake and was playing the fish really well as i didnt want to loose it in the pads and trees to my right. It was very different playing a carp at night to daylight as you only have a torch to see with. I got it in and weighed it, this was 12lb common carp. I was happy with this as it was my first night session carp.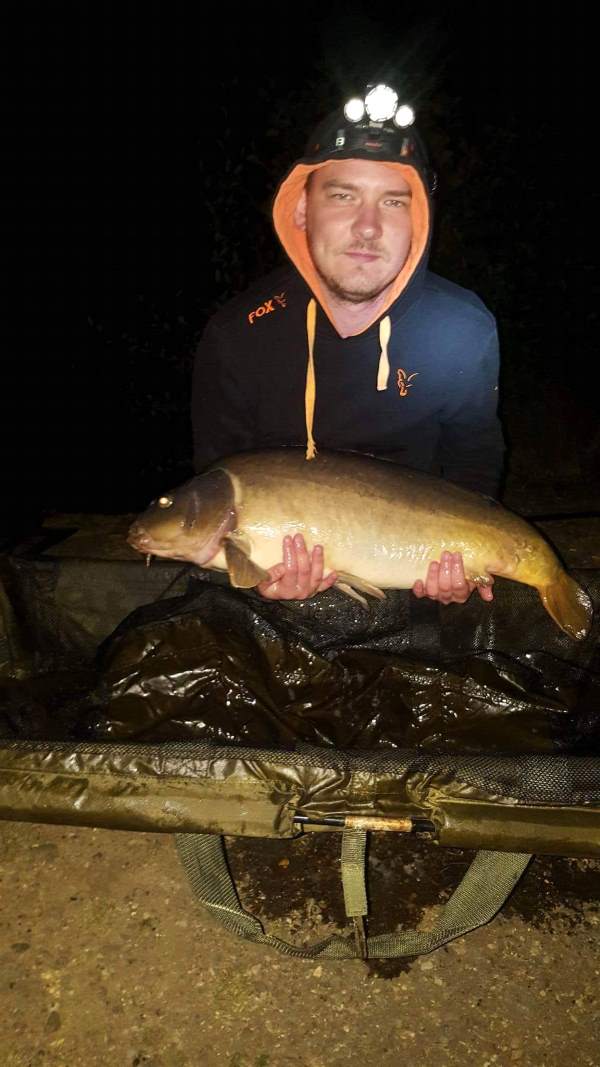 Best fishing session as a kid
Me and my mate and his dad done a day session at a local lake in Holyfield that was fishing really well and it was mid summer. We all got onto a swim each. I was using 2 rods. One had sweetcorn on a hair rig with a 2oz weight and I cast this rod out straight in front about 4 rod lenghts out. With my next rod i put a float on and 2 pieces of sweetcorn on and just left of my swim there was some reeds, so i put the float there and chucked a tin of sweetcorn there as well. Sat there very quietly and then my float rod went and i struck it. This felt a good weight fish, waa playing it quite a while and my mate came and netted it. 20lb common carp this ended up being, so happy as this was my new PB. A little while later after putting carp back after some photos my other rod screams off. Struck into this and felt like another good weight, got this in and was 21lb mirror carp. Cant believe what a day had, beat my pb twice in one day and 2 20lb was amazing.
Time to get to the bigger carp
Im now 28 years old and still loving fishing and especially carp fishing. Im going nearly every week on days off from work and doing quite a few 24 hour + sessions at some lakes in essex.
Last year at the age of 27 i beat my pb with a common carp of 22lb 07oz. This was caught at a lake in Brentwood called Crow Green Fishery. I was doing a day session when i caught the 22lb 07oz common. I had been set up for about 1 hour then it screamed off. I had cast this rod out just to the right where there was an island and had one over hanging tree. i caught this on a single 14mm Nash Citrus pink boilie. I chucked out about 500g of freebies.
This year i have done quite a few sessions at Crow Green and was just blanking and couldn't think why. I sat back and had a good think and spoke to few people, i decided to try a new way to have my hook and bait.
I done a 24 hour session last week at Crow Green in Brentwood essex and now it has been fishing really well. I got there about 4pm Sunday Evening and was set up at 5pm. I managed to get on the swim i really wanted and this was a big swim that can get to loads of open water to the left and to the right i ha an island with overhanging trees and snaggs. I casted one rod just off the island next to over hanging tree and this had Urban Nutcracker 14mm boilie on. The next rod was out more in middle of lake in open water and i had the Nash Citruz 14mm Boilie on. At 11pm my right rod screamed off and i was playing a good fish for a little while. When i got this in the net and looked down at it, i fort to myself this looks a big carp. Weighed this mirror carp and yes a new pb of 25lb 79oz. So now i have a new pb that i am really pleased with and the new tack ticks paid off.
New rig for me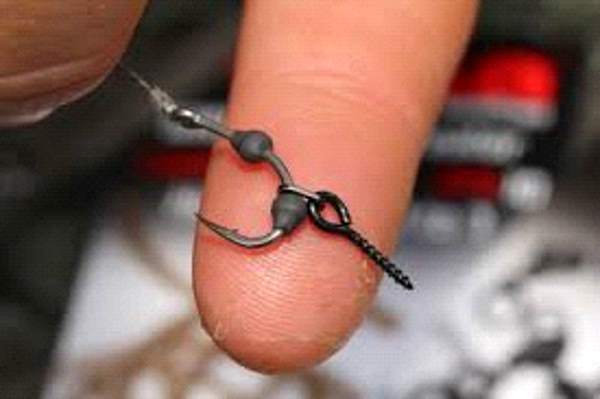 The New rig that i have started using dosent have the hair on it to put the bait. I use a size 6 and up hook, I tie a blood Knot onto the hook then i get a hook stop on the top part of the hook where the ring is. After this i put a bait screw onto the hook and one more hook stop. so there is just a bait screw with the boilie or pop up on then a hook.
Like this in the picture above apart from i dont use barbed hooks. I also mainly use 2oz to 3oz leads. Since i have been using this new rig i have caught everytime i have been. It goes to show never give up and try new things and it could pay off for you.
Now im after bigger carp.