Introduction
American Angler Edwin Stackhouse awakens from his brolly and stands before a massive and intimidating tidal river, watching the sun slowly rise above the tree line as it intensifies, burning away the fog lingering low to the waters glass-like surface. He contemplates a plan of action for the day, re-thinking rigs and baiting tactics. Feeling close to hitting his mark.
Applying knowledge with reasoning, he's seven weeks out. Although consistently catching wild common carp, he seeks out the exotic and almost mythical fantail carp, an extreme rarity in the river he fishes.
--------------------------------------------------------------------------------------------------------------------
Background/River History
The Connecticut River divides my state in two, beginning in Pittsburg, New Hampshire it makes its way down through New England stretching over 658 kilometers before emptying itself into the Long Island Sound.
With countless swims throughout the state, most of them have been overfished and can become crowded and/or competitive at times. I tend to steer myself away from these areas and search for more exclusive and private swims.
A kind of "lone ranger" I prefer to do majority of my angling in my own company. I enjoy the mysticism in spending my days and nights along the waters edge on banks that are tucked away, out of sight, or seemingly unreachable.
These hidden gems I've discovered throw me into a state of tranquility, allowing me to think clearly. I'm sharper, more focused and determined at the matter at hand, catching carp.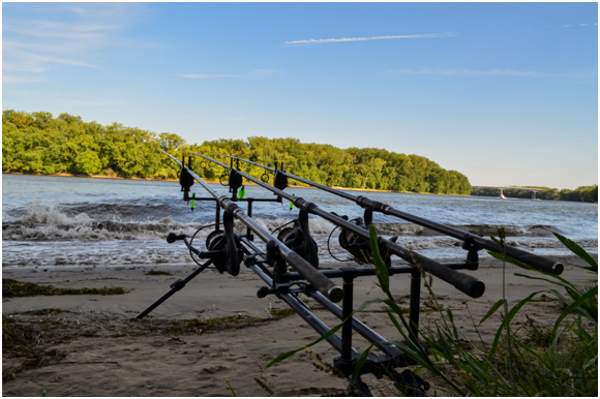 --------------------------------------------------------------------------------------------------------------------
The Story
Every session prior has been a complete shot in the dark, fantails swim within the shoals of common carp and there is no specific way to draw them out of the crowd. Daunting to say the least, all I had was the information through word of mouth on where they have been captured before.
I remember planning this trip for a few weeks. The opposing side of a channel that curved and led out to a beautiful beach with a lush and dense forest behind it, sat a mere 30-40 yards away depending on the tide. The only way for me to get to the other side was to swim while towing my gear across strapped down on a small inflatable raft. It seemed risky. With boats constantly filtering in and out of the cove it fed into; I had only a small window of time to safely make my way across.
To increase this window I arrived standing on the edge of the channel around 2:30am when I knew the boat traffic would be minimal. I could not see the opposing bank; a dark silhouette of the tree line hanging above was all I had as a destination landmark.
Looking into the dark, deep and murky water with my head torch, I cringed as I gently pushed the raft with my gear strapped down on it into the water. Into the blackness I began to swim.
It was a relief and a small victory when I felt my hands dig into the mud on the opposite bank. Unloading my gear hastily and moving it down the rivers edge, the next step was to find a fishable swim before the incoming tide swept away the entire beach. It seemed as if one could set up anywhere but I've studied it before and I knew that at high tide the entire beach would become washed away.
I found shelter under a small willow tree that would provide shade for me though out the day, using my knife to cut down the tall reeds and sharp pompa grass, I cleared out just enough brush to fit my brolly. The sun rose and the only signs of life I could see were the trails of wild animals zigzagging though the tall overgrown, dew coated grass which divided the beach from the forest, prior to my arrival.
With the fast flowing water and ever-changing contour of the bottom of the river, a marker float is virtually rendered useless. I wanted to find the best possible place to bait up and place my rigs. I've been called crazy before, but to me the best way to find the features you want is to get in the water with the fish. I grabbed my snorkeling gear and dived in. Looking for a carp paradise. I searched for snags, weed lines, shelves and drop offs.
What I found was a surprisingly thin weed line for the Connecticut River, immediately after was an aggressive drop off to a clear sandy bottom. I dove down and through the murky water I could see the broken shells of mussels (a natural food source for carp in the Connecticut River) along with large holes in the sand from carp rooting around searching for food. I knew this is where I would have my best chances.
I sent out my three rods staggered in 5 yard increments, fanned out directly on top of this area and started to throw out free offerings with my spomb rod, using a mixture of tiger nuts, chick peas, cracked corn, oats and maize flavored with CCMoore's Pineapple essence; a staple flavor in Connecticut River fishing. The carp began to show and I watched as they began to roll and crash from every direction out on the water. I felt as if I've stumbled into a gold mine.
I was right, by 9 o'clock AM the alarms started screaming and over the next six hours I've had two braces back to back, and a triple run. Out of the seven fish I had made contact with I had lost only one, simply because dealing with three rods alone was a near impossible situation.
The fish captured though out the day were mid doubles to low twenties, all common carp. Undoubtedly a very successful day, I was getting ready to switch over to night mode. Making minor changes in my bait presentation while trickling in more tigers as the sun fell behind the horizon, I knew with this many fish present there had to be a fantail hidden amongst them.
A quiet and still night, it had seemed as if the carp had completely vanished. 3am rolled around and I awoke to a series of bleeps, I crawled out of my brolly to witness a huge drop back. Without hesitation I picked up the rod, eliminated the slack in the line and the fish was on. This one felt different. With having captured my first fantail carp a couple months prior, I knew they fought in an odd and almost unpredictable manor. Nostalgia crossed with excitement and I felt the fish as it was sporadic in movement, almost as if it couldn't make up its mind on which way to run, feeling constant and abrupt jerks. I believe this is due to their extended fins constantly twisting, thrashing, and crossing the line.
I walked into the water with my rod held high trying to get the fish to surface and keep it from burying itself in the weed line before me. My head torch illuminating the murky water, I caught my first glimpse. A beautiful roll on its side, its fins majestically swirling around itself. My heart dropped.
Now only a few yards in front of me I placed my landing net and it instantly gave a vicious tug. Knowing that I had such a rare and beautiful specimen, I immediately began to play more carefully and felt as if I had no choice but to loosen the drag and let it run back out, the fight wasn't over yet. Maybe five minutes later I was able to carefully slide it over the net. Feeling fulfilled, this is what I ultimately came here for.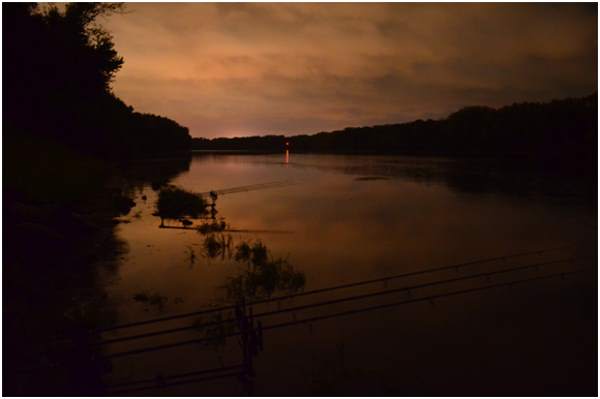 --------------------------------------------------------------------------------------------------------------------
The Result
With a fish as beautiful, evasive and as shy as this, size is of no concern. Extended fins, barbels and nasal protrusions, the first glance when it rolls over the top of the water is an exhilarating moment all in its own. Watching the elongated fins swirl and feather fluently in the water is simply beauty in nature, held within such a complex creature.
Captured on a large tiger nut topped with a piece of white pop-up corn both soaked in my favorite concentrated liquid, Betalin. A PVA mix of crushed tigers and CCMoore's Depth Charge is what did the business. A semi-stiff hair rig with some minor adjustments to suit the rivers conditions was all that was needed for this situation.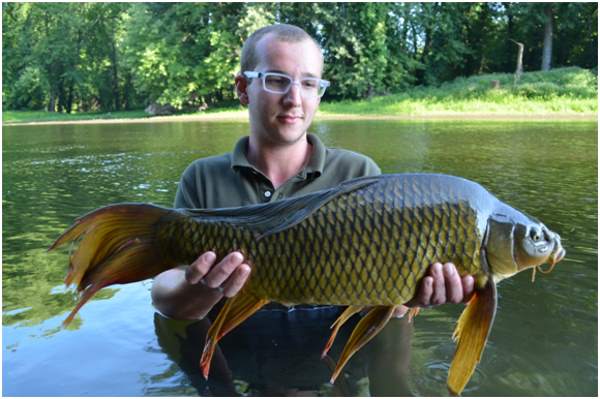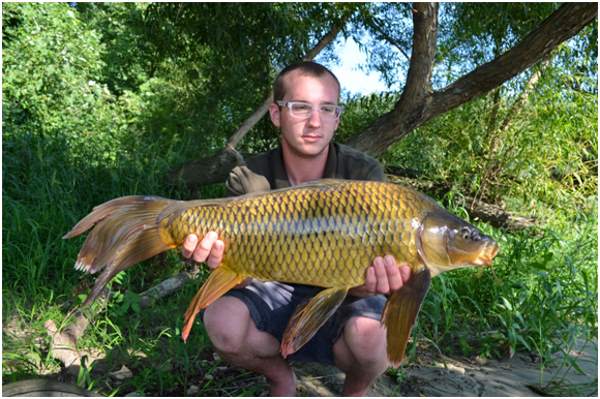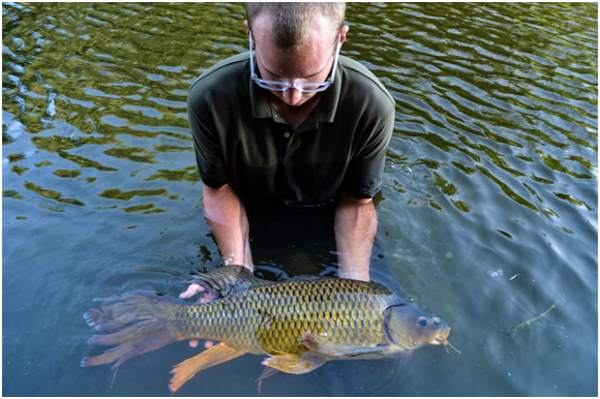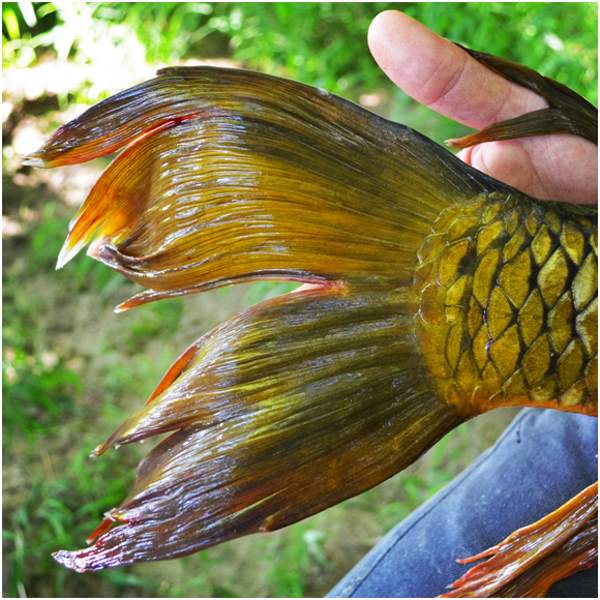 --------------------------------------------------------------------------------------------------------------------
The Rig
Above all else, confidence is the most important factor while tying your rigs. Casting into a tidal river with a strong current, complicated rigs consisting of multiple components can often lead to improper rig presentation.
Since these carp are wild and travel in large shoals, they are less susceptible to rigs and baits due to the fact that there is more competition for food and a number of them may have never been captured before.
This allows me to get away with rigs that focus more on proper presentation through moving water, and less on the need for trickery and hook concealment against highly pressured fish.
A simple 6" Hair rig tied with a semi-stiff hook link material, which has been stripped back 2" behind a size 6 Fox Arma-Point SSSP hook. A small piece of rig tubing keeping the hair in place with a Fox Pop-up weight behind the stripped coated braid ensures proper mechanics along with knowing the rig is confidently pinned tight to the bottom of the river.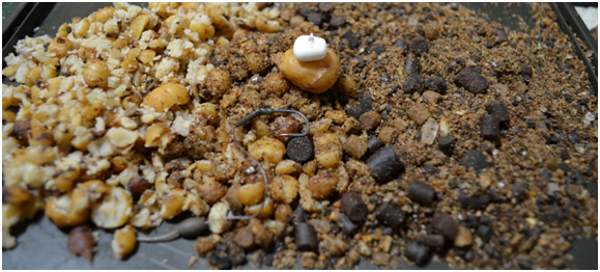 Instagram via carp__culture
YouTube via Carp Culture TV
--------------------------------------------------------------------------------------------------------------------
END