The beginning

I got into fishing nearly 30 years ago after being introduced to it by my dad. With him being away serving in the Army it was his way of spending quality time with me. As most of us did, I initially started float fishing and catching small coarse fish. As I got into fishing more and the fish started to get bigger, the more I became obsessed with it. As the years progressed, so did my fishing. I became increasingly passionate about it. I started carp fishing and for a number of years I fished small day-ticket fisheries having mid to double-size fish. I then began taking it more seriously and started to try and find lakes where there was less angling pressure and a larger stamp of fish. Over the years my knowledge has grown, allowing me to become a consultant and field tester for some very renowned companies. Fishing is a lifestyle and an obsession that I am very passionate about.

Day-ticket waters
The majority of my fishing is on day-ticket waters either overnight or weekends due to work commitments. I have found that a lot of weedy day-ticket waters are relatively quiet due to the amount of weed putting some anglers off.
Over the last few years weedy lakes are where I have decided to spend most of my time fishing. I really enjoy the hard work and effort that goes into finding the fish. Watercraft is absolutely key when fishing any water; you can have the best bait and rigs in the world but if you're not on the fish the likelihood of catching them is very small. A good set of polarised sunglasses are an essential piece of kit, plus arriving at the lake for first light and last light because this is a great time to see showing fish. As much as I like fishing small waters, I do also enjoy fishing large low-stocked weedy waters and there is nothing more rewarding than when it all comes together. I have had some of my best captures from weedy waters after spending a number of sessions just trying to get a bite.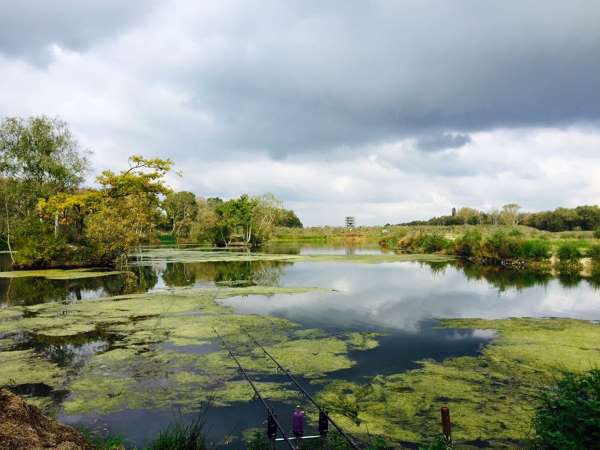 I really enjoy fishing in winter because in my experience there are not as many anglers on the water and it gives you a real chance to get to know the lake. It can give you the opportunity to spend sessions mapping out the lake bed with a marker rod, taking notes of distances and features such as clear spots. This will then be useful for those days when you arrive in a swim and have all the information to hand.
I spent my last winter fishing Hollybush Lakes in Surrey, with a number of nights not catching fish but finding where the fish were topping and where they had been holding up, their movements and feeding spells. Without these sessions I wouldn't have been able to bank some of the best looking carp that I have had.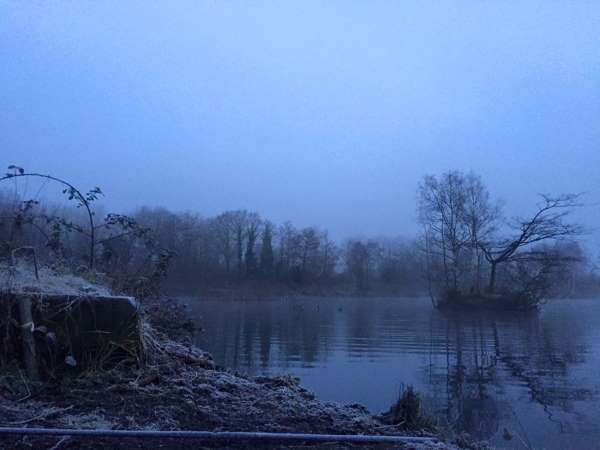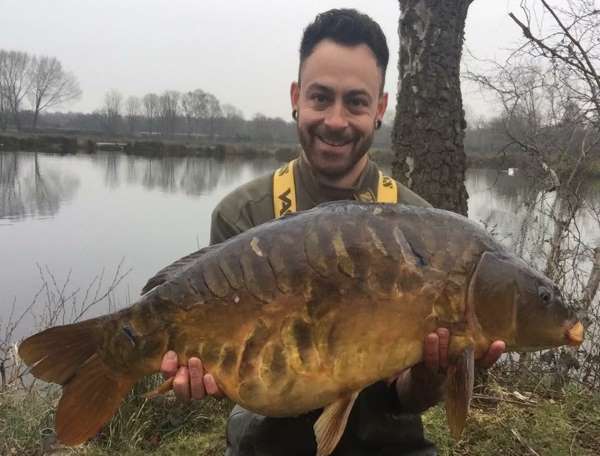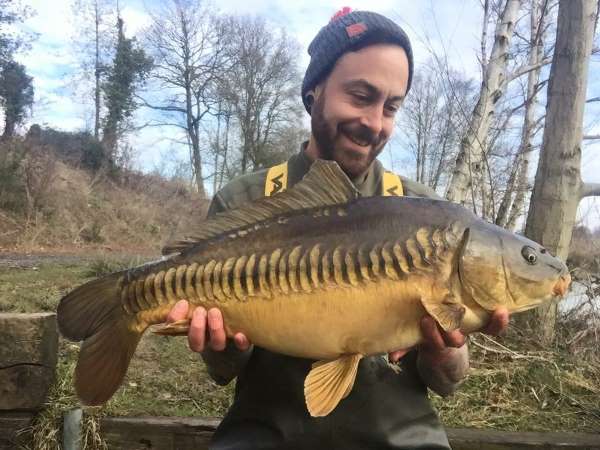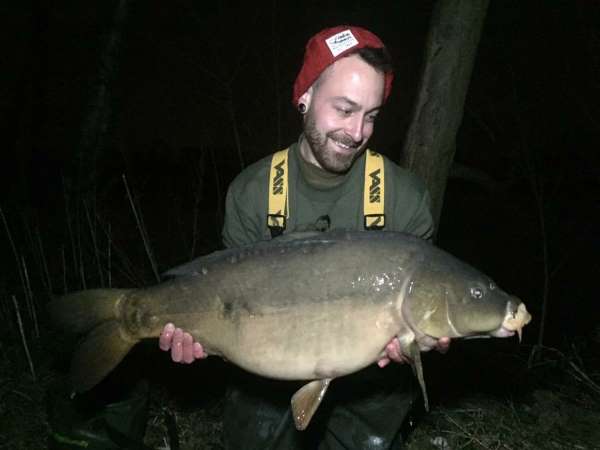 Rigs and Bait
Over the years I have been lucky enough to represent some great bait and tackle companies, and to have met some great people on the bank without whom I would not be where I am today.
With most of my sessions being short I need to be confident in the rigs and bait that I am presenting because there is nothing worse than sitting behind rods wondering whether you've got it right or not – confidence is key! I will generally always fish two rods with a third one made up with a fresh rig ready to go. In the event that I catch a fish I can get a rod straight back out on the spot in case there are more fish in the swim. In most of my fishing I generally tend to use a stiff hinged or multi rig because they suit my style of fishing perfectly. However, if I feel I can present a bottom bait safely and it's fishing correctly then I will. I tend use big hooks, either a size 6 or 4, because when I am fishing in weed I have suffered fewer hook-pulls. With a lot of weed present I will always try to drop the lead because I find this the safest way to fish. It also helps with the fish coming to the surface quicker and means it has less chance of using the lead to shake the hook out of its mouth.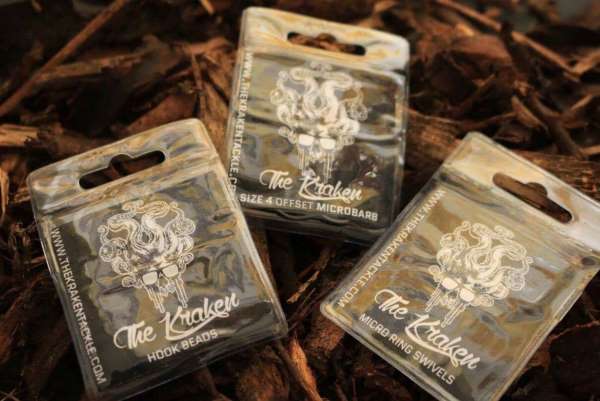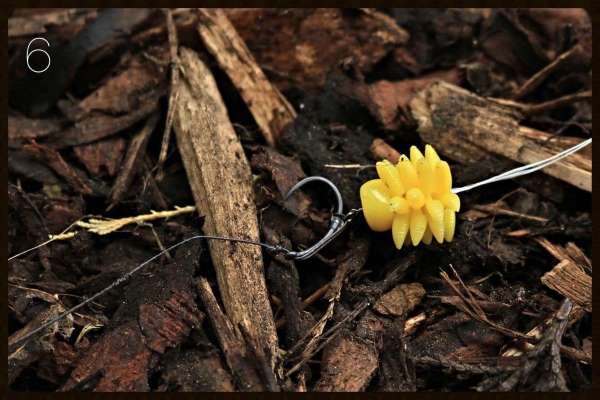 I tend to use a bright hook bait in winter and spring but I find that in summer the fish have become accustomed to bright hook baits so swap to a dark pop-up. The majority of the year I will use a white S-Core pop-up over a scattering of boilies because I am a strong believer of putting bait in little and often. If the fish are really getting their heads down I introduce more bait – you can always put more in but can't take it out.
I tend to add an attractor to my boilies. I will usually leave them to soak and do this 24 hours prior to a session because I want them to leak and release the attractor on the lake bed. On some of the lakes I fish, I find this stops the boilies taking on the smell of the weed and silt.




In certain situations I like to fish an imitation bait. I am a consultant for Evolution Carp Tackle and have great faith in its products. I find just tipping of a pop-up or a bottom bait with a buoyant piece of plastic, for example corn or a maggot cluster, can often nick that extra bite. I think the added bit of colour can add a different dimension and grab the fish's interest. I always test my rig in the water's edge to make sure it is sitting correctly and I will adjust it until I am happy. Whenever I'm casting out a hook bait I like to add a foam nugget to protect the hook point on the way down to the lake bed.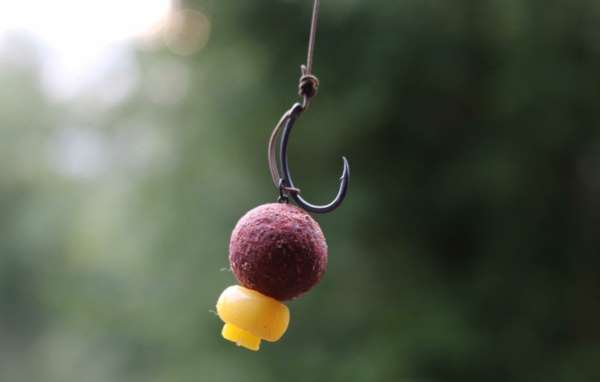 Before putting a rig out I will always try and find an area that I am happy to fish. I will attach a small lead to my braid on my marker rod and cast around a swim until I have found an area. I will then clip the line on the spool of the reel. I then measure the distance by wrapping the line around two distance sticks that are 12 feet apart, counting the number of wraps and making a note. When I wrap the line around the distance sticks I will do it in a figure of eight to stop the braid unravelling in one go when winding back onto the spool. Once I have found my distance I will then repeat the process with the fishing rods before clipping on a rig and casting them on to the spots. Being accurate and taking that time to get it right is what will get you those extra bites. All the one per cents will make a huge difference.
You can buy Kracken Tackle hooks here