With spending half of my week in the Bath area, and not wanting to miss an opportunity of wetting a line, I have become a member of the Bathampton Angling Association (BAA), a ticket offering a host of waters for various fishing capabilities. The collective of lakes were previously known as The Hunstrete Complex but were officially renamed as The Dave Crooks Fishery at Hunstrete (The Dave Crookes Fishery) in January 2014. This was to recognise the tremendous work done by Dave over many years since joining the committee in 1971 and then becoming general secretary in 1980. Sadly, ill health finally took its toll and Dave passed away in December 2015; he is greatly missed by many at the club.
The Hunstrete waters have been part of a project that took about 12 years to complete from the original planning application in 1989, after purchasing of the land adjoining the lake, to opening the gates for the first anglers to enjoy. A Lottery grant and some serious fundraising were carried out to be able to put plans into actions for this project, along with, I am fairly sure, some blood, sweat and tears! Alongside Hunstrete Main Lake, two new lakes were built, Bridge Pool and Withy Pool. Again, these both provide great sport for members of all ages and skill levels.
Hunstrete Project in 1999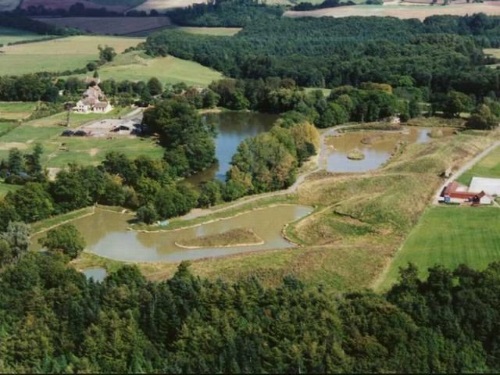 Hunstrete Project in September 2007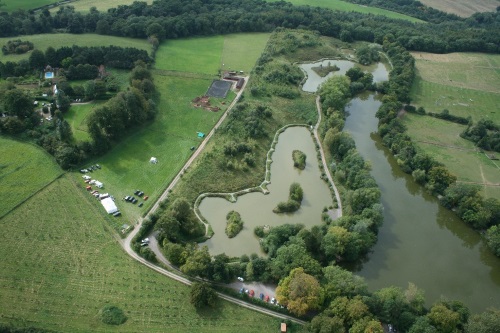 The lake that made me want to join was Hunstrete Main Lake, which is the specimen carp lake. It holds carp to over 40lb with a host of other twenties and thirties to go at. While this lake isn't stocked to the brim with carp, those that do reside are immaculate and a real mix of characters.
Hunstrete Main Lake is roughly five acres and lined with trees across all banks. More than 2000 were planted as part of the project to give the fishery a natural appearance. We all know as carp anglers that trees and overhangs are great areas to fish among. These really are a haven for carp and offer great hit-and-hold fishing. I recently managed to land a 25lb-plus common from this water on a cold, frosty day by simply fishing off the edge of one these marginal features.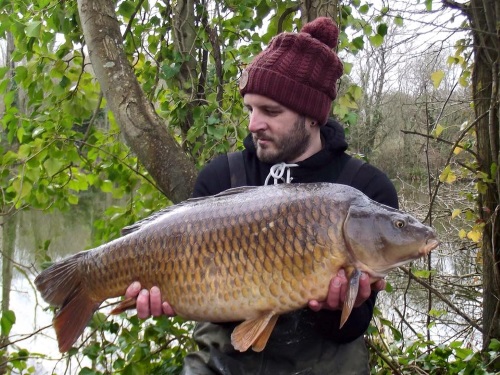 The fishery is completely otter fenced and also offers adequate fishing for disabled anglers, who can enjoy a day on the bank across all three lakes because their platforms are suitable for wheelchair users. The toilet facilities are also suitable for disabled anglers.
The lake bottom, from what I found, is quite uniform and mainly made up of silt, which is treated yearly to keep it under control. Most conventional carp tactics and rigs will work but it is a very pressured water. With some rather large fish residing in the depths, maybe doing something that little bit different from the crowd may work in your favour. I've been lucky to winkle out two so far in completely different weather conditions, at completely opposite ends of the lake, so I haven't figured it out completely. What I do know is that they both came on hinged stiff rigs to Sticky White Signature pop-ups.
Make of that what you will! My other fish was this 18lb-plus mirror in horrendous conditions on my first visit. I got absolutely drenched to the bone but I was made up with this one after going with a swim choice based on gut instinct.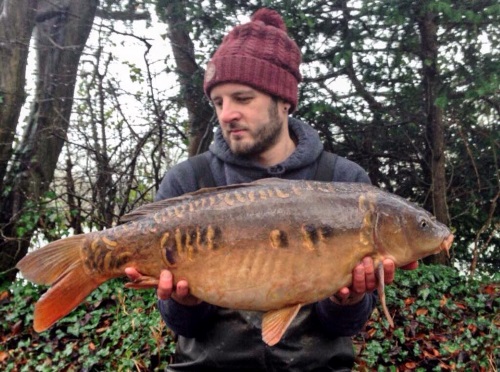 Recently, I visited Newton Park, situated in the grounds of Bath Spa University, and, again, £4 to fish for the day. I've been told that about 300 fish swim in this water and it fishes rather well all year round, making it a favourite winter water. The fish range from around 10lb up to an impressive 32lb, with the average size being around the mid-double mark. Most tend to fish with small bags with pop-ups, but I went with hinged stiff rigs over scattered boilies and a pop-up over a spod mix and caught off both, so I'm sure most tactics will work. This is a two-rod water and if it's anything like my last session, you may struggle to keep them both in the water! As I found out on my first visit, make sure your rods are the first and last thing out and don't ignore the margins. Small handfuls of bait and setting little traps are definitely the order of the day but don't forget to keep trickling in the bait. It really does help.
To fish any of these waters you will need to purchase a BAA Membership, which costs £35, and then a day ticket at £4 from various tackle shops in the area, stating the water you would like to fish. Entry to the fishery is via electronic gates that open and close at varying times throughout the year, depending on the season. These are always well advertised online and it's just a matter of turning up at the lake, punching in the gate code and heading off to your chosen swim.
As previously mentioned, I've only fished these lakes over winter, so swim choice has not been an issue. However, I can imagine that come the warmer months it will be much busier. As with most places, arriving a little earlier could be a serious advantage.
I hope this has all been of a benefit and gives you an insight into the fishery. Good luck. Martyn
Martyn uses the Greys Prodigy Plus Carp Rod.

Don't forget - subscribers to the magazine get 5% OFF THIS PRODUCT at Angling Direct. Subscribe here