Mark reported that the weather was not settled at all for the time they fished the pools but they managed to bank 11 fish between them, baits were varied between the ever Faithfull jungle, consistent Crave and multi worm. Presentations sensibly altered offering singles, doubles and snowman with an orange Flarze pop up to tip off the bait.
Marks fish were a mid 30lb a 42lb 8oz with 48lb and the awesome 61lbs G Spot (Main Picture). His fishing partner Nick had a total of 7 fish Including 3 at 20lb a couple of 35 lb the long common weighing in at 42lb
and the aptly named Droopy at 59lb also.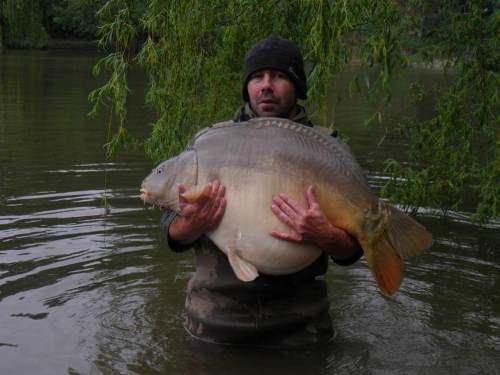 "We were both very happy with the quality of the bait and I will happily use in my uk fishing. I used the pallatrax hooks and shrink tube. Which the shrink tube is fantastic to use with a big hook. I used a size 4 hook and the shrink tube easily went over the eye of the hook and shrank down to nothing. The tungsten putty was good too as I found it quite sticky, unlike other putty's I have used before. Great products".
Get your Pallatrax bait here