I¹m absolutely buzzing! I managed to get in two nights¹ fishing at my syndicate lake at Mid Kent Fisheries over the Easter holiday ­ Good Friday and Easter Sunday. On the Friday a 28lb 1oz common graced my net within an hour of setting up.
Although no more action occurred during that night, I returned to top the swim up on Saturday with bait and on Sunday I arrived to fortunately find the swim vacant and that nobody had fished it.
My arrival on Sunday coincided with Storm Katie, a big low-pressure system loaded with severe storm-force winds and rain.
At 11pm I received a take that resulted in a 24lb 2oz common, so I wound in my middle rod and repositioned the two rods to the bite area, a nice silt channel, then spent the rest of the night wide awake holding on to the brolly as the storm gathered and gave its all.
At 10.30am the middle rod screamed off and a heavy, plodding fight followed.
When I finally got to see the fish I knew that I was attached to a common of serious proportions. As those proportions made their way over the spreader block, it became apparent that I¹d caught Swirly.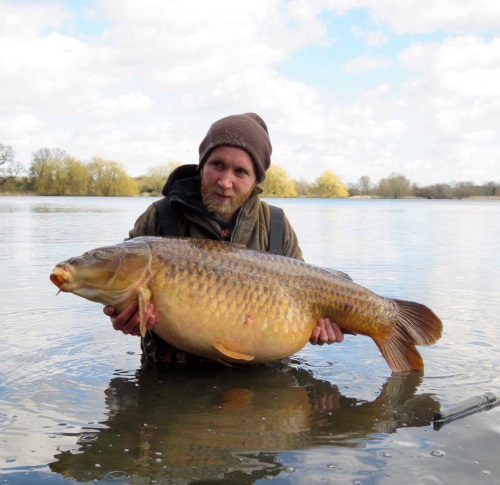 After a rest for the fish and me, weighing and photos were done and she went 44lb 10oz!
Big thanks to those who came to take pictures and to Active Bait Solutions whose custom baits proved to be successful once again.