The weather this weekend was a marked contrast to last with a return to the cold and wet, as a result catches were down. Those that did catch include:
On Damsel Colin Bryant with 22-08, 21lb and 15-01 to Essential Cell and Chris Bell 2 to 11-04 on Sticky Baits Krill.
On Carp Lake a group of nine booked for an annual social, Ricky Guegon caught a 24lb in the margin and a 17-08, Wayne bagged 12 to 22lb on Monster Squid, Stuart a 17lb common, Harry 4 to 21lb, Cole 12 to 22lb with a 10mm pop up over Sticky Krill boilies, Nicky 16 to 21-12 and Dean a 20lb on Scopex Squid and Citrus and Strawberry Crush and Hi Vis pop ups.
On Becks Dave Hatch landed 2 just under 20lb to a solid bag and a Manilla wafter. Louis Slack caught a 15lb common an 8-09 mirror and a tench to Sticky Baits Pineapple wafter and a solid bag. Kian Coles a 19-08 on Cell. Graham Oldfield 3 to 17lb and Gabriel Prodan (SEE IMAGE TOP IMAGE ↑ ) a 22lb to Essential Cell.
On Winters Paul Simpkins caught a 26lb and a 18-07, Ben Mitchell 2 to 18lb, Jonathon Pickering a 14lb, Jason Spence 5 to 21lb on Krill wafter and PVA bag. Steven Freear (SEE IMAGE BELOW ↓ ) 25-13, 19-05 and a 10-01 to Korda fake corn and a solid bag. Luke Bowman Two Tone at 30lb on Fripster Pearl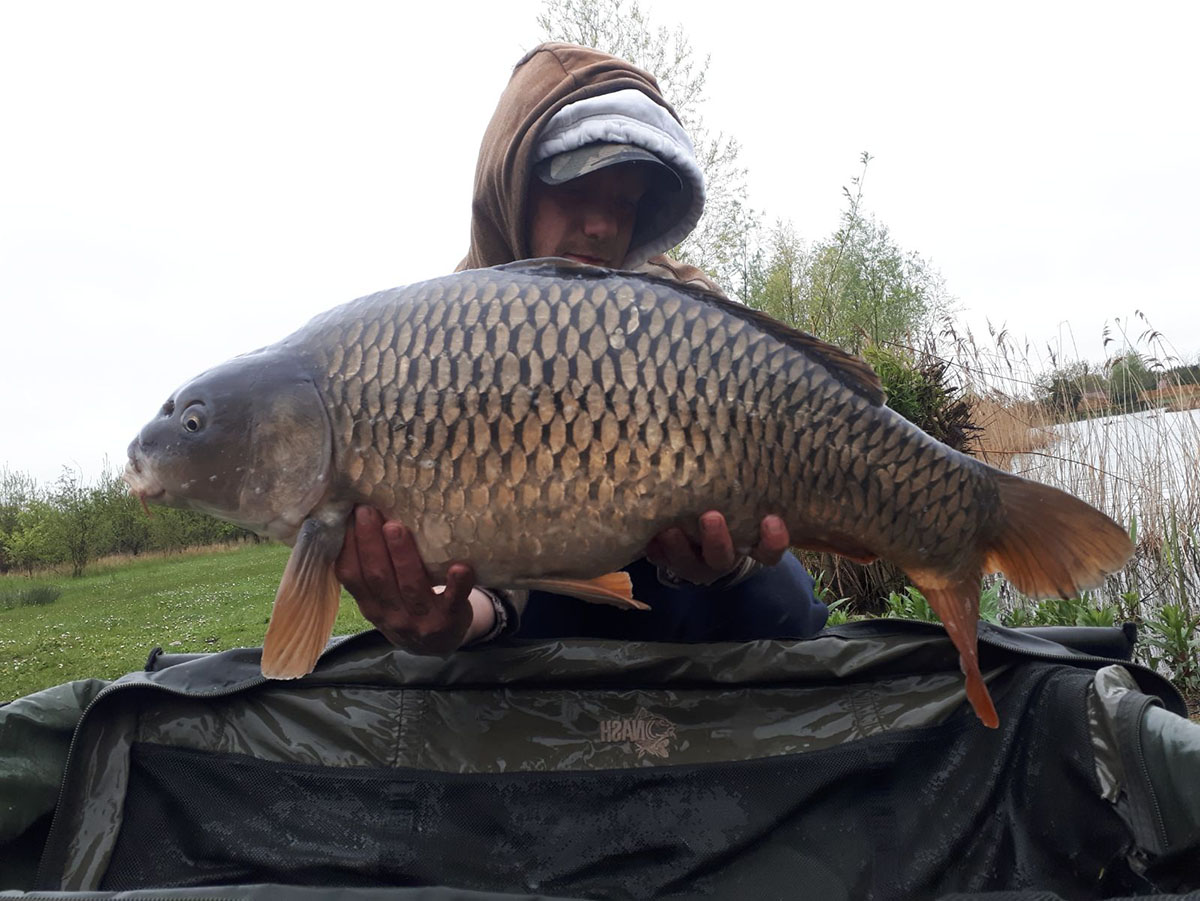 On Booneys Mark Taylor bagged 7 to a 21lb common on a Sticky Baits 10mm Signature pop up over a spod mix, Sean Reynolds a 16-04 common
For more information head over to: http://manorfarmfishing.com