On Damsel, Craig Daniels banked 4 to 18lb and 2 bream. Andy Hook a 19-08 and Mark Hook 2 to 15-08. Simon Chitty bagged 6 including a 19lb and 2 twenties on white pop-ups in the margin. Stan Spary caught two mid doubles, Mikey an 18lb common and a 4lb bream, Luke Batten a 15lb common and a 17lb leather. Gavin Jones and Carl Trewin caught 3 to 18-04 and a couple of 6lb bream. Alex Lovell caught a lovely mirror weighing 20lb 3oz, he used a Sticky Baits krill boilie topped with a piece of fake corn over a bed of particles.
On Carp Lake, Neil Middleditch traveled down from Durham for his annual 7-day visit to Manor Farm hoping to get a bend in his rods, as of Sunday morning he had banked 24 fish including 5 at 19lbs, a 21lb and a 26lb. Sam Burden landed 2 at 15lbs to solid bags, Josh Dunford had 3 to 17lb; they persuaded their friend Matthew Earl to join them and Matthew, having sold all his gear in 2015 borrowed his dad's rods and proceeded to bag up with 15 fish to 23-08. Bryn caught 2 commons at 18lb and 24lb, Barry an 18-08, Jason Shill 4 to 19lb. Miller Woskett netted 2 commons at 18-08 and 19-04. Katie and Brett fished the carp lake on Saturday on a day ticket and had 5 carp out Brett banking 14.4lb, 15lb, 20.15lb commons and an 18.1lb mirror and Katie an 18lb common all to solid bags. During the week Steve Berrington landed a fantastic 29-04 common, Bas Moulding's best of the week was a 24-02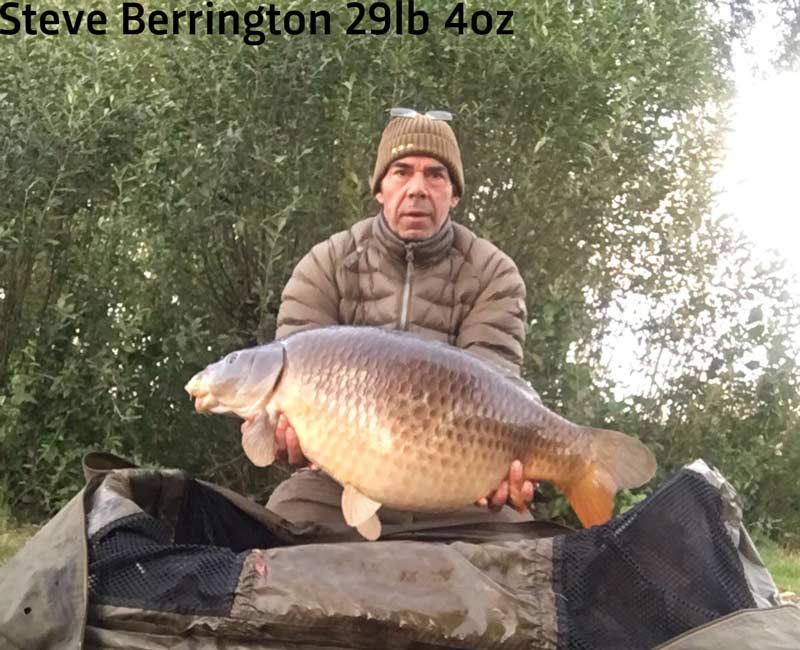 Most found it hard going on Becks, Alan Barnett caught a 16lb common and a bream, Clive and Louis caught a 14-08 and a 18-08 but Paulius and Darius found the spot and bagged 20 carp between them to 20lb.
On Blunham Team Dudley-Cave were back in action on Saturday. Matt caught another of the ghosties and Vickie her first ever tench and yet another PB with a 15-01 mirror. Oscar caught his first big fish at 15-07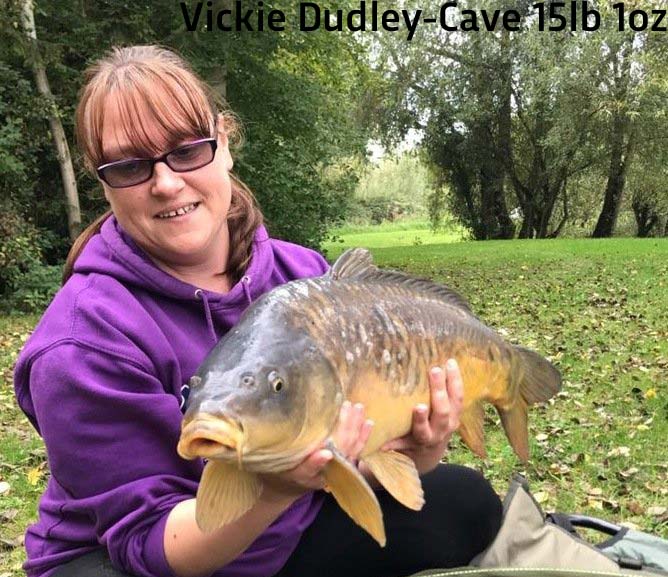 On Booneys Tony James landed an 18-10, Andy Stapleton a 24lb common. Craig Colston a 22-08 common. Fishing a few nights in the week Andy Baker caught 7 to 27lb.
On Winters Aaron Price banked 2 to 20lb, Steven Freear caught The Zip at 28-07 to a snowman. Steve caught 2 to 18-15 and James a 24lb.
Fancy fishing Manor Farm? Click Here