INSIDE THE APRIL ISSUE:
ON SALE FRIDAY MARCH 31ST -
BUY A SINGLE ISSUE - SUBSCRIPTION - DIGITAL SUBSCRIPTION


WIN - JRC Cocoon 2G One Man Bivvy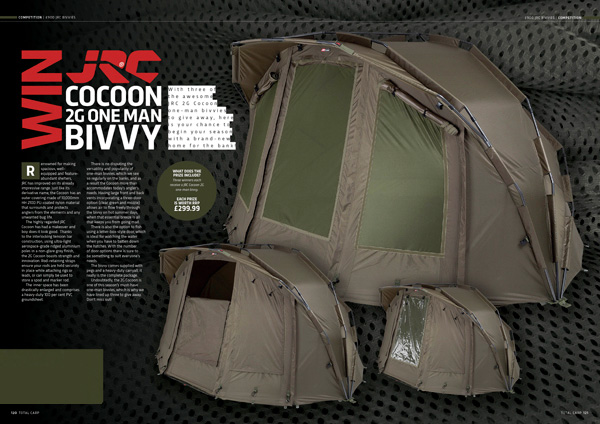 With three of the awesome JRC 2G Cocoon one-man bivvies to give away, here is your chance to begin your season with a brand-new home for the bank!

"Renowned for making spacious, well equipped and feature abundant shelters, JRC has improved on its derivative name, the Cocoon has an outer covering made of 10,000mm HH 210D PU-coated nylon material that surrounds and protects anglers from the elements and any unwanted bug life."

WIN - A PS4 and Dovetail's Euro Fishing game!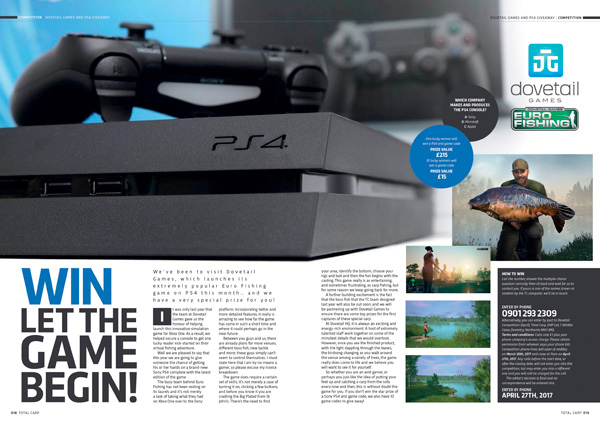 One lucky winner will win a ps4 and game code prize worth £215 and 10 lucky runners up will win a game code worth £15


"We've been to visit Dovetail Games, which launches it's extremely popular Euro Fishing game on PS4 this month... and we have a very special prize for you!"

WIN - A Set Of Three 25th Anniversary Delkim Plus Alarms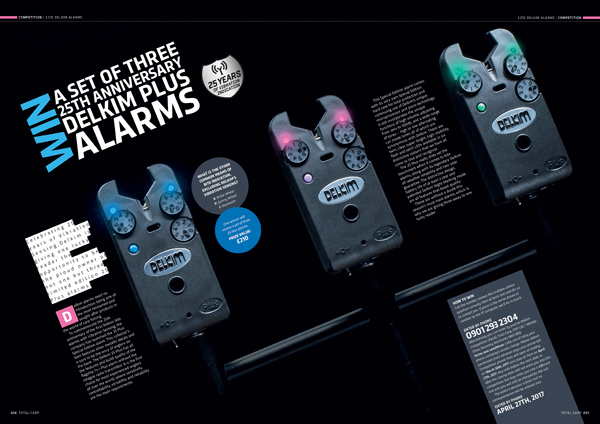 One winner will receive a set of three 25 plus alarms worth £210!


"Celebrating 25 years of Vibration Sensing one lucky reader the opportunity to be the proud owner of not one but three limited edition 25 Plus alarms."
Down At The Park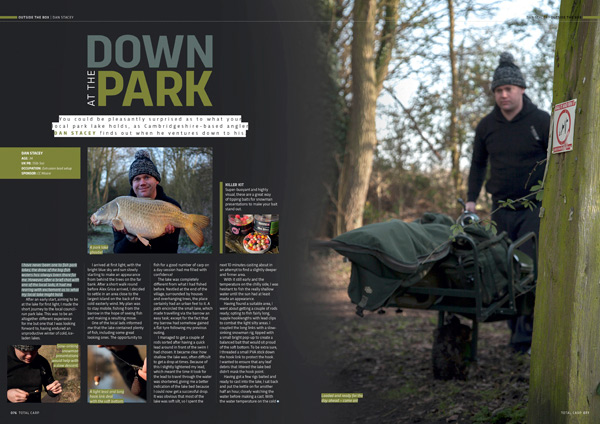 You could be pleasantly surprised as to what your local park lake holds, as Cambridgeshire-based angler Dan Stacey finds out when he ventures down to his.

"I have never been one to fish park lakes; the draw of the big-fishwaters has always been there for me. However, after a brief chat with one of the local lads, it had me rearing with excitement as to what my local lake might hold."
How To Catch Carp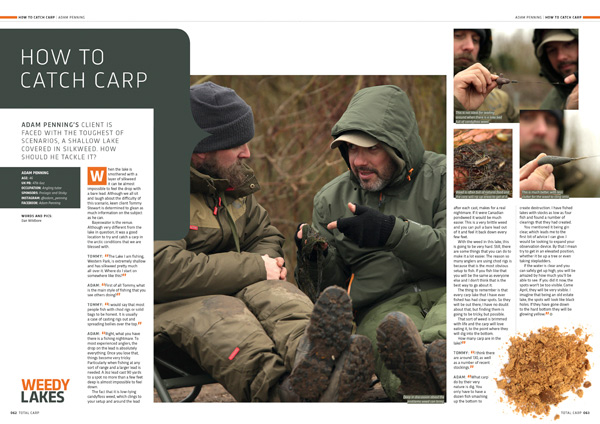 Adam Penning's client is faced with the toughest of scenarios, a shallow lake covered in silkweed. How should he tackle it?

"When the lake is smothered with a layer of silkweed it can almost impossible to feel the drop with a bare lead. Although we all sit and laugh about the difficulty of the scenario, keen client Tommy Stewart is determined to glean as much information on the subject as he can."
Unleash The Venom
A dark, deep-red, venomous liquid has been off the carp radar for many years but 2017 sees the return of the truly incredible liquid food, Red Venom.

"Those who have experienced the power of the Red Vemon will know the truly unique and effective make-up of this long-gone classic. Having had the opportunity to resource the exact ingredient combinations that made up the distinctively red classic"


Shake, Rattle & Roll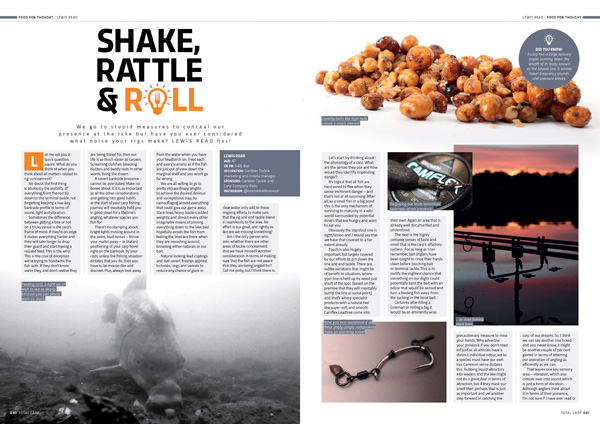 We go to stupid measures to conceal our presence at the lake but have you ever considered what noise your rigs make? Lewis Read has!


"Let me ask you a quick question, squire. What do you think of when you think about all matters related to rig concealment? No doubt the first thing is obviously the visibility of everything, from the rod tip down to the terminal tackle."

ON SALE FRIDAY MARCH 31ST