At the end of my last blog I was planning to do a few short sessions until the weather was a bit warmer and more consistent, now a few weeks later the daytime temperatures the last week has seen daytime temperatures above 10 degrees every day, depending on what shift I am working I have good opportunities to get out for a few hours in the morning or afternoon. This week I got extra lucky on the Thursday, as I was finishing up at work my boss gave the option for a last minute day off on the Friday. A perfect opportunity as the girlfriend was at work and I had nothing planned. I finished at midnight and once home it was straight into the garage to get some bait defrosted and a gear into the car for an early start.
The alarm was set for 5am. When the alarm was going off I wasn't so keen. Late nights and early starts don't mix, eventually managed to drag myself out of bed after about ten hits on the snooze button, by the time I got myself together it was heading towards to 7am. I actually planned on heading up to Hollybush for the day but for some reason I just wasn't feeling it and sat in McDonalds car park with a double sausage egg thinking I needed to be making the most of it before the syndicate starts on the 1st April but with the hour drive and limited time I decided the head 5 mins up the road to a local club water which I have been a member off for a few years now and fished it a lot over the last few seasons although I have only fished there once this season for an afternoon since getting my Hollybush ticket in April last year.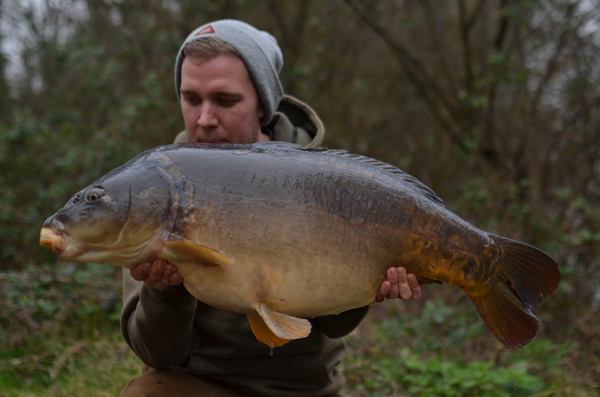 I arrived at a typically busy car park and ended up drinking tea and catching up with a couple of friends and after photographing a mega upper twenty fully scaled for one of them it was getting on forgone 9am. I decided to have a walk around the complex for any signs of fish. The first swim I walked into within a minute a fish showed around to the right just out of reach from this swim but easily fishable from the point swim of the opposite spit. I put a single Fluro yellow pop up and a solid bag filled with micro pellet out to previous areas I had caught from. For the first hour, the fish were showing non-stop but more of a cleaning themselves sort of show than feeding shows. The fished seemed to move further up the lake so I up sticks chased them. When I got to the top end of the lake it was carp soup! two rigs straight out. I received a pick up within 5 minutes which ended up being a pike, straight after that, the other rod was off with another pike, this time I almost landed it before being bit off at the net. The pike were very active chasing each other and just attacking anything in sight. Not great.
Another move into a stalking swim which a friend did well out of this time last year. It's one rod only with a big snag to the left, a channel of about a rod length width with reeds and overhanging trees opposite, further down to the left beyond the snag it runs into a very small channel which joins two lakes where the fish are free to go to and from. In the centre of this channel, there was a glowing spot and the fish were coming through in groups and flanking on the glowing area. A balanced Ronnie rig with TG Active bottom bait and a friend's homemade specials fluorescent pop on the top placed a few feet just beyond the spot ended in a bite within the hour and a 33lbs mirror was in the net!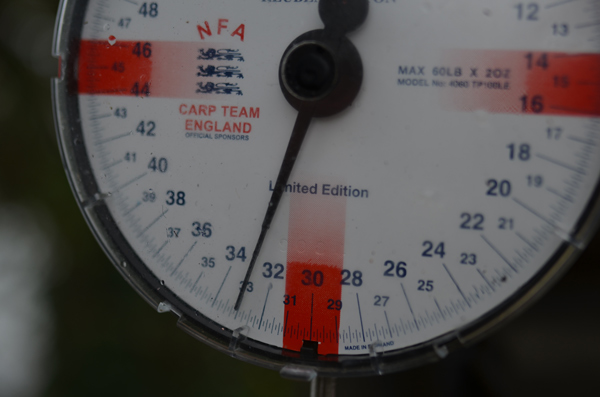 I don't think I could have got any luckier with my timing, after speaking to a few of the regulars it seemed the fish only really starting to wake up the day before with big groups being seen cruising just under the surface at the far end of the lake. My friends returned the favour and got some cracking photos for me. Once returned the rig was put back on the spot and the same occurred again within the hour another bite and another mirror carp weighing 33lbs. I couldn't believe my luck. From sitting in McDonalds unmotivated to ending up with a brace of 33lbers on a day session. A regular walked past and offered to do the photos for me. Feeling quite content I was packed up and home before the girlfriend had finished work at 17:30. If only it always went this smoothly!
The weekend flew by and whilst back at work on Monday the sun was out again. I finished around three and got changed and back over the lake for 4pm, but this time even quicker, almost instant I had landed a 21lb scaley mirror and made a quick escape home for tea. The mirror was covered in leeches, all over its fins, mouth and body which to me again shows how lucky I was with my timing.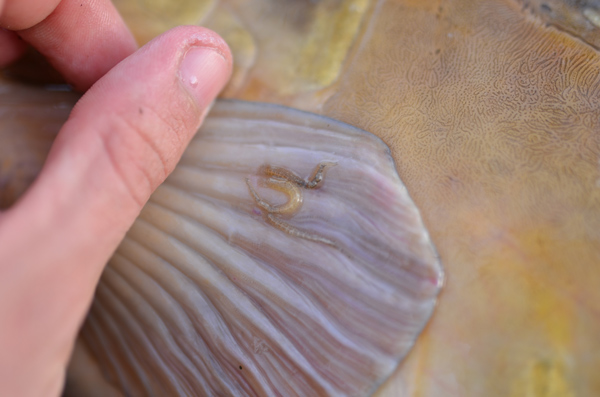 With plans for the next few weekends already made, fishing is on the backburner when I get back out though it will definitely be time to prime some spots on pit 5.