Although the weather is being indecisive with warm winds, double figure temperatures one moment and ice covered rods the next, I am starting to see more and more signs that the fish are slowly getting back on the move.


On Pit 5 of the hollybush lakes complex its been a very slow winter for me having just ended a near four-month blank, like a lot of lakes around the country the lake completely shut up shop at what seemed like flick of a switch. Ending the long blank was not a complete success as it ended up being an upper double common which was actually a repeat from the summer. With the blank behind me, it's time to start focusing on my spring approach which starts with emptying the contents of my rucksack onto the living room floor and having a good old sort out. removing anything which will not be necessary in the coming months, it always surprising how much extra clutter you end up hauling around the lake unnecessarily over the winter from excess leads, socks and empty biscuit packets. Next the terminal tackle, I have now managed to scale it down to a Medium Nash bits pouch and a small lead pouch. Just the essentials stay like scissors, baiting/splicing needles and hook files, the rest consists of hooks, hooklinks and a 6 compartment boxlogic box for metalware and beads. Everything else gets thrown into a Nash softbox which will be in the car for emergencies. Since seeing the Ronnie rig I've been a big fan, so these are pre-prepared along with enough leaders for a session and a few for the soft box. The way I look at it, if I need to go back to the car for more leaders or hooks I should either be going home because I am having a nightmare or I'm having one hell of a session and most definitely will not mind walking back to the car! The reason for scaling down is although pit 5 isn't a big pit around 12 acres it has no less than fifteen islands with some almost the length of the lake and not even two rod lengths wide and accessible by small wooden bridges its not very barrow friendly but probably the biggest reason is I am just lazy when it comes to loading shed loads of gear in and out of the car but pushing heavy barrow loads of kit isn't for me and this lake doesn't even give me the option if I wanted to but not only that my approach for spring is to be very mobile, during the summer last year some days I was covering over ten kilometres of just walking, baiting spots in the edge and revisiting them throughout the day until an opportunity to arises.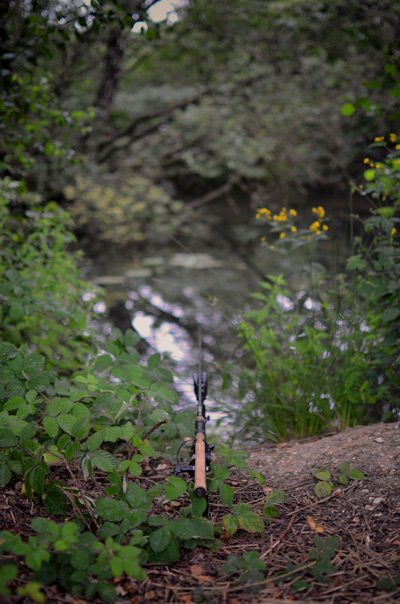 My baiting approach for margin spots is pretty simple like myself and consists of Nash's TG Active chopped, crushed and crumbed, if I'm feeling particularly fruity I will add a couple handfuls of hemp, Rock Salt and some micro mix pellets.
I want something which gives off plenty of attraction plus a bait which keeps them occupied to give me a chance of catching them in the act. I have read and been told how much the carp love boilie crumb but really saw its effectiveness on a trip to Belgium a few years back, It was the end of October. The fishing was tricky with a friend catching within the first few hours but the weather turned very cold and the fishing slowed down hugely.Whilst on a walk round the lake I noticed a fish ghost over a margin spot, I started to introduce TG Active crumb and hemp oil, only a couple of handfuls to which a few fish found and hoovered up very quickly. Having the lake to ourselves I continued to bait the area with a few handfuls in the morning, evening and at some point during the day around lunch time, every time it was being cleared to the point a large sand area has been revealed from underneath the chod. I planned to save the spot until the last night in a last ditch attempt of catching and saving the weeks fishing. luckily back in my own swim I fished solid PVA bags filled with boilie crumb which resulted in a nice mid twenty common. over the few days of baiting the margin spot I had seen a couple of regular fish feeding on the bait, one being the lakes biggest mirror and the other a fish called The Mexican which I had already caught last year fortunately and unfortunately for me an hour after wading a solid bag down the margin from the nearest swim I had a repeated my capture of 'The Mexican' not ideal but a real confidence booster in my bait and approach.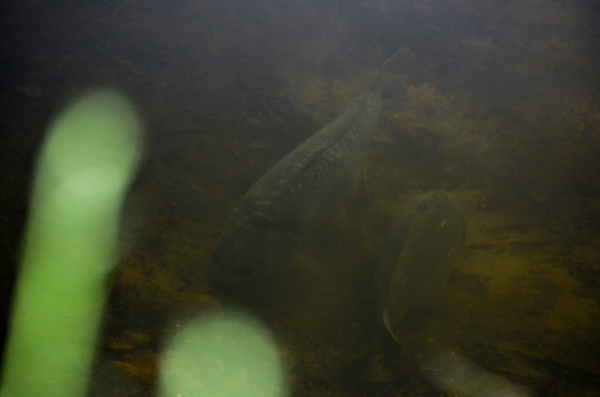 Back on pit 5 using this approach with my tackle, bait and limited time hasn't caught me huge numbers of fish but it has been by far one of the most exciting, sleep depriving and occasionally frustrating seasons I've fished but overall very enjoyable which is what I want from my fishing and Until the weather settles and i can start to implement this approach I'm going to be trying to catch a few fish from higher stocked venues and boost my confidence ready the for best time of the year.